Pencil polish, flat polish, miter or bevel—our skilled operators and precision machinery ensure perfect edges on every piece of glass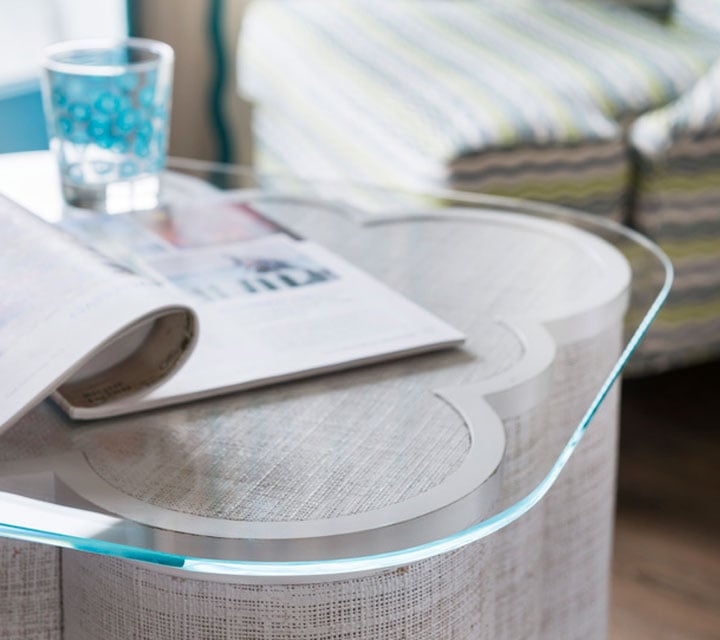 Round Corners
With more than 80 years in business, we've earned our position as leader in the industry. Our expertise is complemented by our commitment to excellence. Cut corners? Never! Round corners? Of course. We achieve seamless, contoured corners on any thickness of glass. Dillmeier Glass will perfectly match any polished straight edge and bring your designs to life.
Flat Polishing Capablities
Designers and architects know that a flat polish beautifully showcases the thickness of the glass. This popular edge which is flat with a small, angled chamfer on the top and bottom is typically used for ½" and thicker glass. Why? Because it takes special equipment to flat polish thinner glass.
Dillmeier Glass has the equipment. Whether you bring us a 200" edge or a 2" edge, we have the ability to flat polish it perfectly. Our flat polishing machines are imported from Italy, the heart of the world's glass machinery industry. These machines are superbly engineered and highly efficient, enabling Dillmeier glass to polish any size or shape even under the most stringent lead times.
Pencil Polishing
High-production pencil polish is a favorite style of furniture and fixture manufacturers and another Dillmeier Glass specialty. Thanks to our modern, first-rate equipment and talented staff, we create impeccable pencil-polished edges quickly. Short lead time? No problem. Dillmeier Glass proves that you don't have to sacrifice quality to deliver finished pieces on time.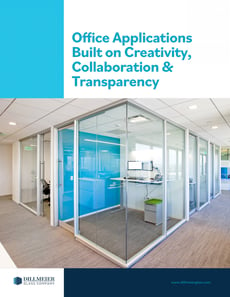 FREE DOWNLOAD
Browse Dillmeier Glass' Office Capabilities
PDF Guide
Learn more about what we can do to help you transform a corporate interior