We can't speak highly enough of Dillmeier's customer service
"We needed a few custom glass shields for our reception area and the Dillmeier team turned the project around quickly and to our specifications. Plus, they helped us decide which mounting options to use for our desks. The units were incredibly easy to assemble and install onsite. We can't speak highly enough of Dillmeier's customer service and this certainly won't be the last time we work together."

Sheppard Poole
CEO, The Hallen Construction Co, Inc.
Project Elements To Consider
If you're looking to implement a glass divider and sneeze guard solution, but you aren't sure where to begin, Dillmeier Glass can help you design and customize your project.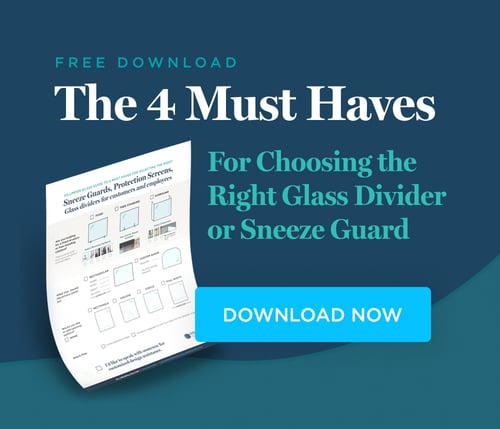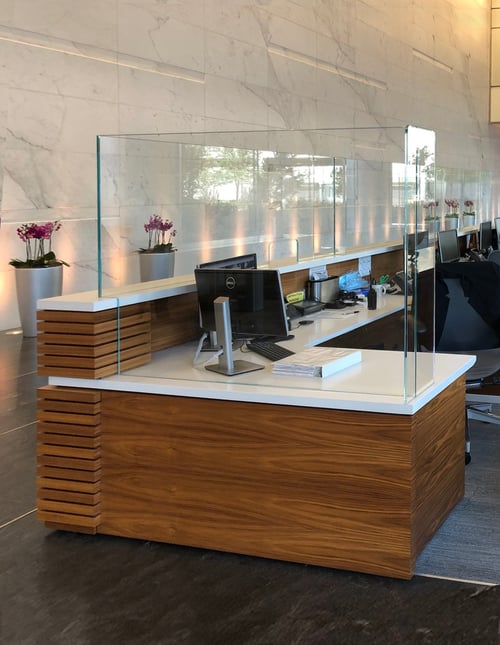 When getting started, consider the 4 following components prior to your selection:
1. SOLUTION TYPE
Choose from fixed, freestanding, or surround.

Fixed Mounting Options:





Free Standing includes Two Acrylic Stands:
Surround Connector Options: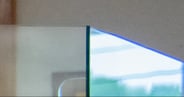 2. PRIVACY PANEL SIZE
Available in rectangular or customized shapes.

3. OPENING OPTIONS
We also offer a non-opening option for complete protection.


4. GLASS TYPE
Choose from clear tempered or low-iron tempered glass.
Custom Designed Drill-Free Clamping Systems
Created by our in-house engineering team, this customized, drill-free clamping system complements our glass dividers and sneeze guards. Available in various sizes with accompanying lexan clips, these vertical powder-coated metal brackets safely and securely clamp down dividers to any desk edge without leaving behind any holes, notches or scratches.
Read our blog to learn more about how this innovative clamping system helped more than 3,000 U.S.-based investment banking professionals safely return to work during the COVID-19 pandemic.

Sneeze Guard FAQs
Learn more about some of the most frequently-asked questions we receive when it comes to sneeze guard applications.
Also known as glass shields, sneeze guards were originally invented to prevent contamination at buffets and self-service food counters, but are now being deployed to safeguard person-to-person interactions for a variety of applications. Whether in food service, retail, hospitality or office settings, we can fabricate a sneeze guard for added protection.
Dillmeier Glass Company's sneeze guards are manufactured using tempered or laminated glass--these materials are less likely to suffer from scratches, discoloration and damage than acrylic or plexiglass. Tempered glass is recommended because of its durability, shatter-proof properties, and scratch-free, transparent surface. For added safety, laminated glass is produced with two pieces of regular or tempered glass sandwiched between clear plastic resin. Should breakage occur, all layers are held together, instead of shattering into pieces or pebbles.
According to Dillmeier Glass Company partner, Stainless Innovations, true protection (see accompanying illustration) is dependent on display size, customer height, and specified use, such as retail, foodservice, or office settings. Our team can assist you with any type of solution to meet your design needs and specifications.

Yes, sneeze guards can facilitate many customizations for added branding and personalization. These include logos, shapes, and designs, sandblasting, silk screening, reeded glass, and back-painting and color-matching.
Unlike plexiglass or acrylic, tempered glass sneeze guards can resist general wear and tear with proper maintenance and cleaning. Using a gentle cleaning solvent and soft cloth, most surfaces can be wiped clean without any residue, ghosting, or scratches.
---
Available for Quick Lead Times
Now, more than ever, it's imperative to get a quality product, quickly, so we've set up our shop to accommodate you. Simply contact us today and let us know when you need your divider—we'll get it to you with industry-leading turnarounds.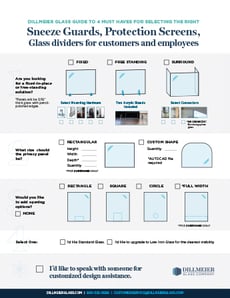 FREE DOWNLOAD
The 4 Must Haves for Selecting the right Sneeze Guards and Glass Dividers
PDF Guide
---
See How Glass Dividers Can Help Your Business
Dillmeier Glass collaborates with its longtime industry partners on glass dividers and sneeze guards for various applications. We can also assist you with any customized design needs you might have.
These include applications in industries such as hospitality and retail, food service within healthcare and educational facilities, and any other setting requiring person-to-person interactions.
Transparent, Unobstructed Views
Sneeze guards provide transparent, unobstructed views for easy food selection in settings such as hotels, restaurants, and school and hospital cafeterias.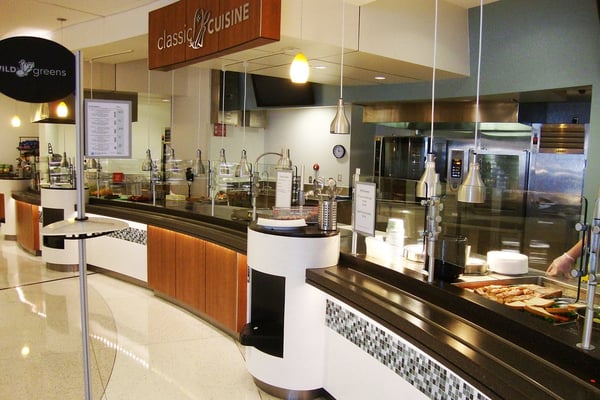 DID YOU KNOW?
In 1958, the first sneeze guard debuted at Johnny Garneau's American Style Smorgasbord in Monroeville, Penn. One year later, he filed a patent laying the groundwork for an FDA mandate that sneeze guards must be legally present in all self-service dining establishments, such as buffets, salad bars, and cafeterias.