Sneeze guards and glass dividers, customized for any application.
From retail, to hospitality, protect your guests and employees.
Also known as sneeze guards, glass shields were originally invented to prevent contamination at buffets and self-service food counters, but are now being deployed to safeguard person-to-person interactions for a variety of applications.
Dillmeier Glass now offers a full line of customizable sneeze guards and glass dividers to meet this expanded demand. Whether in food service, retail, hospitality or other industries, we can fabricate a sneeze guard to meet your needs.
Tempered Glass: The Cost-Effective Option
While acrylic or plexiglass guards are much more prevalent, tempered glass is a far more durable option—and is often very similar in price to other alternatives. Tempered glass is shatter resistant, scratch resistant, and perfect for high-traffic environments such as retail.
If you're considering adding a sneeze guard to your business, contact us for a quote, and we'll help you find a solution that suits your budget and requirements.
Low-Iron Glass Offers Increased Clarity, Transparency
Dillmeier Glass can fabricate your glass divider and sneeze guard solution with the highest transparency levels through its low-iron glass option. This specialized process modifies your glass' iron content to minimize tinting, while increasing natural light flow and clarity—all of which are paramount within a commercial, interior setting.
We can't speak highly enough of Dillmeier's customer service
"We needed a few custom glass shields for our reception area and the Dillmeier team turned the project around quickly and to our specifications. Plus, they helped us decide which mounting options to use for our desks. The units were incredibly easy to assemble and install onsite. We can't speak highly enough of Dillmeier's customer service and this certainly won't be the last time we work together."

Sheppard Poole
CEO, The Hallen Construction Co, Inc.
Project Elements To Consider
If you're looking to implement a glass divider and sneeze guard solution, but you aren't sure where to begin, Dillmeier Glass can help you design and customize your project.
When getting started, consider the 4 following components prior to your selection:
1. Solution Type
Choose from fixed, freestanding, or surround.

Fixed Mounting Options:





Free Standing includes Two Acrylic Stands:
Surround Connector Options: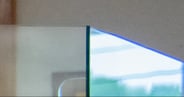 2. Privacy Panel Size
Available in rectangular or customized shapes.

3. Opening Options
We also offer a non-opening option for complete protection.


4. Glass Type
Choose from clear tempered or low-iron tempered glass.
---
Available for Quick Lead Times
Now, more than ever, it's imperative to get a quality product, quickly, so we've set up our shop to accommodate you. Simply contact us today and let us know when you need your divider—we'll get it to you with industry-leading turnarounds.
Contact us today to place your order or learn more about sneeze guards for your business.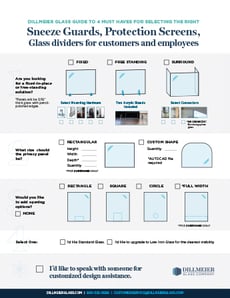 FREE DOWNLOAD
The 4 Must Haves for Selecting the right Sneeze Guards and Glass Dividers
PDF Guide
---
See How Glass Dividers Can Help Your Business
Dillmeier Glass collaborates with its longtime industry partners on glass dividers and sneeze guards for various applications. We can also assist you with any customized design needs you might have.
These include applications in industries such as hospitality and retail, food service within healthcare and educational facilities, and any other setting requiring person-to-person interactions.
Did you know?
In 1958, the first sneeze guard debuted at Johnny Garneau's American Style Smorgasbord in Monroeville, Penn. One year later, he filed a patent laying the groundwork for an FDA mandate that sneeze guards must be legally present in all self-service dining establishments, such as buffets, salad bars, and cafeterias.