Understanding Commercial Interior Glass Opacity Levels
As you plan and design your space, there are several glass fabrication capabilities and accompanying decorative elements to achieve your desired opacity levels.
Commercial interior glass opacity ranges from transparent to completely opaque through decorative capabilities as described above.

Considerations in a commercial space include application type, use case, setting, and design. Opacity levels can also be adjusted to minimize natural light, blocking harmful UV rays while still maintaining openness with lighter hues and tones.
Other considerations include function, space, location, and utilization. With some areas requiring more privacy than others, opacity levels are a personal choice comprising design features and overall functionality.
Learn more about specific opacity levels and percentages below.
Transparent
Transparent or clear glass still retains its greenish tint, which increases in prominence as glass thickens. Due to a natural presence of iron oxide from elements such as sand, this level is therefore not suited for applications requiring back-painting or color matching.
While most standard transparency percentages are typically 85 percent, 65 percent, and 35 percent, these can also be customized to suit your application.
Here are various transparency-opacity percentages and their corresponding characteristics:
Use the slider above to see the difference!
85 Percent (85/15):
Most light is transmitted through the glass.
Use the slider above to see the difference!
65 Percent (65/35):
As transparency decreases, opacity increases, for additional privacy.
Use the slider above to see the difference!
35 Percent (35/65):
While not 100-percent opaque, this level achieves greater opacity.

Potential Applications
Glass Walls & Doors
Dividers & Partitions
Gradient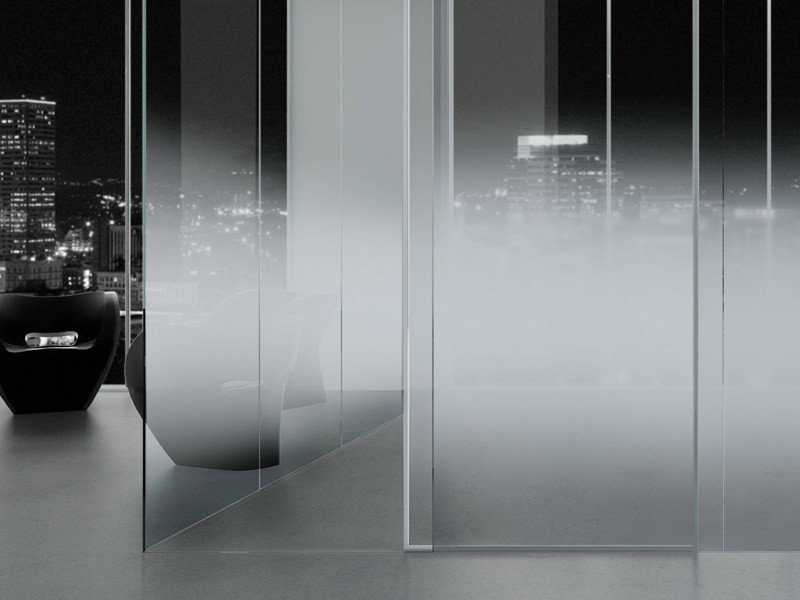 Credit: Archi Products
Opacity levels usually remain consistent throughout glass panels, but in some cases, can change through a gradient pattern. This is achieved by printing directly on glass, custom acid etching, or custom printed interlayer in laminated glass. A typical gradient configuration includes opacity transitioning from opaque to clear, usually from bottom to top. Custom gradations, opacity levels, and unique design elements—such as a center stripe—are also possible.
Combining openness with privacy creates customized fade configurations and sizes.
Potential Applications
Frameless Glass Walls
Partitions & Dividers
Shower Doors
Opaque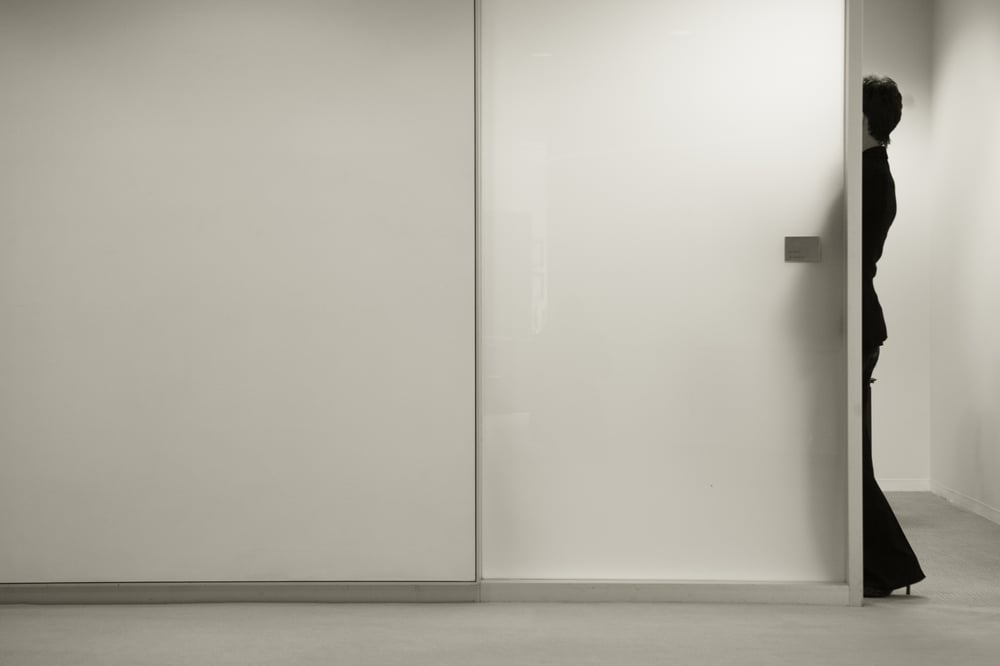 Consider glass walls with 35 percent transparency for added privacy measures.
Unlike tinting, opaque glass is the highest opacity, with no transparency and complete coverage. Used primarily when glass is affixed to a wall or substrate such as a writable markerboard, or in areas to reduce glare, heat, and potentially damaging UV rays, this level also creates total privacy for full spaces, or when separating or dividing areas requiring additional coverage.
Potential Applications
Dividers & Partitions
Markerboards
Counters
Glass Railings
Backsplashes and decorative glass
How to Achieve Desired Opacity Levels
Consider the following decorative elements and accompanying use cases to determine which type of coverage is best for your needs.
Low-Iron
Low Iron (right) vs. Clear Glass (left) Comparison
Low-Iron glass offers the highest transparency available. Float glass manufacturers create low-iron glass, also known as extra-clear glass or optically clear glass, by reducing the amount of iron in the molten glass formula. This type is more transparent than regular glass, and doesn't have that greenish tint. In fact, modifying the iron content can increase the light transparency by 5 to 6 percent.
Low-iron glass also increases the flow of natural light, for added, seamless continuity between spaces.
Potential Applications
Frameless Glass Walls
Partitions & Dividers
Back Painted Glass
Showroom Glass
Shelving & Showcases
Laminated Glass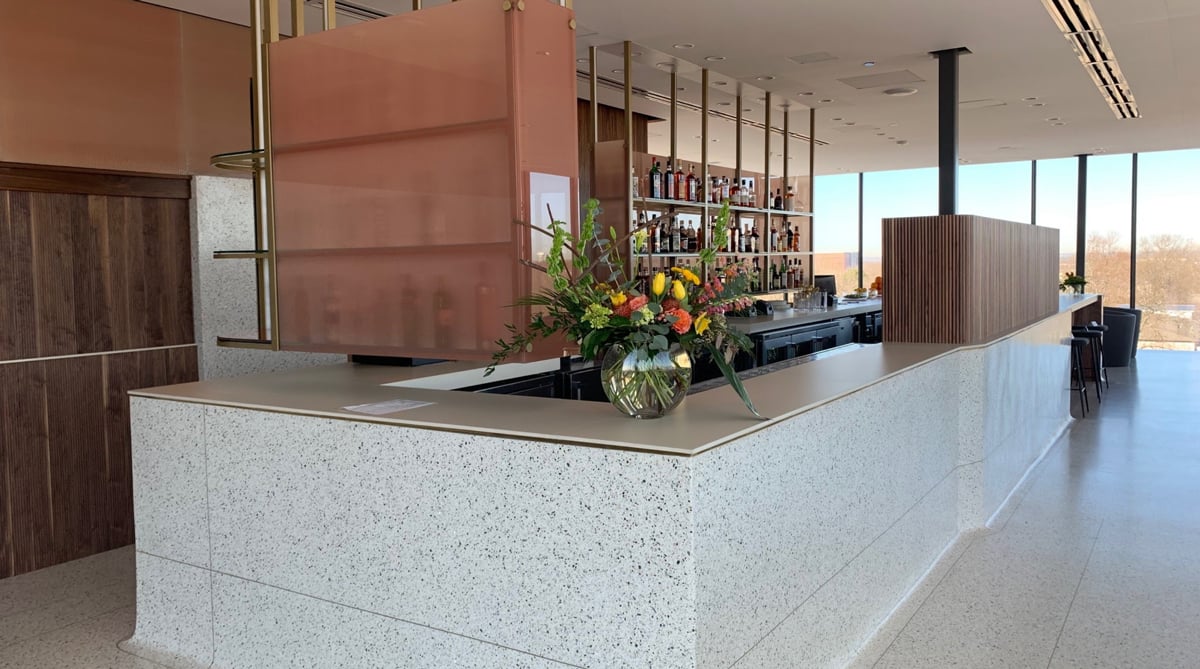 With specialty interlayers sandwiched between two pieces of regular or tempered glass, laminated glass produces a myriad of opacity levels.
Laminated glass is often used in office, healthcare, and hotel settings due to its customization options, or within areas where higher Sound Transmission Class (STC) levels are necessary.
Varying degrees of opacity, such as a frosted appearance, can be created with laminated glass. Unlike achieving opacity through acid etching or frosted glass, which changes the surface, laminated glass remains smooth due to the interlayer delivering the opacity.
Potential Applications
Glass Walls & Doors
Railings & Balconies
Glass Dividers
Back-Painting & Color-Matching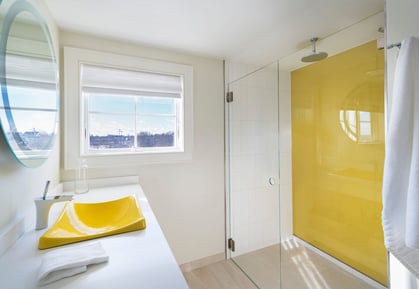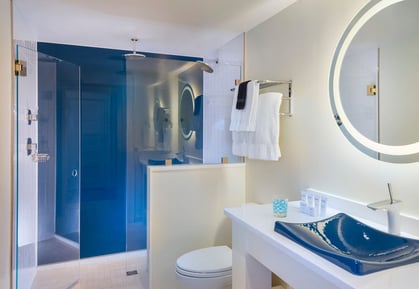 Consider flame-forged colors and back-painting for an even sleeker look to blend style and sophistication beyond a traditional appearance. This also can be customized to match lobby walls with counters and check-in areas, as well as markerboards, glass dividers, railings, and more.
Potential Applications

Lobby Walls
Counters/Check-In Areas
Markerboards
Glass Railings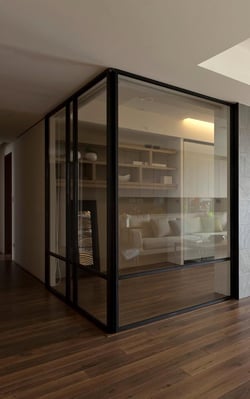 Tinted Glass Office Walls
Tinted Glass
Designed to reduce heat and potentially harmful UV rays, tinted glass is cultivated by an experienced fabricator through reputable float glass manufacturers. Suitable for areas requiring slight privacy measures, its energy-efficient properties can also help lower electric and cooling expenses.
Potential Applications
Windows

Partitions

Modular Walls

Frameless Glass Doors




Sandblasting & Silk Screening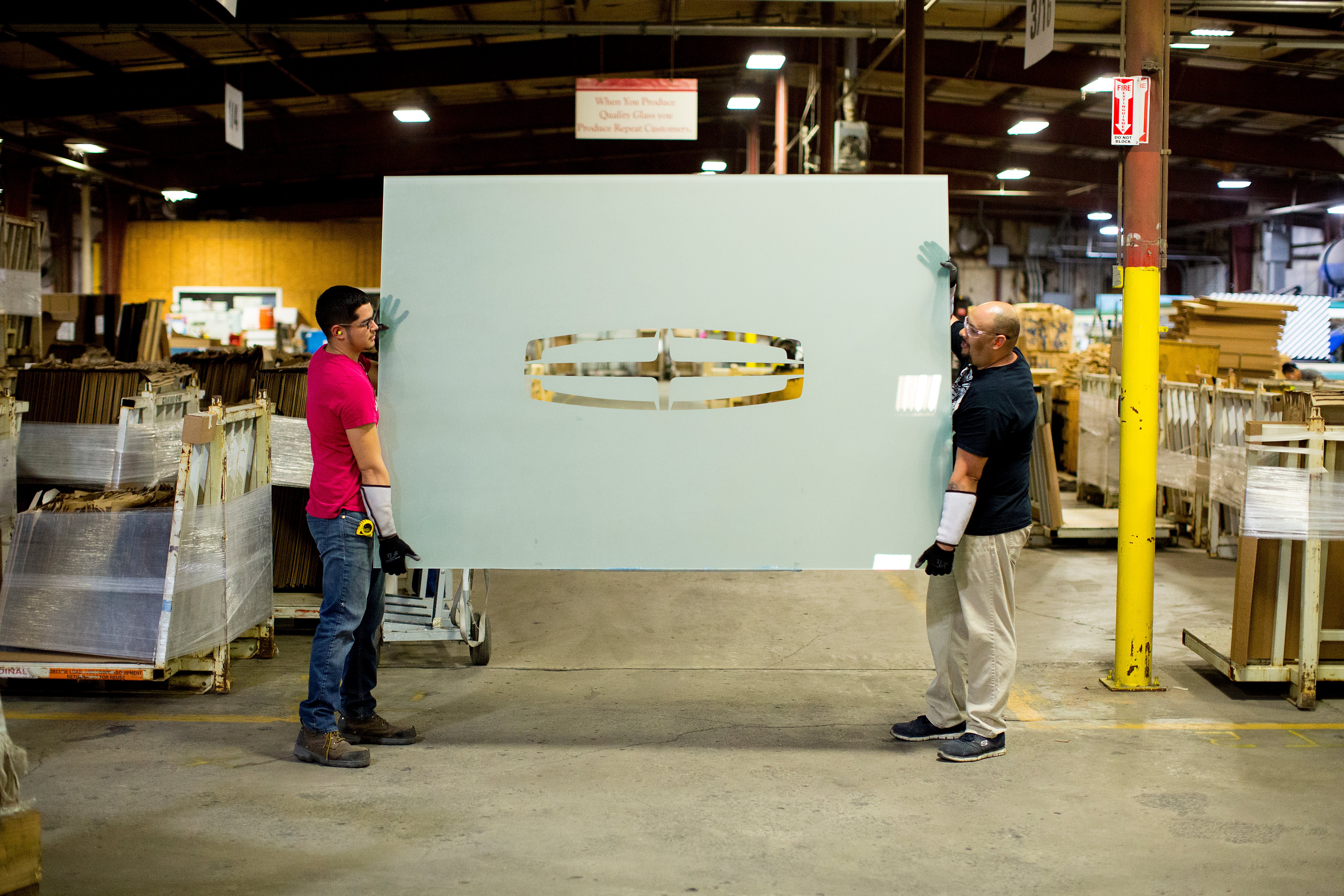 For sandblasting, this can facilitate frosted logos, designs, or shapes for various applications and industries. Through custom ceramic frit ink, silk screening can apply any pattern of your choice for the most subtle enhancements. If your application requires a decorative touch featured in close proximity to areas that would otherwise be transparent, logos can be presented as either the focal point or background element of your glass pane.
Potential Applications
Frameless Glass Walls
Custom Railings
Markerboards
Conference Rooms
Lobby Areas
Logos
Acid Etching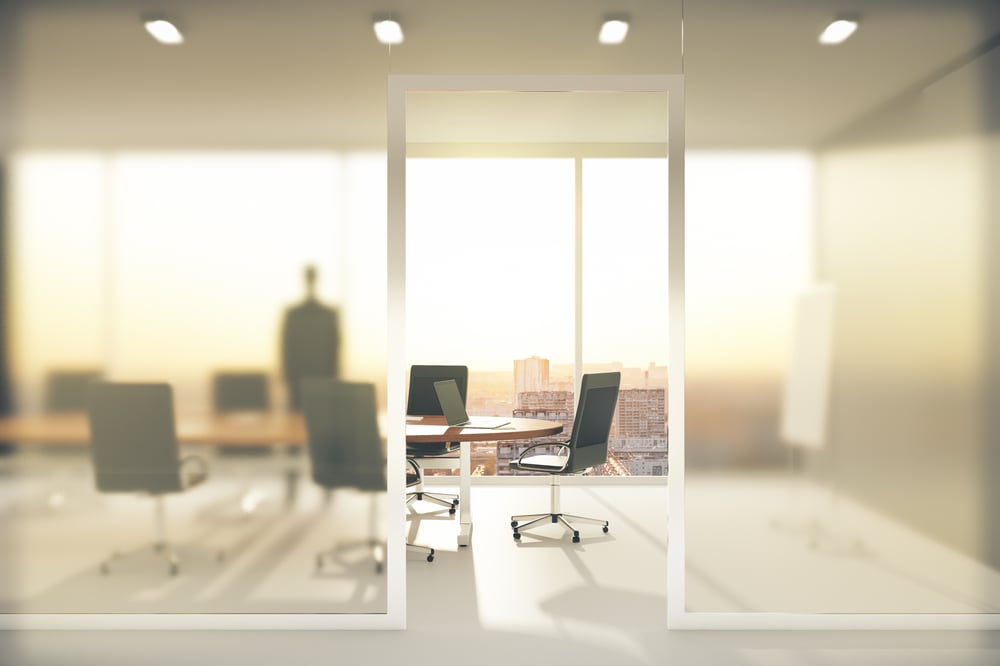 Treated with hydrofluoric acid to permanently change its appearance with a frosted look, acid etching produces a finish that's smoother than sandblasted glass. While this varies in opacity levels, its transparency depends on its usage. It can also be back-painted for additional customization.
Potential Applications
Doors
Partitions
Walls
Shower Doors
Railings
Reeded Glass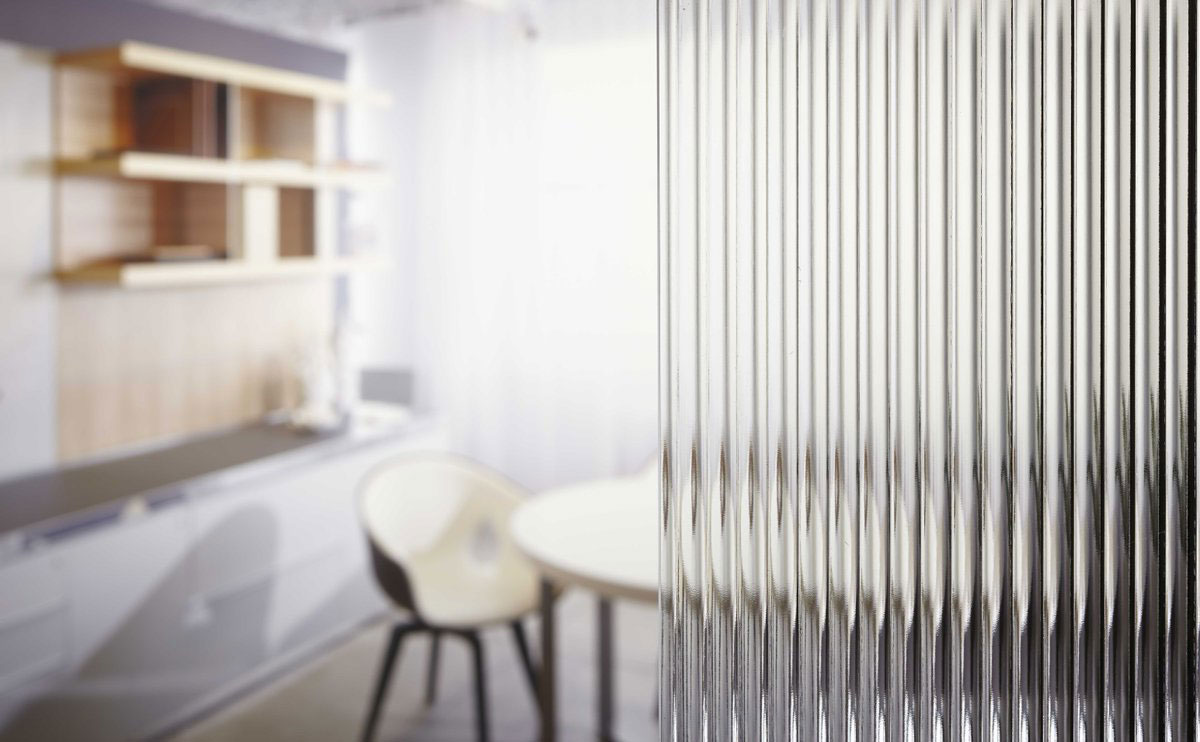 Also known as fluted or ribbed glass, float glass manufacturers create this and other patterned designs by pressing glass between metal rollers, for a uniquely customized appearance. An experienced fabricator can then provide specialized finishing services, such as edging, cutting, and polishing. Rather than through a standard interlayer or change to the surface, opacity is achieved through distortion based on a specific reed pattern.
Varying in thickness from ¼ to ⅜ inches, reeded glass enables elegant and decorative branding, and achieves privacy levels required by industries such as healthcare.
Potential Applications
Glass Walls, Windows & Doors
Partitions & Dividers
Decorative features
Switchable or Smart Glass
Based on polymer dispersed liquid crystal (PDLC) technology, switchable or smart glass quickly transforms from frosted to clear via an electric on/off control button. Suitable for quick privacy measures, this can also be used in healthcare exam areas, bathrooms, or other discretionary areas to enhance security, energy efficiency, and style.

Potential Applications
Glass Walls
Privacy Windows
Partitions & Dividers
Doors
Glass Opacity FAQs
1. How do I decide what glass opacity levels are best for my application?
There is no right or wrong answer. This is completely dependent on the setting, design, application, and what you're trying to achieve regarding goals, benefits, and features.
2. What types of opacity levels are available from a reputable glass fabricator?
From the most transparent low-iron glass to solid, custom, opaque, back-painted glass and everything in between, an experienced glass fabricator can help guide you on the best solution for your project and application.

3. What is the typical lead time to specify a certain glass opacity?
Depending on your project's size and scope, Dillmeier Glass Company will make every effort to accommodate even the tightest of lead times. While there is no specified time frame, the more information we have upfront, the quicker and easier we can determine how long your project will take per your requested deadline.
4. What types of applications require specific opacity levels?
If your project calls for specialized shapes, sizes, logos, and other decorative elements, these usually require a certain opacity level depending on the application, use case, and what you're trying to achieve.
5. What decorative elements coincide with opacity levels?
Whether you want to create unique branding, logos, or other solutions to coincide with your marketing strategy, elements such as sandblasting, silk screening, and acid etching can achieve the required opacity.
With some areas requiring more privacy than others, opacity levels are a personal choice comprising design features and functionality.
Choosing the Best
Opacity Levels for
Your Project
It's best to work with an experienced fabricator such as Dillmeier Glass Company to determine and achieve the specified design, style, and appearance for your commercial interior glass project.
---
Contact us to discuss commercial glass ideas, solutions, and applications.