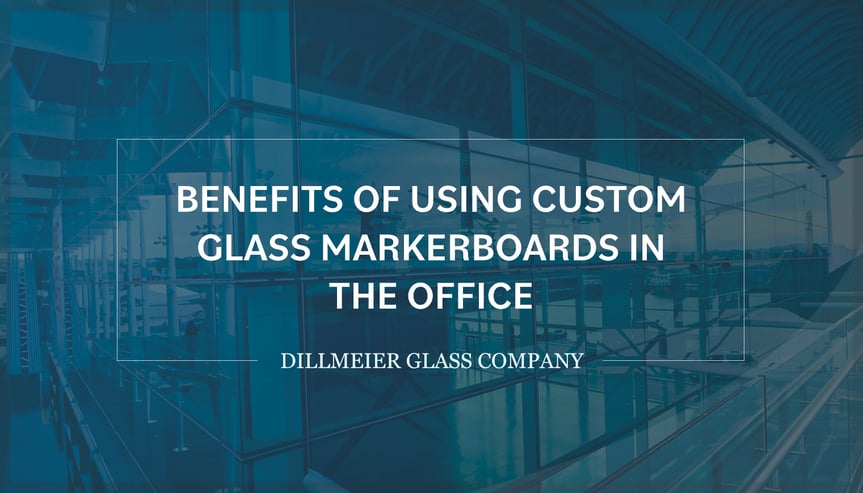 Editor's Note: This blog post was originally published in March 2017 and has been revised to reflect industry updates.
When it comes to work and collaboration, trends continuously evolve to embrace personal preferences and new technologies, such as the open office. Originally established to encourage additional employee interaction, this concept has since undergone significant modifications due to coronavirus pandemic-related safety concerns—with more and more organizations implementing protective measures such as glass dividers or partitions.
An April 2021 Fast Company blog on workplace evolution states many architects are proclaiming the open office obsolete due to work-life balance and other factors.
While no one can predict the next design trend, there is one consistent element—glass markerboards. This classic mainstay offers several advantages, such as a sleek appearance, impressive durability and longevity, easy customizations, and creative collaboration for various office setups.
With these in mind, glass markerboards will undoubtedly remain within corporate offices for years to come.
Learn more about the many benefits of glass markerboards within office settings, such as their sleek aesthetics, durability and longevity, easy maintenance, technology integration, and more.


1. They're aesthetically pleasing.
Glass consistently creates a timeless appearance within any application or industry, and markerboards comprised of it are much more appealing than a chalkboard or standard whiteboard. Glass adds a sleek and practical element to complementary applications, while making a bold statement. Markerboards can also easily transition to on-site or virtual presentations.


2. They're durable and long-lasting.
Glass is extremely durable when tempered by a reputable fabricator. It can withstand pressures and stresses without bending, buckling, or scratching—especially in high-traffic areas. Should someone accidentally bump into the markerboard or displace it from its mounting, no damages or breakage will occur.


3. They don't ghost or stain.
Standard whiteboards often stain over time. Even with regular cleaning and maintenance, there's always a subtle reminder of the last set of notes, called ghosting, or if someone accidentally used a permanent marker. Because glass markerboards are smooth and transparent, they'll remain free of these.


4. They're customizable.
Current interior design trends often require custom shapes, sizes, and colors. Unlike standard boards, the possibilities of what glass markerboards can achieve are endless. An experienced glass fabricator can match a specific color used in an interior, or utilize another hue or tone for a cohesive, branded design.
While no one can predict the next design trend, there is one consistent element—glass markerboards.
While glass markerboards are usually back-painted standard opaque white, Dillmeier Glass Company's flame-forged, ceramic color-coating process offers an even sleeker appearance. Completed prior to tempering with ceramic ink, it involves an additional layer whereby glass is heated to approximately 1,200 degrees Fahrenheit. Color is then fused into the glass at the molecular level to achieve the highest caliber of durability, quality, and appearance. This provides protection against chipping, fading, and scratching, as well as a polished appearance.

Special float mounts or standoff hardware with metal or steel accents enable additional customizations. This includes magnetic or non-magnetic arrangements, and shapes diverting from standard rectangular markerboards.


5. They complement any space.
Capitalizing on its timeless appearance, glass markerboards are easily incorporated into an existing or new office space. Seasonal businesses looking to quickly scale up or down will also benefit from this.

Other unique considerations include custom silk screening and sandblasting in coordination with your organization's logo and branding.
6. They easily facilitate technology integration.
As aforementioned, many organizations have adopted remote or hybrid work arrangements due to the ongoing coronavirus pandemic. Therefore, it's more important than ever to rely on clear, consistent, and technologically advanced communications.
Whether employees are in-office or working remotely, markerboards can easily be embedded with digital tablets for corporate presentations across multiple disciplines on one consistent platform, rather than requiring switching between board and screen.

Why Glass Is Best
Glass markerboards blend cohesive design, functionality, and more. By working with an experienced fabricator, you'll receive a finished product exceeding your expectations.


Contact Dillmeier Glass Company to discuss our Reflections glass markerboards for your corporate office space.