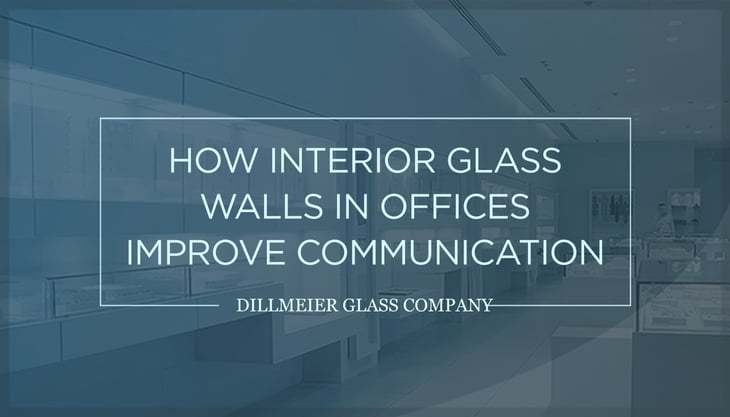 Employees are the most important assets of any business. No matter the industry—healthcare, insurance, consulting, you name it—employees are the deciding factors that will ultimately determine success. A workspace's design can greatly influence the productivity and collaborative efforts of this all-important component of every company. Knowing which elements assist or hinder employees from performing their jobs, then, possesses significant benefits.
INTERIOR GLASS WALLS CAN ENHANCE FUNCTIONALITY IN A WORKSPACE, WHILE IMPROVING COMMUNICATION AMONG CO-WORKERS.
Open-style office spaces are a growing trend in corporate settings. Rather than being separated by cubicles, workers often reside in one large room—sometimes without assigned workstations. While many find ways to organize the space so individual areas are well-defined, this communal environment promotes more collaboration, thus facilitating more communication among employees.
Glass walls or partitions help. Here's why.

Although opaque walls that separate co-workers from one another create privacy, they tend to also decrease accountability and discourage interaction. When more people within an organization share with each other, there's a collective rise in engagement and creativity.
A more productive work environment only helps a business thrive.
A 2013 article by global management consulting firm Gallup, Inc. stresses the functional correlation of employee engagement as a predictor of key performance outcomes.
"Companies with an average of 9.3 engaged employees for every actively disengaged employee in 2010-2011 experienced 147% higher" earnings per share (EPS) "compared with their competition in 2011-2012," it states.
"Companies with an average of 2.6 engaged employees for every actively disengaged employee, in contrast, experienced 2% lower EPS compared with their competition during that same time period," the article continues.
EVEN WITH THE OPEN ENVIRONMENT INTERIOR GLASS WALLS CREATE, THEY STILL ARRANGE THE SPACE EFFICIENTLY. THIS CONTRIBUTES TO EMPLOYEE SATISFACTION—WHICH IS INVALUABLE, FOR ANY EMPLOYER.

As discussed in one of our previous posts, workplace design can affect employee satisfaction. The amount of natural light in the space, creative imagery, type of furniture and level of functionality are all important design elements to be considered.
Not only do glass walls, as well as windows and doors, utilize more natural light, but they also don't take up as much room as bulky furniture. Additionally, they give co-workers the opportunity to move around and work as they please, without feeling disoriented due to a lack of organization or structure.