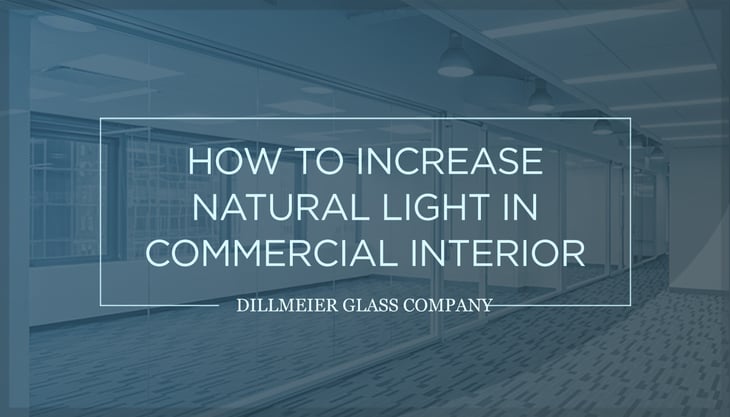 Commercial interiors featuring plentiful natural light pose several health and productivity benefits for its occupants. Finding effective ways of incorporating this essential element into a workplace, retail store, or other setting should therefore be a top priority.
THE SIGNIFICANCE OF NATURAL LIGHT
Natural light is a vital source of vitamin D, which promotes the absorption of calcium and helps prevent certain ailments, such as osteoporosis.
Research also indicates significant sleep benefits of natural light exposure. For example, a 2014 study by the peer-reviewed Journal of Clinical Sleep Medicine shared by the U.S. National Library of Science examined the overall health and quality sleep of workers in a corporate office, specifically considering the amount of natural light in the space. Of the 49 participants, 27 worked in a windowless environment, and the remaining 22 in an office awash with natural light.
The study found:
"Workers in workplaces with windows not only had significantly more light exposure during work hours but also slept an average of 46 minutes more per night during the workweek than workers in workplaces without windows. Workers with windows in the workplace also had more light exposure during the workday evenings and during free days, as well as longer sleep time compared to workers without windows in the workplace."
It's not just offices that have displayed such effects. A 2013 article by journalist Lauren Mang for VMSD (Visual Merchandising Store Design) magazine, a resource for retail professionals, takes a closer look at the use of natural light in retail spaces. Specifically, the article describes the reasoning and effects of integrating more natural light into well-known retail and department stores throughout New York City.
At the time, Macy's Herald Square revealed its newly renovated interior space, which included, for the first time in awhile, uncovering "second-floor windows along the building's Broadway side....allowing natural light to filter into the space."
"For the design team at Macy's, there are several advantages to bringing natural light into the store environment," it explains. "It makes shoppers feel good; customers can see the true colors of the merchandise they're buying; and....rather than creating unnecessary signage around the store, windows simply serve as landmarks to help shoppers orient themselves on the floor."
Other retailers, including Bergdorf Goodman and Frye Boots, also recognize the benefits of increasing natural daylight in commercial interiors, the article notes.
WAYS TO SUCCESSFULLY UTILIZE NATURAL LIGHT
The actual layout of a commercial environment will play a large role in determining exactly how much daylight will reach workers and shoppers. A poorly designed space that includes dark, opaque walls, and minimal windows, for instance, is not going to produce significant lighting. Consequently, pay close attention to an interior's floor plan to ensure all areas have access to sunlight.
Incorporating light colors into a commercial interior can enhance natural light exposure. Painting some walls white not only brightens up a space without requiring artificial light, for example, but also makes the room appear more spacious. As discussed in a 2016 article by Trulia, an online real estate resource, other colors, such as light grays, blues, and tans, are also good options to consider when trying to create a larger-looking space.
Installing glass walls throughout an interior is another beneficial strategy, as this transparent material is reflective, which attracts more light.
As mentioned in one of our previous posts, not only do glass walls increase the amount of natural light an interior receives, but it also helps in terms of the overall design, by taking up less space than traditional drywall, and improving a floor plan's organization. This ensures the layout is beneficial for all its occupants. To obtain the most beautifully crafted glass walls, however, carefully consider a few commercial glass manufacturers before hiring one.
The type and arrangement of furniture also plays a role in natural light exposure. Big, bulky furniture blocking sunlight from the windows in an office, for example, won't do workers any good. Choose space-efficient furniture instead, and think strategically about its placement.
---
Interested in utilizing glass walls in your next commercial interior project? Contact the Dillmeier Glass Company today for more information.