Maintaining Collaborative Environments While Fostering Creativity & Safety
Keep employees connected and engaged with expertly designed and fabricated commercial glass solutions.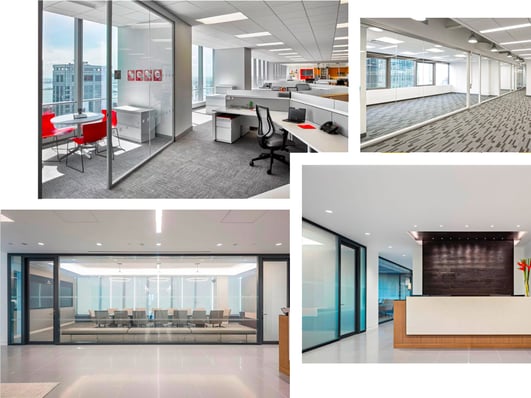 Staying Productive as the Future of Work Changes
As many organizations welcome employees back into office settings, the top concern has become striking a balance between productivity and providing a healthy, safe environment. Both tempered and laminated glass offer solutions to help you meet and exceed these needs with applications suitable for most industries.
Slight Touches, Bold Statements
With glass being the perfect medium for retrofitting or remodeling, our expert advisors can help you achieve a customized look that's on trend with your current design and branding aesthetics.
In addition to our primary palette of yellow, blue, green, grey, purple, red, orange, and other basic hues, we can also color-match any hue or tone to offer a personalized brand, logo, or decor of your choice.
"It's always on time, and the glass is good quality. When it comes out of the crate, it looks brand new, the glass is clean, and it arrives safely. There are always so many things that could happen during this process, but they never have with Dillmeier."
—JOHN CONNOR, FOUNDER, PRUIBA
Read more about why, if it were up to John Connor, his preference would be to work with Dillmeier Glass Company on every project:
Durability, Transparency & Easy Retrofitting Capabilities
This powerful trifecta is important when designing and planning current office layouts, especially as organizations seek to build collaborative spaces while still adhering to current health and safety restrictions.

While using tempered glass within office spaces is not only less expensive than other materials, partnering with an experienced fabricator can streamline the project planning process for even the most unique expectations, safety guidelines, and requirements.
Did You Know? COVID-19 Has a Shorter Lifespan on Glass than Other Commonly-Used Office Surfaces
According to research published in The Journal of Hospital Infection cited on financial and business news website Business Insider: "The SARS coronavirus, at a temperature of 68 degrees Fahrenheit (20 degrees Celsius), lasted for two days on steel, four days on wood and glass, and five days on metal, plastic, and ceramics. (The researchers also found that one strain of SARS lasted up to nine days on a plastic surface at room temperature.)"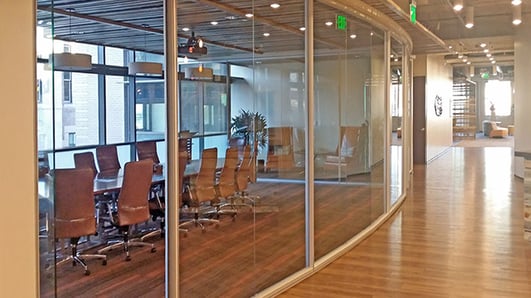 Photo Courtesy of John Connor, Pruiba
Unique Specialties Blending Convenience, Engineering & Design
With many organizations requiring glass partitions and dividers for safe person-to-person interaction, you can gain additional peace of mind with a customized, drill-free clamping system.

Designed, engineered, and built by Dillmeier Glass Company's team of experienced engineers and technicians, this solution allows dividers to be safely and securely clamped down to each desk without leaving behind any unsightly holes, marks, or scratches.
Consider additional customizations to personalize your organization's space, including: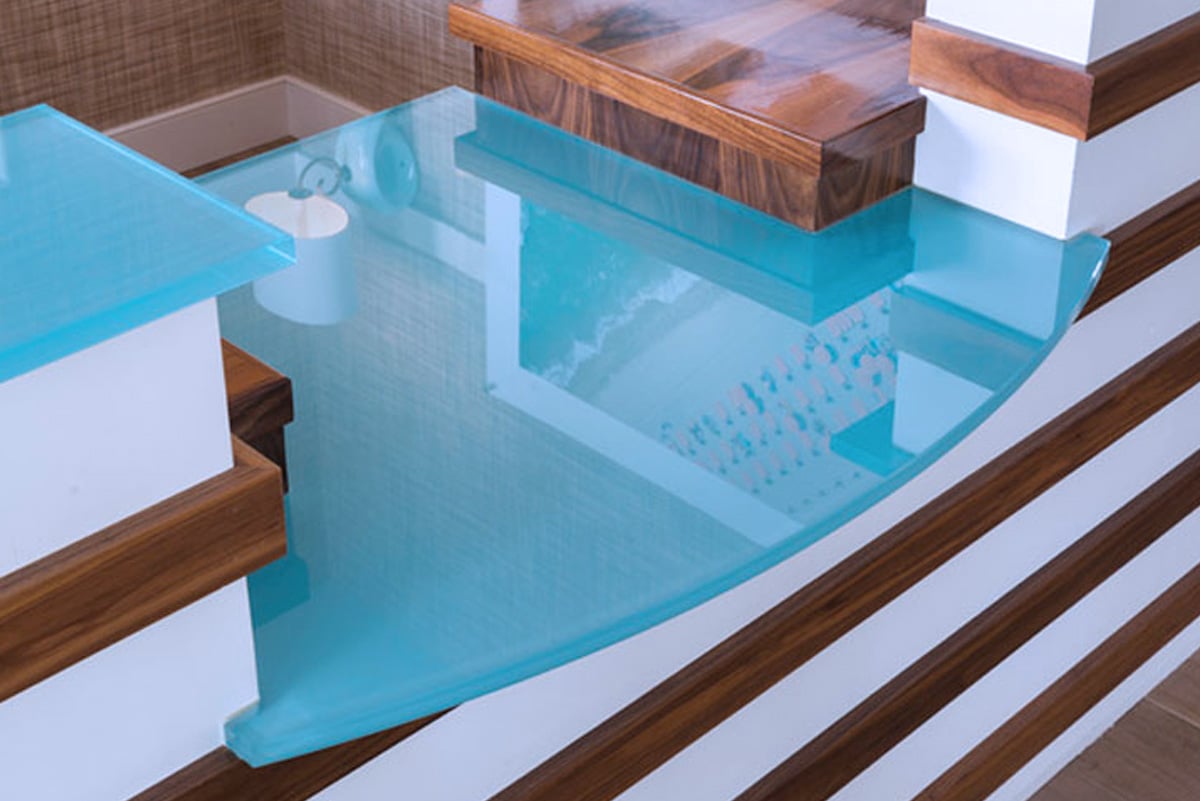 Back-Painting & Color-Matching
Typically used in design-heavy applications, back-painted or color-matched glass provides a sleek, cohesive, and clean appearance.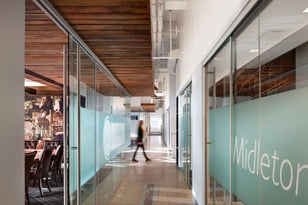 Specialized Shapes, Company Logos & Images
Computer-aided design (CAD) artwork, graphics, digital photography, and drawings facilitate customization and creativity for interior and exterior walls, partitions, dividers, and windows. These also enhance branding for partitions and dividers.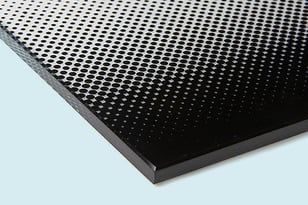 Silk Screening & Sandblasting
Automated vertical sandblasting machines create on-glass frosting featuring logos, designs, shapes, and images on any product of your choice.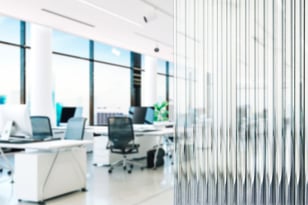 Reeded Glass
Suitable for walls, windows, and doors, reeded glass has a ripple-like appearance that can vary in thickness, from one-quarter to three-eighths of an inch.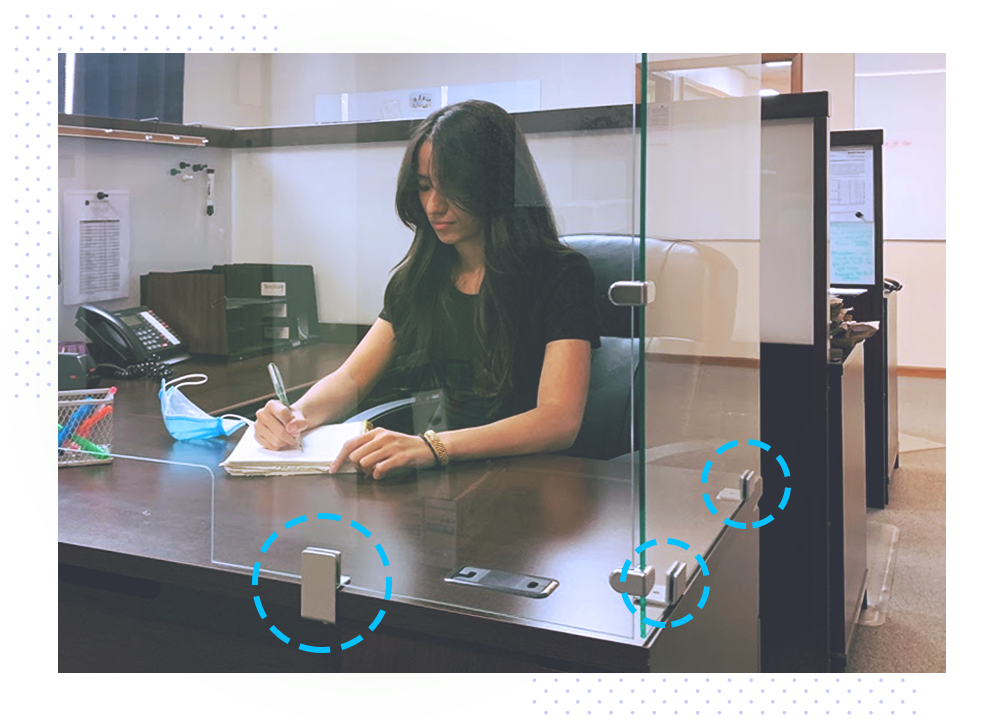 Read our blog to learn more about this uniquely developed in-house solution:
Suitable Commercial Office Applications:
Learn more about the various offerings available for your next interior office glass project:
Frameless Glass Walls & Reception Areas
Display Cases & Shelving
Modular Walls
Furniture
Tabletops
Railings
Partitions & Dividers
Locker & Storage Area Doors
Mirrors