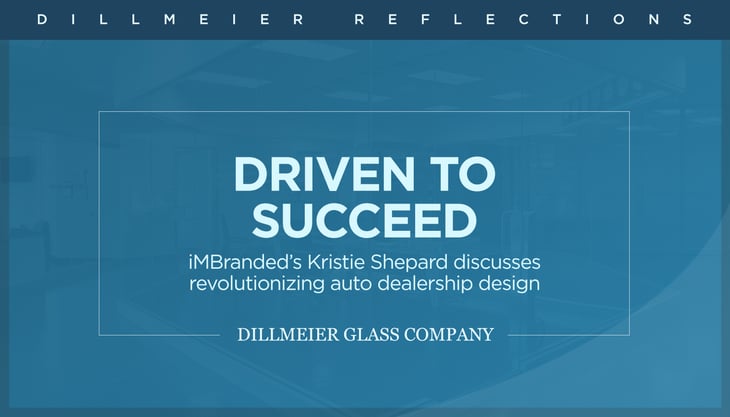 The face of retail has changed rapidly throughout the past two decades, and automotive dealerships are no exception. At the heart of this transformation stands Dillmeier Glass Company partner, Michigan-based iMBranded—a full-service national provider of architectural millwork and graphics specializing in building, printing and installing customized products. It has revolutionized dealership showrooms, offices and headquarters across the country. Through personalized collaborations with owners, its team transforms automobile display areas and waiting rooms into branded environments, and has helped usher in a new era of customer experiences.


Kristie Shepard—iMBranded's Director of Business Development—has witnessed this extraordinary transition firsthand during her more than 15 years with the company.
Since the company's inception in 1996, iMBranded has become a trusted brand implementation partner for an ever-expanding roster of clients, including BMW, Jaguar-Land Rover, Mercedes-Benz and Audi.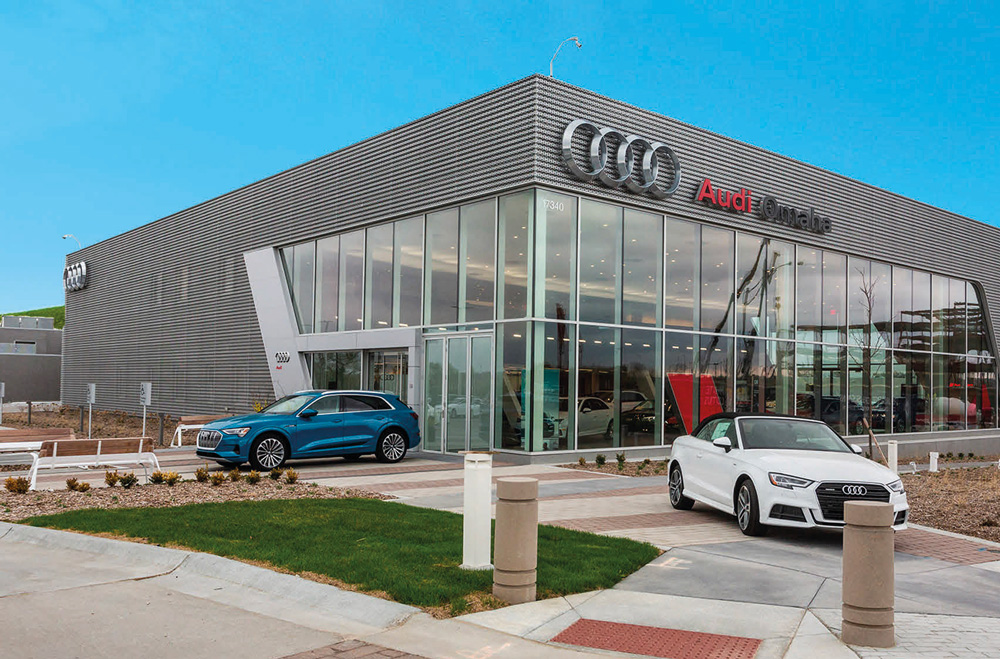 "We have been fortunate to work with some of the best brands in the world," explains Shepard, "which has allowed us to expand our opportunities within the retail market space."
After working with a few dealerships early in the company's history, they quickly became an iMBranded specialty, and up until recently, remained its primary focus. Since then, the story of the company and industry has been one of evolution, with auto brands becoming more intent on providing improved customer experiences.
One significant result has been the rise of brand guidelines handed down from auto manufacturers' headquarters. These outline specific standards for design implementation, such as color palette, signage, and even space requirements and materials. When applied correctly, these help ensure customers are delivered a consistent experience, no matter where they interact with the brand, whether purchasing a new car, inquiring about an upgrade, or visiting the service department.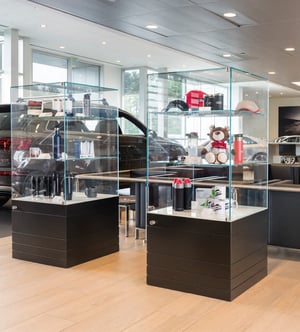 Custom Audi Display Case
While the guidelines have become more rigorous over time, there are still variations in each space that must be accounted for and maneuvered to fit within the brand vision. This is where iMBranded also comes into play.
"A big part of each project is helping clients interpret how the guidelines should be applied," explains Shepard.
"We draw on our industry expertise to make sure our clients and the corporate offices are satisfied, and try to provide the best experience for their customers, as well."
Aesthetics aside, the dealership experience has become much more engaging and multi-dimensional. Instead of just looking at vehicles, customers have the opportunity to relax, work, and even shop. Every visit is a carefully curated interaction with the brand, and features such as coffee bars and clothing boutiques have become almost commonplace.
One significant byproduct of the improved customer experience is an increased demand for branded apparel, accessories, and even household items. As customers associate the brands with positive experiences and spend more time in dealerships, they purchase more products to express their loyalty and enthusiasm.
An important part of elevating these items is displaying them in attractive cases in strategic locations throughout the dealership. For such displays, iMBranded turns to trusted partner Dillmeier Glass, a company with deep expertise in the fabrication of exquisite low-iron glass showcases. Together, they help dealerships drive increased revenue through expert design and implementation.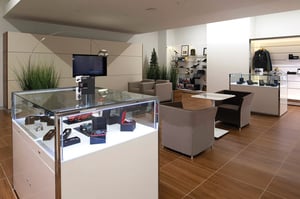 Jaguar Land Rover Flatirons
One example where the improved brand experience is on full display is a joint Jaguar-Land Rover dealership in South Atlanta. The center of the building features an open lounge area with a coffee bar, couches, and vehicle configuration area, where customers can view vehicles with diverse options on digital screens. There's even a section with various interior fabric swatches that can be viewed and handled without getting in a car.
On either side of the lounge are vehicle showrooms and the maintenance department. The layout creates a movement flow, where customers come to the center of the room for the brand experience, and then visit the perimeter for transactions.
Now, instead of rushing from one car to the next, or sitting in a bleak waiting room during service, visitors can relax and build positive associations with the brand and dealership. This ultimately makes buyers more likely to visit again, which improves the bottom line.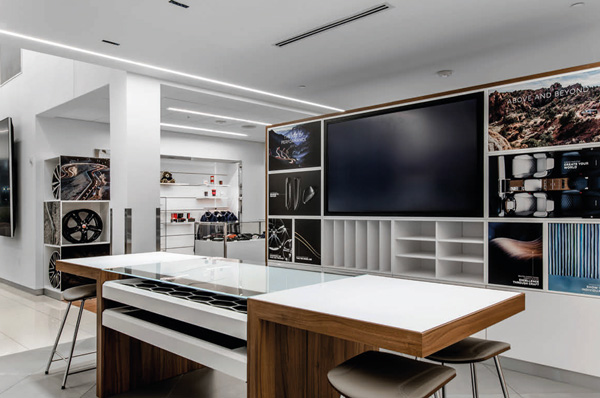 Jaguar Land Rover South Atlanta
"Some owners aren't sure what to think before rebranding projects," says Shepard. "But they're always happy to see revenue increasing afterwards."
From a startup team of 20 employees, iMBranded has evolved to include 130 team members, including account and project managers, and support teams sprinkled across the country. "We always used to say, 'We do big things with a small team,'" says Shepard. "We also had one of the first, three-meter [long] printers in the country, so we were able to work on larger projects, like building wraps."
"We always used to say, 'We do big things with a small team,'" says Shepard.
The team has also started to release innovative new products, such as its iMBrite™ series of displays. These turn high-resolution static images into animated works of art by adding movement using programmable motion technology. These displays are the perfect option for clients without large budgets for AV (audio visual) technology, and just one product they've released as part of a continuous effort to expand and dominate the retail landscape.
In addition to new dealership products, iMBranded has branched out into new industries where it can add value through its core competencies of creating furniture and graphics. One of the next areas the company is entering into is hospitality, with a new hotel project slated for a spring 2020 grand opening. Referred to as an "ultra luxury" property by the Detroit Free Press, it features 143 rooms and 17 penthouse residential suites and is located in one of the wealthiest suburbs of Detroit. As such, the project is a perfect opportunity for iMBranded to show off its capabilities in an industry that's not in their historical area of expertise. As part of the job, iMBranded has fabricated a plethora of high-end fixtures, including one intended to capture attention and add a unique element to the space.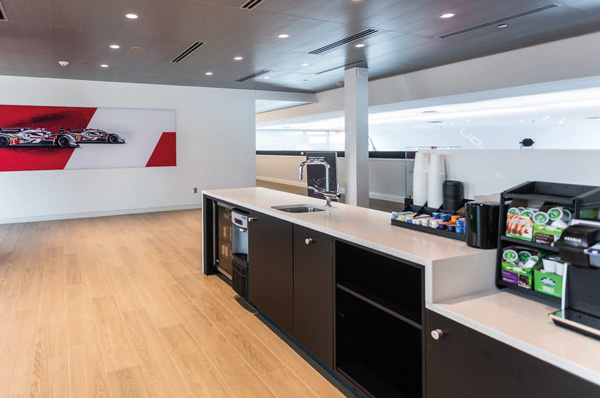 Audi Omaha
"One interesting feature of the project is a geo-dome made of aluminum and glass," says Shepard. "It's very cool, but at the end of the day it's just one component that we're using to brand the hotel and create a delightful experience for anyone who stays there."
Ultimately, this ability to create memorable interactions between brands and customers is the core competency driving iMBranded forward and helps differentiate any project it works on.
"We've come a long way since 2004," says Shepard. "I'm excited to see what's to come in the next evolution of iMBranded."
CONTACT KRISTIE: KSHEPARD@IMBRANDED.COM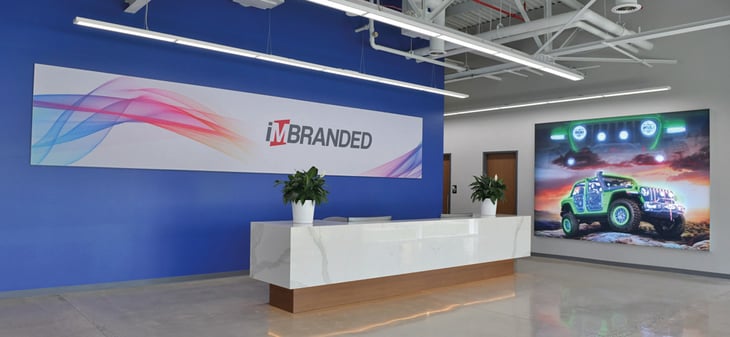 iMBranded Headquarters