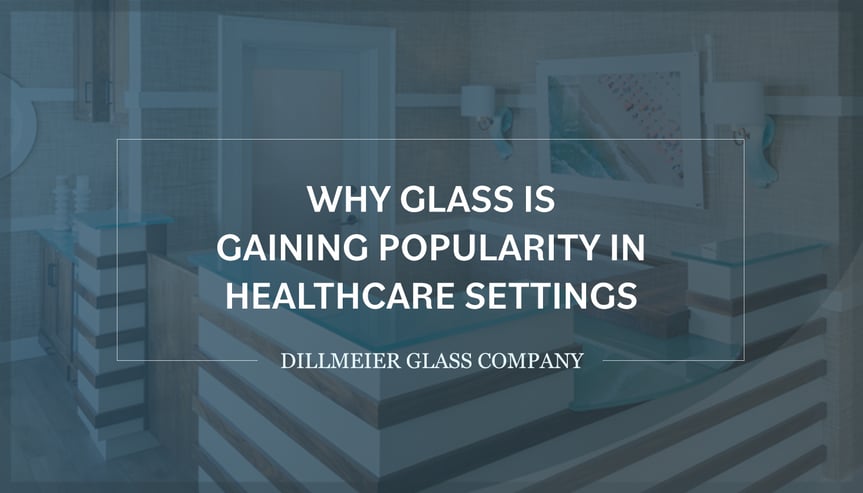 The coronavirus pandemic prompted retailers, healthcare facilities, hospitality venues, corporate offices, and others to immediately adopt health and safety protocols to protect their employees, customers, patients, and guests.
Implementing such measures within hospitals, clinics, and other places with infected people was perhaps most imperative. Glass dividers, partitions, and modular walls for safe person-to-person interactions, has since become standard for exam rooms, waiting areas, and check-in desks.
As doctors' offices, hospitals, and other medical facilities resume regular patient visits, personal protective equipment (PPE) such as masks and gloves are still required.

Glass is gaining traction within healthcare settings for various reasons, including its durability, cost, easy maintenance, and added health and safety advantages.

Benefits of Glass Within Healthcare
Glass boasts countless uses throughout various industries. In healthcare settings, it's a choice material for dividers and partitions to help keep patients separated while being tended to. Depending on its opacity, glass can provide transparency and privacy—keeping patients and medical staff safe without feeling isolated. Such characteristics are great for examination rooms, doctor and nurse offices, and waiting and surgical areas.

Glass can also be customized with decorative effects through such processes as frosting, silk screening, sandblasting, reeded glass, and more.

Easy Maintenance & Cleaning
Glass is gaining traction within healthcare settings for various reasons, including its durability, cost, easy maintenance, and added health and safety advantages.
A non-porous surface, glass is easier to maintain than other materials. Regardless of cleaning solvents, it won't stain, streak, or leave unsightly marks and scratches.

Many germs and viruses won't survive on glass as long as other surfaces. According to The Journal of Hospital Infection, coronavirus bacteria and other organisms lasted four days on glass, and five or more on plastic and others.


Durability & Sustainability
The heating and cooling manufacturing process of tempering strengthens the durability of glass, making it suitable for high-traffic areas.

Laminated glass boasts several environmentally friendly properties, too. Much of it can be recycled for cullets in driveways, roads, or other cemented areas.


Costs & Budgets
While you might initially save a few dollars with plexiglass or acrylic in the short term, you'll likely replace these sooner than later. Glass will last longer, with less associated maintenance and cleaning expenses.

Wellness & Natural Light
Adding glass walls throughout healthcare facilities is also beneficial, as increased natural light promotes serotonin production, which has positive health benefits on your mental health, digestion, and more.
Switchable or "Smart" Glass
Some healthcare facilities are adding switchable or "smart" glass, for quick privacy and security. This polymer dispersed liquid crystal (PDLC) technology increases or decreases the opacity of glass components in exam rooms, bathrooms, and other areas from clear to frosted, and vice-versa. It also adds style and flair to glass walls, interior windows, partitions, and doors.
Uniquely Customized Glass Solutions
for Healthcare Applications
It's best to work with a glass fabricator who understands healthcare facility design goals. Dillmeier Glass Company has the experience, knowledge, and expertise to ensure your project exceeds expectations.
---
Dillmeier Glass Company provides customized designs for various healthcare applications. Tell us about your project today!