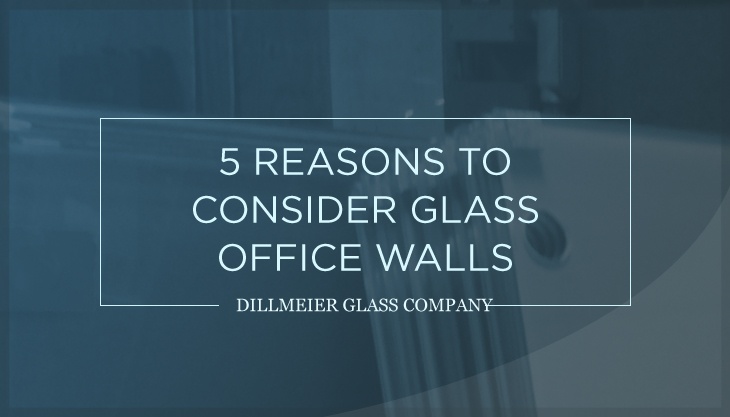 People spend most of their time at work, which means that for many the office is their second home. But it certainly doesn't feel like home, does it?
Because our work environment can affect our mood and our productivity, it's important that offices be well-maintained, functional and updated. Interior designers and building managers can choose from a wide palate of options when they're designing or re-designing an office. From the flooring and decor to the light fixtures and furniture to the actual floor plan, they have a lot to consider. One design element is able to go with any office interior's color scheme or style: customized, glass, wall systems.
Here are a few reasons why:
1. Adds Organization
Glass office walls keep the floor plan open without sacrificing people's personalized work spaces. This promotes transpaency while still establishing the organization's structure and order.
2. Contemporary and Classic
Glass can be used in many types of commercial spaces, not just in corporate settings. Just think of the display cases at a jewelry store or the counters at a hotel reception desk. This material is used for different spaces because it's versatile and always in style.
3. More Natural Light
According to the Journal of Sleep and Sleep Disorders Research, there's "a strong association between workplace daylight exposure and office workers' sleep quality, activity patterns, and quality of life." When thick, opaque walls block sunlight from reaching every corner of an office, the interior is dark and dreary with a touch of gloomy. But glass—even when back-painted or acid-etched—reflects more light, which certainly brightens up the office space, as well as the people working in it.
4. Made-to-Order
Speaking of back-painted glass and acid-etched glass, when you order office walls from a glass manufacturer, you can customize them as you wish. Not only can you incorporate your corporate logo, you can also add an individualized flair that you can't get from regular, boring walls. For example, if you're interested in frosting the glass to make a specific space feel more private, made-to-order walls are a great option to consider.
5. Space-Efficient
Glass office walls are smaller than bulky, regular partitions. They allow the office to have more space for people to use how they see fit, whether it's having enough room to work and interact, or to arrange their furniture to their own liking.
Interested in purchasing glass office walls? Learn about what you should look for in a glass fabricator before placing your order.