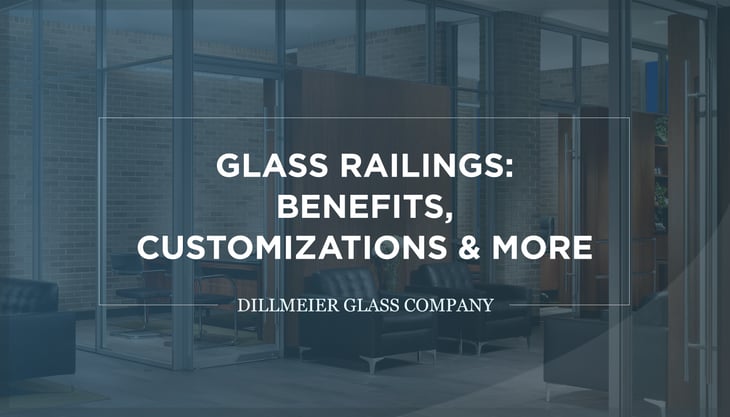 Glass railings are easy to install and clean, while providing strength, versatility and unobstructed views. Utilized for both interior and exterior spaces, they increase natural light and transparency, while also adhering to privacy.
Glass gives character and style to any project, especially within hotels, restaurants, office buildings, atriums, and sports venues.



Updated International Building Code (IBC) requirements by standards organization the International Code Council (ICC), as well as state and local mandates, outline safety requirements for glass railing construction, installation, and design.


The following are several key advantages, customizations, code requirements, and uses for glass railings.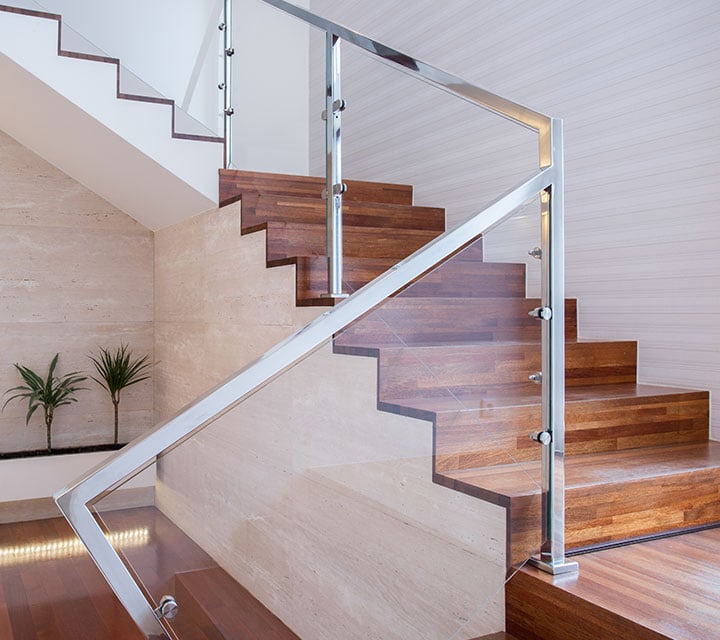 Customized glass railings from Dillmeier Glass Company are designed to accentuate any office, hotel, restaurant, and other public spaces.

Benefits
Glass gives character and style to any project, especially within hotels, restaurants, office buildings, atriums, and sports venues.
Unobstructed viewing and privacy elements can be incorporated within glass railings. Regardless of frame and rail type, this versatility also provides added energy efficiency.
Glass railings are strong, durable, and withstand severe weather when used on decks, rooftops, patios, and other exterior spaces. Natural sunlight highlights their transparency and beauty, creating the illusion of a much larger space wherever installed.
They additionally require little maintenance—most can be wiped clean with soap and water, or gentle cleaning solvents.


Customizations
Glass railings can be easily customized, producing unique designs for specified uses.
Consider adding the following decorative elements for branding, aesthetics, and cohesiveness:
Back-Painting
This custom glass-coloring process can uniquely match any specified hue or tone.
Dillmeier Glass Company can incorporate specialized, ceramic ink-roll coaters to fuse color into any glass railing and match lobby walls, reception desks, markerboards, and much more.



Sandblasting & Silkscreening
These can be applied to interior and exterior glass railings on patios and balconies, and other areas requiring privacy and discretion.

This technique also comprises customized logos, images, and designs.

Tinting
Adding even the slightest elements can facilitate a decorative and bold statement built on branding and functionality.
Polishing & Edgework
Dillmeier Glass Company produces pencil and flat polishing, and miter or beveled edging to meet safety standards governing exposed, raw edges.


Code Requirements
The ICC issued updates in 2015 and 2018 to Section 2407 of the IBC, mandating laminated glass for railings with a walking surface beneath.
Should breakage occur, laminated glass is bound together by a sandwiched interlayer, shattering into pebble-like pieces rather than dangerous shards.
Additional safety requirements regarding construction, installation, and measurements are also adhered to.
Thickness
Glass railings should be fabricated using either ⅜-inch or ½-inch tempered, laminated glass.
Height
The nonprofit National Glass Association (NGA) states that all glass railings and guardrails must be constructed 42 inches from any walking surface area. This increases to 48 inches when the nearby area is more than 20 feet.
If your railing requires holes or notches, consult Dillmeier Glass Company's glass tempering guidelines for minimum placement and measurement.
Rail Types
Top rails and handrails must be strong enough to support regular usage.
The NGA also requires handrails to have a slope of at least 1 in 20, height not less than 34 inches, and height more than 38 inches.
Load
IBC-recommended load requirements for handrails and guardrails must be 50 pounds per linear foot, or a concentrated load of 200 pounds.
Uses
When implemented by an experienced Dillmeier Glass Company-recommended installer, glass railings are best-suited for the following areas:

Decks & Patios
Seamlessly integrate within any building's existing outdoor space.
Stairways & Atriums
Customized glass railings can accentuate any office, hotel, restaurant, or other public space.
Glass railings can be easily customized, producing unique designs for specified uses.
Working Together
It's best to consult with a reputable fabricator, such as Dillmeier Glass Company, for the best glass railing solution for your business. From project outline to shipping, crating and installation, our team will help ensure all components are delivered on time and within budget.
---
Contact us today to discuss glass railing ideas and uses for your business.