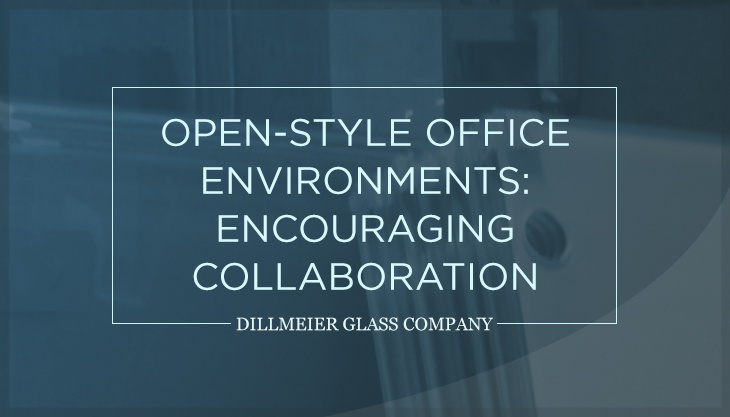 Open-style office environments have been on a steady rise throughout the past decade. Rather than being stuck in a cubicle like Peter Gibbons from Office Space—that is, until he knocks it down—employees of both small and large businesses now work in one common area, without separation. Oftentimes, glass office walls or glass partitons keep the space open, while also alleviating concerns about noise, distractions, and a lack of privacy.
Open office floor plans promote collaboration among employees.
Being confined to a cubicle or within the four opaque walls of an individual office can prevent workers from interacting. By breaking down those barriers, various management levels are more inclined to turn to their neighbors to bounce ideas off of each other and connect.
Facebook Headquarters - Photo Credit: Office Snapshots
As reported by U.K.-based online publication Design Week, the design for Facebook's new headquarters in Menlo Park, Calif. doesn't include any interior walls. Mark Zuckerberg, founder and CEO of the online social media corporation, explains in an article the thinking behind this new look was all about promoting collaboration:
"'Our goal was to create the perfect engineering space for our teams to work together," he says. "To do this, we designed the largest open floor plan in the world—a single room that fits thousands of people. There are lots of small spaces where people can work together, and it's easy for people to move around and collaborate with anyone here.'"
Renowned computer animation film studio Pixar is another well-known company embracing an open office layout. Office Snapshots, an online resource for office design-related articles, reports that back in 1999—the same year Office Space hit theaters—the late Apple founder, chairman and CEO Steve Jobs, who was also CEO of Pixar at the time, redesigned its headquarters in Emeryville, Calif. He wanted an open floor plan to encourage "'promoted encounters and unplanned collaborations'" among employees of different departments or disciplines. Since cubicles were all the rave at the time, this idea was cutting-edge.
Jobs "envisioned a campus where these encounters could take place, and his design included a great atrium space that acts as a central hub for the campus," continues the article.
Although completely open offices have significant benefits, critics point out a few drawbacks, too. Noise and distractions are typical complaints. One way to address these concerns, while still supporting employee interaction, is to incorporate glass walls.
While Facebook and Pixar may enjoy having completely open offices, that doesn't mean everyone is sold on this type of corporate interior design. Too much noise, too many distractions, and a lack of privacy are common concerns, and for good reason. With everyone in one room, there tends to be less structure, and this can be frustrating for some employees. However, going back to traditional cubicles isn't necessarily the answer.
One solution to consider when trying to keep that open-style office environment is to install glass walls.
Incorporating glass office walls or partitions in a corporate setting gives the space more structure, which increases organization, without sacrificing that open environment. It increases transparency and encourages collaboration among employees just as much as completely open offices, while also supplying a bit of much-needed quiet space and privacy, so employees can buckle down and get their work done.
In fact, Garrett Ames, COO of glass manufacturing company Dillmeier Glass, says glass office walls have become a common request from their wide range of clients, among these: commercial and corporate furniture dealers, architects, designers, and modular wall manufacturers, such as DIRTT.
"Every time I'm on our production floor, I see more and more glass being fabricated for modular walls," he explains. "Glass in interior office applications continues to grow. Not just in scope, but in size as well."
Not only do glass walls promote employee interaction, minus the distractions, but they also add a sleek and contemporary design element to the space that completely open offices simply lack. Additionally, when people work in an impeccably designed environment, it's likely they'll be happier to get up in the morning and go to the office than if they were returning to an outdated and unorganized setting.