Back-Painted Glass: Customized, Unique Color-Matching For Any Application
Sleek and innovative designs for your interior commercial space combined with the highest durability, quality, and strength.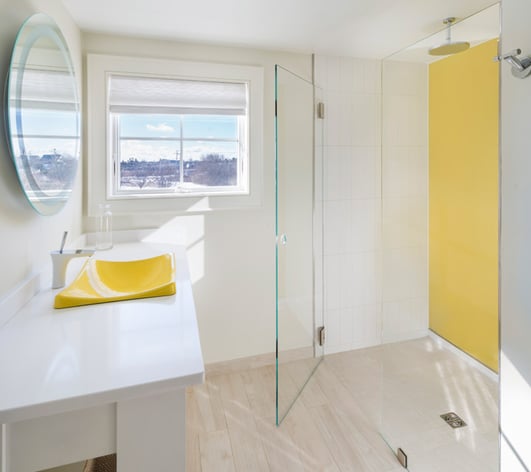 Creative, Decorative Back-Painting Solutions To Meet All Your Design Needs
Consider back-painted glass for any project that calls for a custom appearance—whether it's a unique design in a new space or an opportunity to retrofit with current branding and aesthetics.
From the lightest hues for just a touch of color, to the most opaque shades for a truly dramatic statement, back-painting is the design solution to take your office, retail shop, hospitality facility, or any commercial space to the next level.
Slight Touches, Bold Statements
Our expert advisors can help you achieve a customized look that's on trend with your current design and branding aesthetics. We can also assist with retrofitting and remodeling.
In addition to our primary palette of yellow, blue, green, grey, purple, red, orange, and other basic hues, we can also color-match any hue or tone to offer a personalized brand, logo, or decor of your choice.
"When I designed the reception desk in the lobby, I used that back-painted glass as well for the counter to tie all the spaces together [the same glass had been used in the bedrooms and bathrooms]. The glass is very durable—great for a commercial space."
—JOCELYN CHIAPPONE, OWNER, DIGS DESIGN COMPANY
Read more about how Dillmeier and Digs Design partnered together to create custom back-painted glass solutions for a high-end boutique hotel.
Advanced, Ceramic Ink Finishes
For an even higher level of customization, your project can benefit from our flame-forged ceramic color-coating process. Similar to back-painting, your glass undergoes an additional step, whereby it's heated to approximately 1,200-degrees Fahrenheit. Your colors are then fused into the glass for added durability and quality, and the highest aesthetics.
Lifetime Guarantee
For added peace of mind, back-painting is both durable and versatile based on your design requirements and application. You'll have a branded look that's decorative and cohesive, and can be easily altered as your needs change.
Any project comprising our durable, flame-forged ceramic ink finish is covered by our *Lifetime Guarantee, offering full assurance when it comes to chips, flakes, or scratches.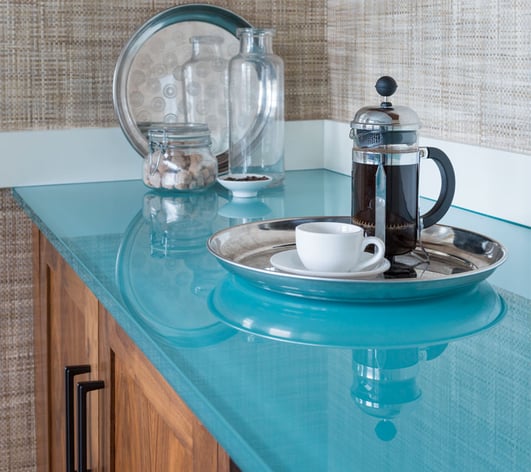 Various Applications & Industries
Back-painting is suitable for the following industries and accompanying applications:
Retail & Hospitality
Markerboards
Lobby Walls & Reception Desk Countertops
Bar/Lounge Areas & Tabletops
Signage
Display Cases & Shelves
Bathroom Walls & Shower Doors


Offices & Other Commercial Spaces
Frameless Glass Walls
Lobby Areas
Furniture
Conference Rooms & Tabletops
Partitions & Dividers
Locker & Storage Area Doors
Back-Painted Glass FAQs
Learn more about some of the most frequently-asked questions we receive when it comes to back-painting and color-matching.
What are the benefits of using back-painted glass?
From glass markerboards to conference tabletops, back-painted glass can be used to infuse color and style into almost any design project, creating welcoming, practical spaces with a striking look and feel. Those seeking a more subtle statement can still utilize the material, as glass can also be painted in softer hues.
Is back-painted glass a versatile decorative option?
Due to its customization options, back-painted glass is more versatile than other materials, such as granite and marble. Aside from being painted to match the designer's vision, it can also be expertly cut and shaped by an experienced fabricator.
How many back-painted colors are available?
Dillmeier Glass Company offers a range of standard back-painted colors, along with custom color-matching to complement your brand, logo, and/or décor for a personalized look.
Is back-painted glass resistant to bacteria and corrosion?
Because glass is a non-porous surface, it doesn't allow air or water to pass through. As long as your surfaces are regularly cleaned, you should be able to keep everything free from corrosion, as well as bacteria and mold.
What happens if my back-painted glass fades or chips?
Should any of these instances occur, your product is covered through Dillmeier Glass Company's Lifetime Guarantee, offering full assurance on all of our flame-forged ceramic ink for the life of the product.


*Lifetime Guarantee: Dillmeier Glass Company offers full assurance on all of its flame-forged ceramic ink for the life of the product.