Reeded Glass: Where Privacy Meets Aesthetics
Utilize reeded glass to achieve a blended, cohesive design while also supporting discretionary requirements.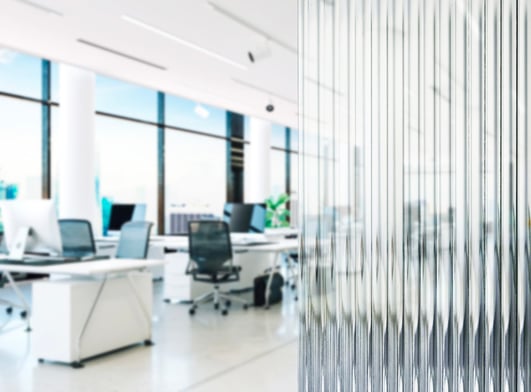 Meeting Your Design Needs Without Sacrificing

Confidentiality
If your project calls for a decorative appearance that adheres to privacy standards, you can have the best of both worlds. Through its small ridges, reeded glass adds a hint of delicate light waves for appealing aesthetics while still maintaining the required privacy for glass walls, windows, and doors.
Because this specialized design provides the most subtle of appearances for even the highest level of decorative glass, you'll gain your unique branding and design elements.
Expert Fabrication to Fit Your

Exact Specifications
Designed for office partitions and dividers, along with retail displays and shelving, reeded glass can be cut, drilled, polished, and edged to your needs. In addition to popular sizes—ranging from ¼- to ⅜-inch lites—we also offer a variety of thicknesses.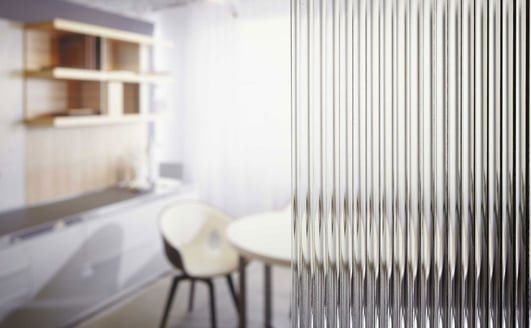 Suitable Applications & Industries
Reeded glass is appropriate for the following industries and accompanying applications:
Retail & Hospitality
Partitions & Dividers
Bar/Lounge Areas
Displays & Shelving
Healthcare Facilities
Patient Waiting Areas
Exam Rooms
Reception Area Partitions
Offices & Other Commercial Spaces
Frameless Glass Walls & Doors
Conference Rooms
Partitions & Dividers
Reeded Glass FAQs
Learn more about some of the most frequently-asked questions we receive.
How is reeded glass made?
Also known as fluted or ribbed glass, Dillmeier Glass Company works with its preferred float glass manufacturers, who create this design by pressing tempered glass between metal rollers for a uniquely customized pattern. Operating the most technologically advanced equipment, our trained technicians can then provide specialized finishing services, including edging and polishing, and cutting and shaping to help achieve any decorative look you desire for your application.
What are the benefits of reeded glass?
Varying in thickness from ¼ to ⅜ of an inch, reeded glass is suitable for walls, windows, and doors. Its ripple-like appearance provides elegant decorative and branding options while adhering to privacy measures required by certain industries, such as health care.
Can reeded glass be tempered?
The short answer is yes. All of our glass products undergo a specialized, five-step process whereby glass is heat treated within special tempering ovens, making it stronger and safer to prevent injuries. Per guidelines specified by standards organization ASTM International, tempering is four-to-five times stronger than annealed or untreated glass.