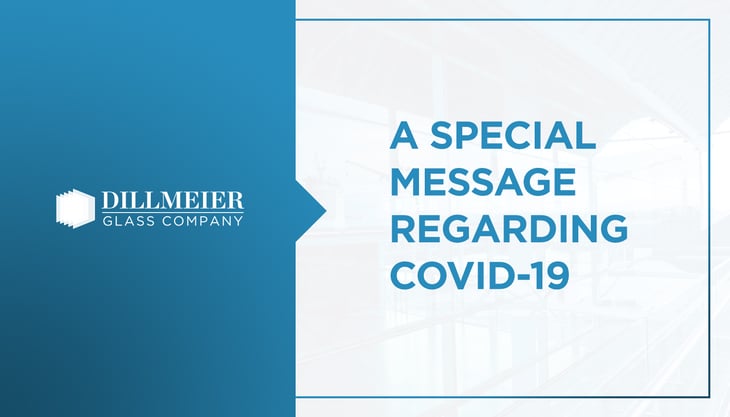 Van Buren, Ark. - April 10, 2020 – At Dillmeier Glass Company, we've always pulled together as a team throughout our long history to effectively respond to trying situations—and the challenges posed by the novel coronavirus (COVID-19) pandemic are no different.
We're open for business at our Arkansas headquarters, and we've implemented procedures and best practices in line with current federal Centers for Disease Control and Prevention (CDC) guidelines. We're monitoring circumstances daily, going above and beyond with extra precautions to ensure our employees remain safe and healthy.
"Our employees are of our utmost concern, so we've amended procedures and health and safety practices in line with the recommended CDC guidelines."
COVID-19 is a global health event. We sympathize and empathize with everyone affected, especially our valued team members, customers, partners, and dealers.
"Our employees are of our utmost concern, so we've amended procedures and health and safety practices in line with the recommended CDC guidelines," says Dillmeier Glass Company President Garrett Ames. "We're committed to taking any and all of the necessary steps to ensure a safe and healthy workplace, while adhering to all federal, state and local mandates."
As of today, Arkansas hasn't issued a stay-at-home order. Should it do so, we'll keep you informed and provide clear communication regarding any additional mandates.
In the spirit of compassion, devotion, and our storied legacy, we'll continue in the safest and best ways to service our valued customers and partners with exciting new projects and brand launches in development prior to the outbreak. In the coming months, keep an eye out for two new product launches in particular that will be of interest to customers in retail and office industries.
In the meantime, we've already launched a full complement of sneeze guard and divider products to keep front-line workers safe. Also, as a courtesy to our valued customers, we are also including complimentary face masks with each new shipment.
At Dillmeier Glass, it's our mission to preserve the health of our team members in all aspects of our company—from in-office personnel, to warehouse workers, delivery drivers, and installation experts. That dedication extends to our valued customers and partners, as we maintain our high standards of service with forward-thinking and progressive initiatives.
Thank you for your ongoing support, and please call 800-325-0596, or email us with any questions or concerns.
---
About Dillmeier Glass Company
In 1933, William M. Dillmeier opened a small glass fabrication business in Brooklyn, NY. Since then, Dillmeier Glass has grown to become a leading fabricator of glass store fixtures, glass components, glass wall systems, and myriad of other glass applications for customers worldwide.
Today Dillmeier Glass operates its own 150,000-square-foot facility with a broad range of technologically advanced equipment and highly skilled operators that can fabricate virtually any thickness, size, edgework, surface treatment, cut-out or drill pattern. Our customers include store fixture manufacturers, regional and national retailers, glass distributors, interior wall companies, architects, builders, shower door installers, sporting arenas, and furniture and table manufacturers.

Contact us to learn more about how the Dillmeier team can help facilitate your interior glass needs.