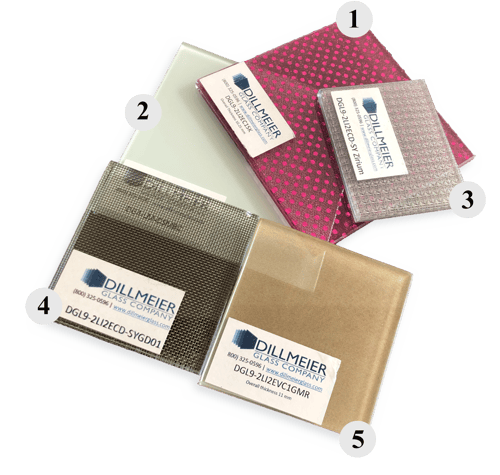 Dillmeier Glass Company can provide unique decorative laminated glass ideas based on your project's style, design, and branding. To learn more about each of the samples featured above, please refer to each numbered label with corresponding description:

1. Fabric
2. Double-Side White Writeable Glass
3 & 4: Metallic Screen
5: Gold-Colored Mesh Interlayer
Decorative Elements to Personalize & Claim Any Space as Your Own
Known for its strength, durability, and easy maintenance and cleaning, laminated glass also facilitates enhanced Sound Transmission Class (STC) ratings and sound absorption, while providing natural light in almost any setting. When blended with decorative elements, it fosters a unique appearance in applications ranging from office partitions and dividers to retail display cases, railings, and customized markerboards. It can also be used in glass flooring applications.
When used in offices and hotels, custom laminated glass with light transmission provides privacy by distorting the imagery. Meanwhile, that transmitted light keeps the divided area bright—creating a sense of space, even in smaller rooms.
The following decorative options are available to enhance your laminated glass for any application:
Fabric: This provides a focal point for even the most discerning eye. Its wide color palette and design are suited for interior applications including furniture, railings, staircases, and interior walls.
Metallic Screens: Designed via metal or wire mesh into laminated glass panels with adhesives, these promote energy efficiency and soundproofing within dividers, partitions, and doors.
Decorative Interlayers: Situated between two laminated glass panels, this can facilitate various patterns and colors in line with any shades or textures for specified opacity levels.
We can assist with any of these ideas based on your project's specific style, design, branding, and industry.
Strengthening & Improving Your Glass Project While Upholding Sustainability & Best Practices
All of Dillmeier Glass Company's laminated glass is manufactured in-house at our customized, temperature-controlled clean room, resulting in a product that's free of dust, foreign objects and other contaminants.
Created by sandwiching a variety of interlayers in between two lites of glass—laminated glass will stay in place. Even when the glass has had a significant impact, it will break via multiple, long breaks resembling a web-like appearance, rather than dangerous shards compromising the safety of occupants and the accompanying space.
Laminated glass is also useful for display cases within retail settings and other industries that are susceptible to "smash and grab" crimes—specific security interlayers will act as a barrier, creating a challenge for thieves attempting to steal high-end merchandise.
If you're adding glass railings with a walking surface beneath, laminated glass is the mandated material of choice per International Building Code (IBC) safety requirements for construction, installation, and design.
With new technology, laminated glass is recyclable. Upon a specified removal process of the interlayer portion, the rest of the glass can then be recycled and used as cullet or other secondary uses for crushed glass.
Did You Know?
Have you ever noticed glass-like specks illuminated within pavements, driveways, and parking lots? Upon removal of laminated interlayers, glass can be crushed down and then recycled to create these surfaces.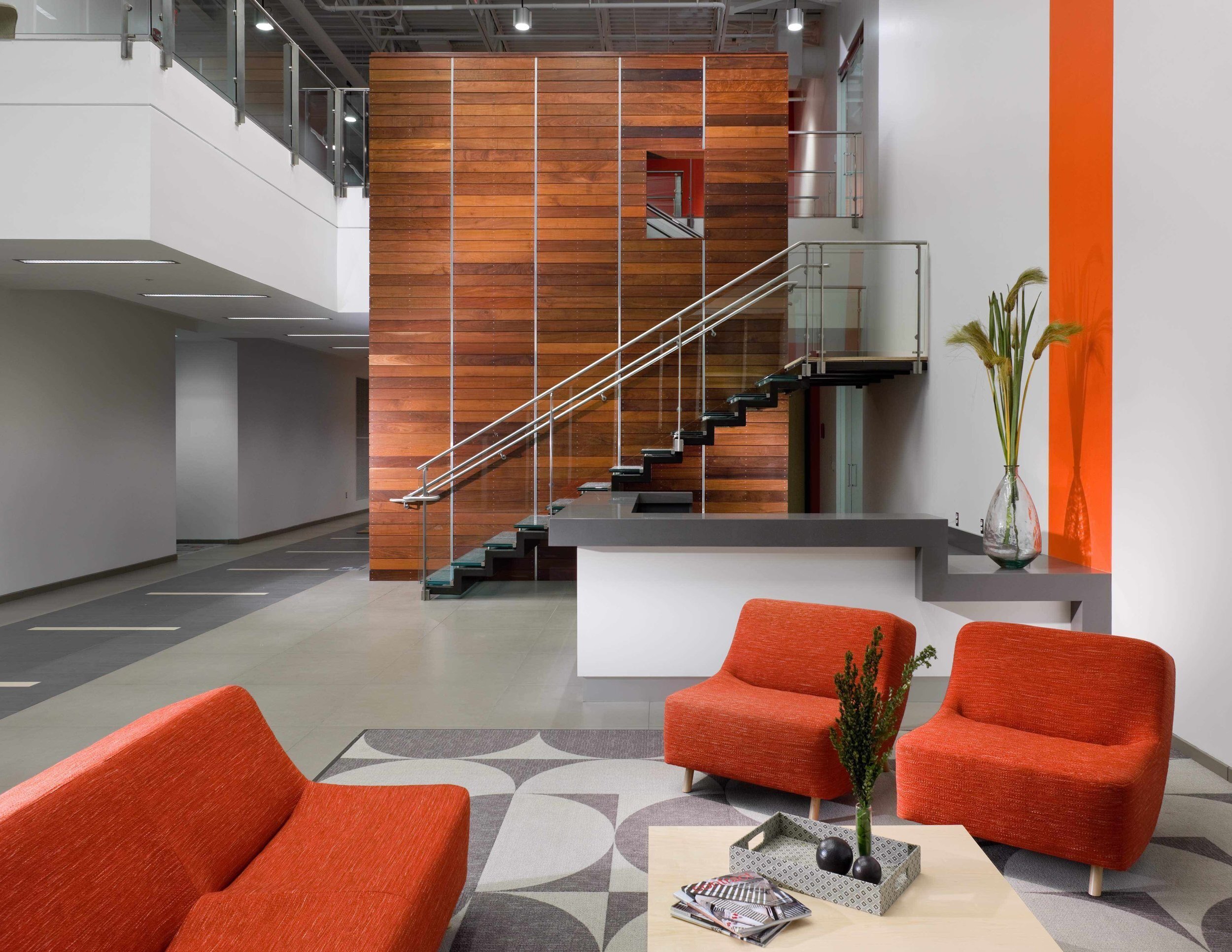 Learn More:

Our In-House Lamination Process
Utilizing materials from U.S.-based float manufacturers and conducted at our 150,000 square-foot Made in the USA Arkansas plant, we'll deliver a laminated glass project built on the following:

We customize the glass per client specifications. This includes design, cutting and shaping.

Glass is moved to washing machines to clean and remove any impurities for highest optical quality.

Machine-washing occurs during clean room preparation.

Panes are transferred to the fabricator's temperature-controlled, debris-free clean room. This is when the laying up or "sandwiching" of the interlayer between the two glass panes occurs.

Glass undergoes a controlled heat and pressurized process to cross-link glass with interlayers and cure the glass to interlayer bond. It's then permanently fused together as a single "lite," officially taking on the properties of laminated glass.
Enhanced Wellness & Team Productivity Benefits
If you want to provide a stylish setting built on privacy and aesthetics, while still maintaining team building and collaboration, laminated glass also offers wellness, productivity, and privacy benefits. Not only does it facilitate the natural flow of interior light for proven stress reduction and increased productivity, it can also aid with simultaneously blocking harmful exterior UV rays.
In addition, unlike plexiglass or acrylic materials, laminated glass won't scratch or fade over time—even when used in high-traffic settings.
Top Benefits of Laminated Glass for Your Project
Holds Together in a Web-Like Pattern Upon Impact

Helps Deter "Smash & Grab" Retail Crimes

Improved STC Ratings & Sound Absorption Properties for Added Privacy

UV Ray Protection

Fosters Natural Light Within Interior Offices

Increased Strength & Durability

Added Security & Protection

Can Facilitate Decorative Aesthetics for Various Applications

Easy to Install, Clean & Maintain