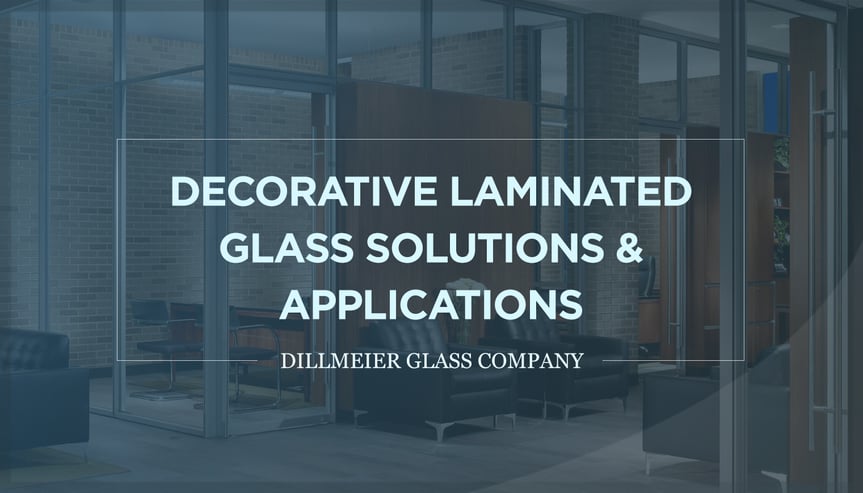 Editor's Note: This blog post was originally published in July 2020 and has been revised to reflect industry updates.
Laminated glass is a popular element of commercial interior glass projects, and well regarded for its strength, durability, versatility, and optimal functionality across various industries for myriad purposes. These include retail, personal care, corporate offices and conference rooms to fitness centers, restaurants, hotel rooms, and common areas.
Due to its sandwiched interlayers essentially holding together the two outer glass pieces, laminated glass is used for applications requiring extraordinary safety measures. Should breakage occur, it will result in weblike cracks but keep the glass intact.



Utilized within various interior architectural glass products because of its versatility, along with its convenience for weaving in decorative touches, laminated glass boasts diverse applications as partitions and dividers, retail display cases, modular walls, customized markerboards, and more.
Below we'll highlight this material's best characteristics, decorative elements, and accompanying applications and uses.
The Main Benefits of Laminated Glass
Laminated glass is a popular element of commercial interior glass projects, and well regarded for its strength, durability, versatility, and optimal functionality across various industries for myriad purposes.
Glass lamination encompasses several processes conducted by an experienced fabricator such as Dillmeier Glass Company, including design, cutting, and shaping. Created by sandwiching interlayers between two lites of glass, laminated glass can be clear or decorative, depending on the specific materials used.
Should laminated glass break, it will remain intact rather than creating dangerous, injury-causing shards.
Laminated glass fosters wellness and productivity within interior offices by promoting natural sunlight, while still reducing exterior ultraviolet (UV) rays. Its use of sound deafening interlayer also boosts Sound Transmission Class (STC) ratings to withstand higher noise thresholds. Other qualities include durability, modest pricing, and use-case versatility. Laminated glass is also easy to clean and sanitize, and can be adjusted for specific transparency and opacity levels.
When used in offices and hotels, custom laminated glass with full-light transmission provides privacy by distorting the imagery. Meanwhile, that transmitted light keeps the divided area bright—creating a sense of space, even in smaller rooms.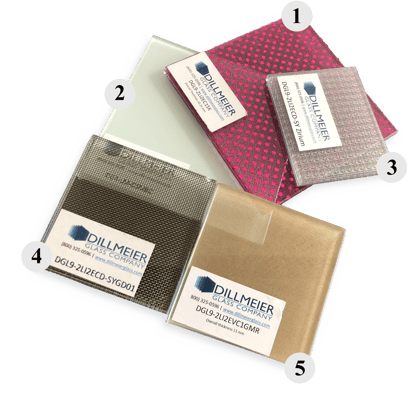 Dillmeier Glass Company can provide unique decorative laminated glass ideas based on your project's style, design, and branding. To learn more about each of the samples featured above, please refer to each numbered label with corresponding description:

1. Fabric
2. Double-Side White Writeable Glass
3 & 4: Metallic Screen
5: Gold-Colored Mesh Interlayer
Laminated Glass Decorative Features
Consider adding decorative details to your laminated glass project for unique customizations. Here are several useful combinations:
Fabric
Its myriad colors and designs are attractive for interior applications such as furniture, framed shower enclosures, elevators, balustrades, railings, and staircases. When combined with sandblasting and back-painting, fabric provides a focal point for even the most discerning eye.
COMMON AREAS OF USE
Hotels & Restaurants
Offices & Conference Rooms
Personal Care
APPLICATIONS
Furniture
Framed Shower Enclosures
Elevators
Balustrades
Railings & Staircases


Metallic Screens
These incorporate metal or wire mesh into glass panels with adhesives. Energy efficiency and soundproofing are additional qualities for dividers, partitions, windows, and doors.
COMMON AREAS OF USE
Restaurants
Theaters
Offices
Retail
Banks
Medical Facilities


APPLICATIONS
Dividers & Partitions
Windows & Doors



Decorative Interlayers
Situated between two laminated glass panels, this customized process can facilitate various patterns and colors in line with any shades or textures for specified opacity levels.
COMMON AREAS OF USE
Retail
Corporate Headquarters
Academic Institutions
Fitness Centers


APPLICATIONS
Display Cases & Shelves
Markerboards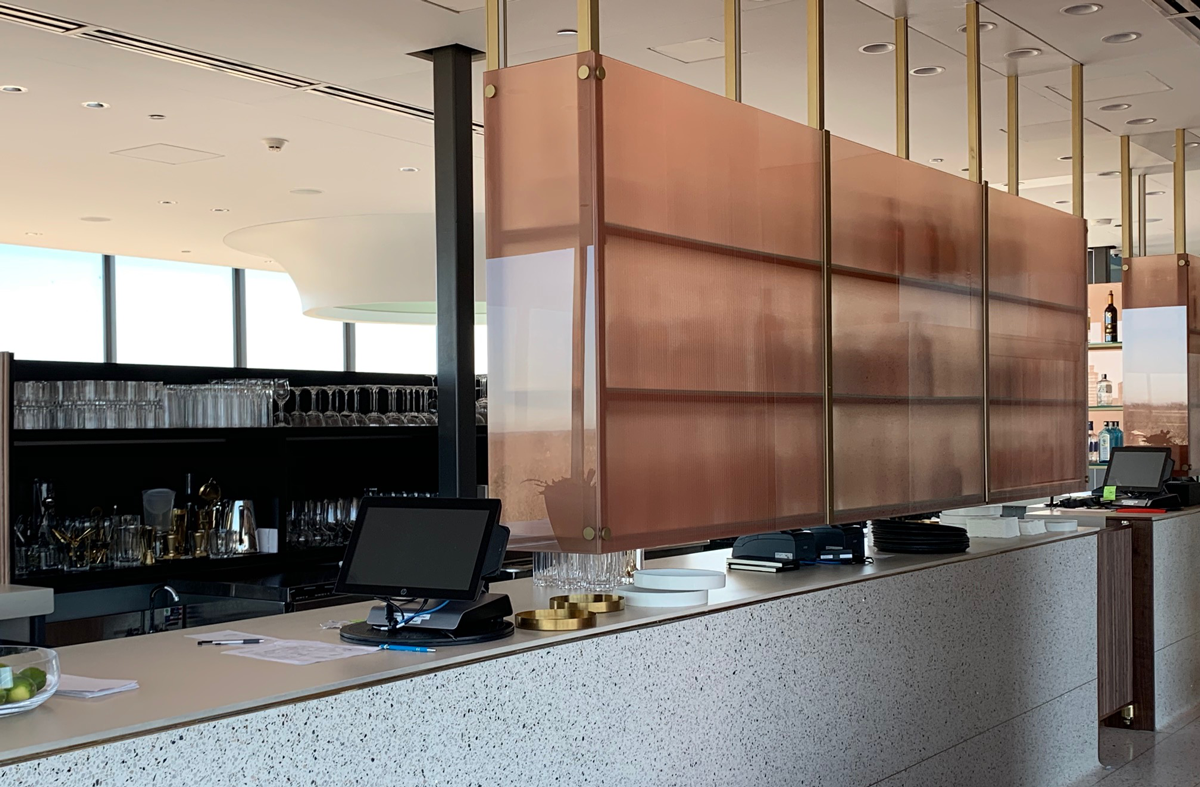 Restaurants and bars are just two of many use cases whereby decorative laminated glass can be added.
Reeded, Fluted, or Other Patterned Glass
Any type of laminated patterned glass can be combined with custom interlayers to further achieve any specialized, unique appearance.
COMMON AREAS OF USE
Offices
Conference & Meeting Areas
APPLICATIONS
Modular Walls
Dividers & Partitions
Doors
Digital Designs & Patterns
Computer-aided design (CAD) artwork, graphics, digital photography, and drawings enable extraordinary customization for interior and exterior walls, partitions, dividers, and windows.
COMMON AREAS OF USE
Indoor Stadiums
Retail
Salons & Spas
APPLICATIONS
Interior Walls
Partitions & Dividers
Windows
Opacity Levels
Linking all of these aforementioned decorative elements together is opacity levels. When deciding on laminated glass with these accompanying designs, this is key to achieving specified requirements. From transparent to opaque, opacity determines the amount of light within a specific space and accompanying privacy according to applications and usage.


COMMON AREAS OF USE
Retail
Medical Facilities
Salons & Spas
Offices
Academic Institutions
Corporate Headquarters


APPLICATIONS
Frameless Glass Walls & Doors
Partitions & Dividers
Shower Doors
Markerboards
Glass Railings


Additional Flair & Aesthetics
It's best to work with an experienced fabricator such as Dillmeier Glass Company to achieve the best decorative laminated glass style and design for your commercial project.
---
Contact us to discuss decorative laminated glass ideas for your business.