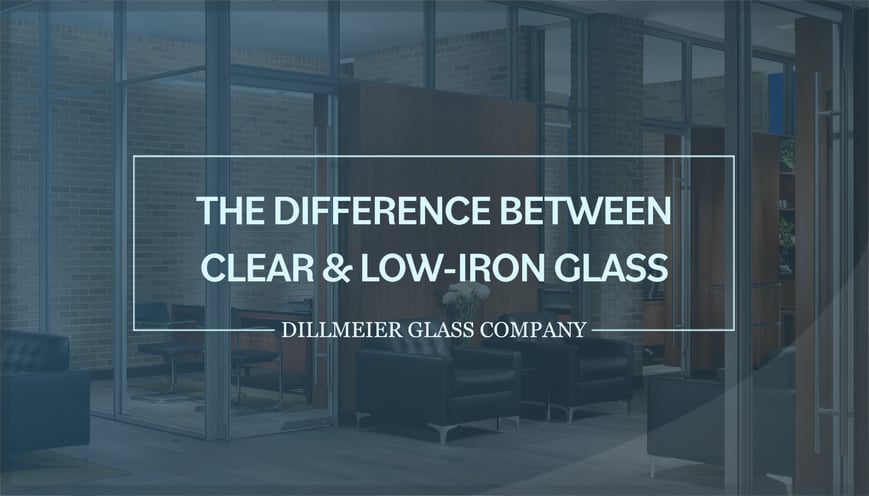 Editor's Note: This blog post was originally published in December 2016 and has been revised to reflect industry updates.
You might think all glass is made the same. Yes, glass is available in different shades and shapes, but its actual composition cannot be altered, right?
This couldn't be further from the truth.
Different products require different glass types. Two common categories are low-iron and clear. Their properties differ because ingredients aren't the same, so one may be better suited than the other for certain uses. An experienced fabricator, such as Dillmeier Glass Company, can explain the distinctions between low-iron and clear glass, and also recommend which is best for your project.
Below we'll discuss the differences between clear and low-iron glass, and the best uses and applications for each.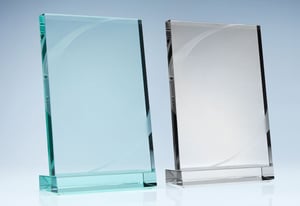 The visual difference between clear glass (left) and low-iron glass (right).
What Is Clear Glass?
It's a common misconception that clear glass is the most transparent, however, this actually is not the case. Although clear glass does not have substantially high iron content, it does have more than low-iron glass. These higher levels produce a greenish tint, gaining prominence as glass thickens. This is the result of the natural presence of iron oxide from elements such as sand, or from the cask or container whereby the glass was melted. This can cause issues within certain applications and uses.
Fabricators will typically recommend low-iron glass for custom back-painting projects. With a clearer canvas, back-painting is much smoother, creating the exact required shade.
When displaying elegant wares, such as jewelry and other high-end items, these fine details and subtleties may not be as apparent to even the slightest touch of green present in a clear glass case.
How Can You Tell if Glass Is Low-Iron?
While clear glass is appropriate for projects not requiring high-level displays or added decorative elements, low-iron glass is likely the better choice for markerboards, frameless glass walls, UV-bonded display cases and shelving, and glass dividers.
Float glass manufacturers create low-iron glass, also known as extra-clear glass or optically clear glass, by reducing iron amounts in the molten glass formula. This is more transparent than regular glass, and doesn't have that aforementioned greenish tint. Modifying iron content can increase light transparency by 5 percent to 6 percent.
Since the edgework of low-iron glass is less green than clear glass, it's not just suited for color matching—it is also appropriate for retail display cases and shelves.
According to research by conversion consulting firm Invesp: "8 eight out of 10 impulse buys are made in a brick-and-mortar store."
Because of higher transparency and interior opacity levels, consumers can view merchandise without the green tint. This could also be useful within hotel lobbies, office waiting rooms, or other areas utilizing glass display cases.
When compared to clear glass, low-iron glass emits additional light for seamless continuity between spaces.
Suitable Low-Iron Glass Applications
Learn how low-iron glass can add clarity and pizzazz to any of the following applications:
Markerboards: Further personalize any project with custom color-matching, tone, or a logo for amplified branding and aesthetics.
Frameless Glass Walls: Cultivate a clean, minimalist appearance within pre-existing designs and floor plans.
UV-Bonded Display Cases & Shelving: Promote an elegant, cohesive appearance—even when multiple glass pieces are necessary.
Glass Dividers & Partitions: Increase natural light flow, transparency, and clarity with minimal tinting.
Shower Door Enclosures: Low-iron glass works best for custom back-painted shower walls.
Choosing the Right Low-Iron Glass
for Your Application
Because low-iron glass composition varies among specific formulas and processes, all have a slight tinge of iron. When deciding on the low-iron glass type for your application, consider the following recommendations:
Request Samples & Mockups From Your Glass Fabricator: Be sure to confirm actual iron levels while demonstrating glass lite opacity and transparency.
Outline Specifications: This information is especially important for high-end or display-driven applications.
Ensure All Parties Are Onboard: Discuss project changes and specifications among your whole team.
Don't Mix & Match Materials: For utmost clarity, it's best to avoid combining low-iron glass with clear glass.
While clear glass is appropriate for projects excluding high-level displays or added decorative elements, low-iron glass is likely the better choice for markerboards, frameless glass walls, and glass dividers.
While clear glass is appropriate for projects not requiring high-level displays or added decorative elements, low-iron glass is likely the better choice for markerboards, frameless glass walls, and glass dividers.
Can I Use Glass That Doesn't Contain Any Iron?
Some iron is required when producing glass, and hence a necessary ingredient for a stronger, durable, and long-lasting solution. Because low-iron glass is created without specifications outlined by standards organization ASTM International, clarity and iron levels will vary. It's therefore recommended to discuss this with a reputable glass fabricator.
Clear vs. Low-Iron Glass:
Which Is Best?
Clear and low-iron glass both have advantages for particular applications. It's best to work with a fabricator who understands project designs and goals, and can ensure the highest standards within your lead time and budget.
---
Contact Dillmeier Glass Company to determine if your project is best-suited for clear glass or low-iron glass.