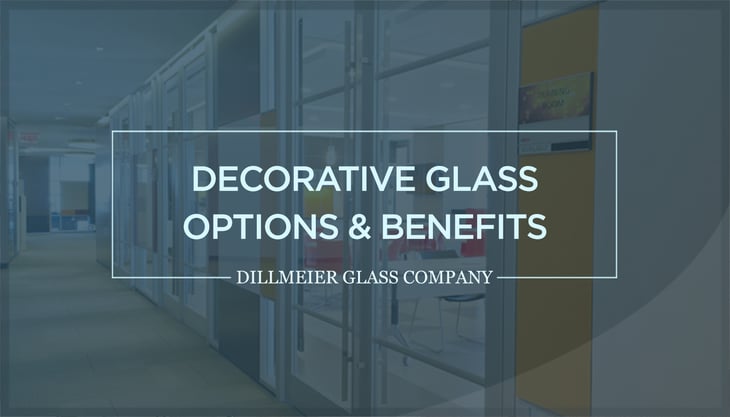 Decorative glass is often utilized in various industries and applications for its unique color options, textures, customizations, branding, and other design elements. It adds natural light to any workplace, along with privacy when designed to do so. This can also be easily incorporated by an experienced fabricator, such as Dillmeier Glass Company.



Features include laminated glass, UV bonding, edgework and polishing, custom sizes, sandblasting, silkscreening, and backpainting.
The following helpful overview breaks down the various types, attributes, and applications of this popular and versatile material.
Top Benefits
Decorative glass features include UV bonding, edgework and polishing, custom cutting, sandblasting, silkscreening, and backpainting.
Decorative glass is renowned for its aesthetics, strength, durability, security, and competitive pricing.
Among other advantages, its transparency increases sunlight while blocking out harmful ultraviolet (UV) rays. Decorative glass also provides privacy and security, eliminating the need for excessive curtains, blinds, or shades. It makes the perfect canvas for frosted logos, designs, and digital images.
Decorative glass is also easy to clean and sanitize. It doesn't require specialized solvents or cloths, and remains streak- and scratch-free. This is especially important for high-traffic areas with railings, elevators, and furniture.


Decorative Glass Types
Decorative glass can be customized and designed to fit the exact needs of your business, with its intended use oftentimes dictating the specific type and style. Here are several popular applications and the corresponding varieties:
Low Iron
Ideal for display-driven, high-end retail, low-iron glass undergoes a special process that removes its natural, greenish tint and increases its transparency.
Laminated
Sandwiched between clear and plastic resin, laminated glass is suitable for various thin, adhesive coverings, offering endless design possibilities. Wallpaper, fabric, metallic screens, and the like can help blend or accent an existing design scheme or create a focal point.
Laminated glass is also shatter-proof. If breakage occurs, it would result in pebble-like pieces instead of sharp, dangerous shards. An experienced fabricator performs a specialized, five-step process to achieve this.
Backpainting
Typically used in design-heavy applications, backpainted or color-matched glass provides a sleek, cohesive, and clean appearance.



Sandblasting & Silkscreening
These techniques create customized logos, images, and designs, transforming any piece of tempered glass into a personalized branding opportunity sure to impress and amaze.
Reeded
Suitable for walls, windows, and doors, reeded glass has a ripple-like appearance that can vary in thickness, from one-quarter to three-eighths of an inch.



Tinted
This reflective, colorized glass can add a bold statement to storefronts, skylights, and other commercial applications. It also has heat absorption and UV-reduction properties.
Patterned
Decorative, translucent properties are highlighted by the embossed surfaces of this glass. It's typically used for privacy while still providing optimal light transmission.
Applications
It's important to weigh which decorative glass type best matches the intended use before implementation. Several practical pairings include:

Decorative glass can be customized and designed to fit the exact needs of your business, with its intended use oftentimes dictating the specific type and style.
Office Environments
As more states phase in reopenings during the ongoing novel coronavirus (COVID-19) pandemic, decorative glass dividers, partitions, and walls have emerged as popular personal protective equipment (PPE) to preserve the health and safety of employees and customers.
Unlike wood or drywall, glass enhances a room's depth to make it appear larger. It can also improve privacy, limit distracting noise through sound-proofing, and add more light. Laminated and reeded glass, along with silkscreening, provide additional customization to increase productivity.
Restaurants & Hotels
Decorative glass dividers can also help patrons social distance within newly reopened restaurants and hotels.
Backpainting is another popular technique utilized within such businesses, in which the reverse side of a piece of glass is shaded to add complexity and beauty to bathrooms, guest rooms, and common areas.
Medical Facilities
Unlike traditional curtains or privacy blinds, decorative glass is easily cleaned and maintained—making it an ideal material for hospitals and medical offices. Frosted or backpainted glass can improve privacy in sensitive areas such as exam rooms, or observatories.
Retail
Consider low-iron glass for clear, transparent, and gapless shelving to provide a high-end, seamless appearance. This could be anything from jewelry, watches, and handbags, to personal care products.
Our UV-bonded tempered glass process enables these and similar display cases to also withstand retail smash-and-grab attacks.
Decorative glass dividers can be added at the point of sale or between spa stations for safe person-to-person interactions.

Design Expertise for Every Application & Environment
Whether you require a customized decorative glass solution for a specific project, or remain unsure of the best option, it's imperative to consult an experienced fabricator such as Dillmeier Glass Company for expert technical assistance and professional guidance.
---
Contact us today to determine the best decorative glass solutions for your business.