Silk Screening & Sandblasting
Take your branding to the next level with custom decorative glass elements.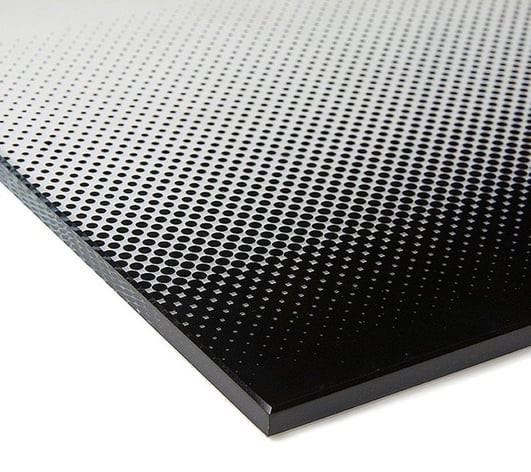 Versatile & Durable for Creative Branding That Lasts
Customize the glass in your next project with any logo, shape, pattern, or image of your choice. The ideal solution for creating a specific look to blend with current branding, or to achieve a new style, our silk screening and sandblasting decorative glass capabilities add polish and sophistication wherever utilized.
Custom Silk Screening With the Highest Attention to Detail
Using ceramic frit ink, our trained technicians can apply any pattern to your glass prior to tempering. This detail-driven process is rounded out by quality assurance, durability, and creativity.
Automated Sandblasting for any Glass Project & Application
Consider utilizing our automated vertical sandblasting machine to create frosting on glass to feature logos, designs, shapes, and images to any glass product of your choice. Whether your project calls for customized branding within a retail store, restaurant, or other hospitality venue—or you require privacy within a hospital or medical facility—this process breathes life into your design and branding vision.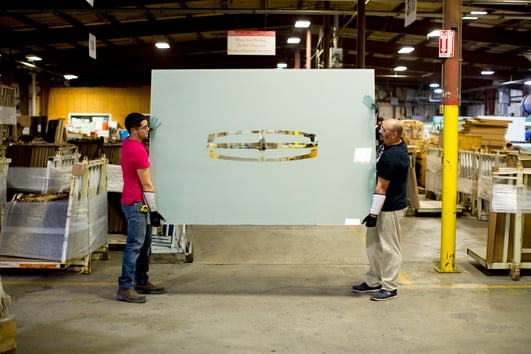 Suitable Applications & Industries
Silk screening and sandblasting are suitable for the following industries and accompanying applications:
Retail & Hospitality
Markerboards
Lobby Walls & Reception Desk Countertops
Bar/Lounge Areas & Tabletops
Signage
Offices & Other Commercial Spaces
Frameless Glass Walls & Doors
Lobby Areas
Conference Rooms
Partitions & Dividers
Healthcare Facilities
Patient Waiting Areas
Exam Rooms
Reception/Front Desk Areas
Silk Screening and Sandblasting FAQs
Learn more about some of the most frequently-asked questions we receive when it comes to silk screening and sandblasting.
What are the benefits of silk screening and sandblasting?
When added to your commercial glass application, these decorative techniques create customized logos, images, and designs to transform any piece of tempered glass into a personalized branding opportunity.
What specialized processes does Dillmeier Glass Company offer to achieve these design elements?
Using custom ceramic frit ink, all of our silk screening processes are performed by trained technicians at our Arkansas plant for the highest levels of quality and durability. Our automated vertical sandblasting machines can apply frosted logos, designs, and shapes of your choice, for a variety of applications and industries.
What types of applications are best for silk screening and sandblasting?
If your application requires a decorative touch that will be featured in close proximity to areas that would otherwise be transparent, we can present your logo as either the focal point or background element of your glass pane. These could include anything from dividers and frameless glass walls, to custom railings, markerboards, and conference rooms and lobby areas.
When should these techniques not be used?
For an all-encompassing, frosted appearance or design for your glass piece, we instead recommend using etched glass as your material for best results.