Successfully Delivering Retail Project Components for On-Time, Value-Driven Solutions
Interior glass solutions built on quality materials for seamless integration within any retail application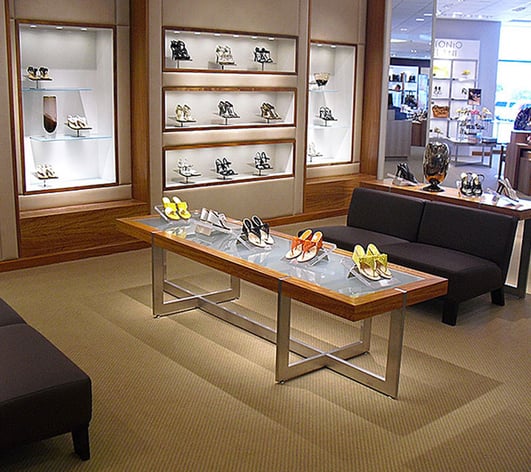 Easy Coordination for Any Retail Project
Your display fixtures are the focal point, and therefore must provide the highest value and engineering for the most cohesive customer experience. This must be accomplished by a process that's expedient, while also meeting your budget and time frame.
Completing Your In-Store Fixture Vision
Whether your project calls for a specific storefront display, custom glass case, or unique shelving solution, our experienced technicians can help you create quality fixture components that will be delivered on-time, within budget, and stress-free.
"Dillmeier Glass is an extremely dependable partner. When we realized we were going to need specialty mirrors for the store, I knew immediately they were who we needed to contact."
—MARK WHITE, CEO & PRESIDENT, MARK WHITE, INC.
Learn how Dillmeier and Mark White, Inc., partnered together to create custom-fabricated mirrors for Warby Warby Parker's Grand Central Terminal Solarium
We'll Take Care of Everything:
From Order Placement to Delivery
With glass fixtures an important part of any retail setting, it's paramount this project component stays on track, within budget, and is delivered on time, and to your exact specifications. This also includes large, multi-location custom orders within the tightest of time frames.

You'll work with our experienced team comprising skilled technicians, project managers, and logistics professionals—all of whom ensure we maintain our low glass replacement rates of just 1 percent.

As your order is placed, you can rest easy knowing we'll take care of everything, so you don't have to. As your project is fabricated, this continues to each important step, such as logistics and shipping. Your glass will then be skillfully packed in custom crates built to fit your glass. We'll also take extra care when shipping sensitive materials with bubble wrap and foam blocks for shock absorption.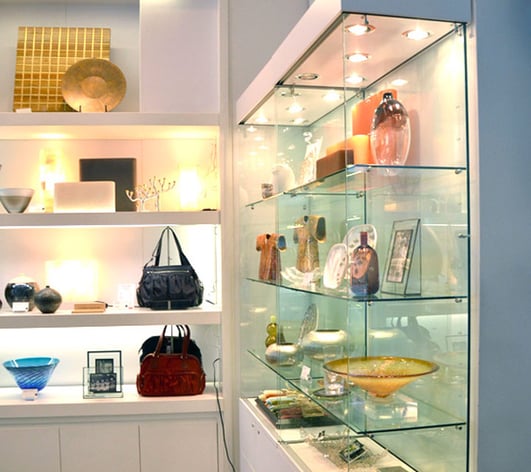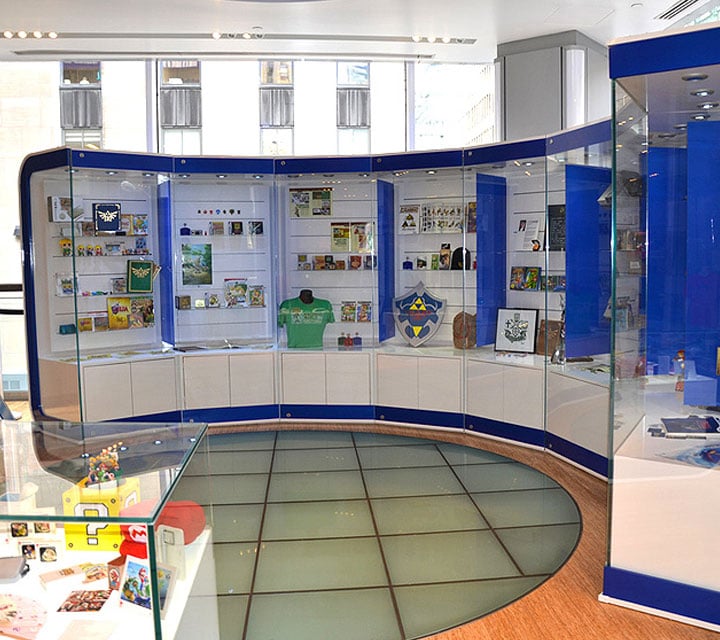 Integrate Your Glass With Supplemental Materials
Glass displays can also be easily integrated with various materials and hardware components, such as:
Hinges, Notches & Clamps:

Consult our glass tempering guidelines for more information on hole placement and drilling.
Metal: Effectively frame out your display case with this durable, easy-to-use material.
Aluminum: Typically used in frameless glass walls, this can also enhance any fixture application for further aesthetics and protection.
Stainless Steel: Accompany and highlight your glass fixture with strong frames.
Wood: Durable and cost-effective, this material is highly supportive of glass to easily transform any fixture project.
Suitable Applications For Retail Settings:
Learn more about the various offerings available for your next interior office glass project:
Storefront Walls & Check-Out Countertops
Signage
Display Cases & Shelves
Furniture
Tabletops
Partitions & Dividers
Locker & Storage Area Doors
Mirrors