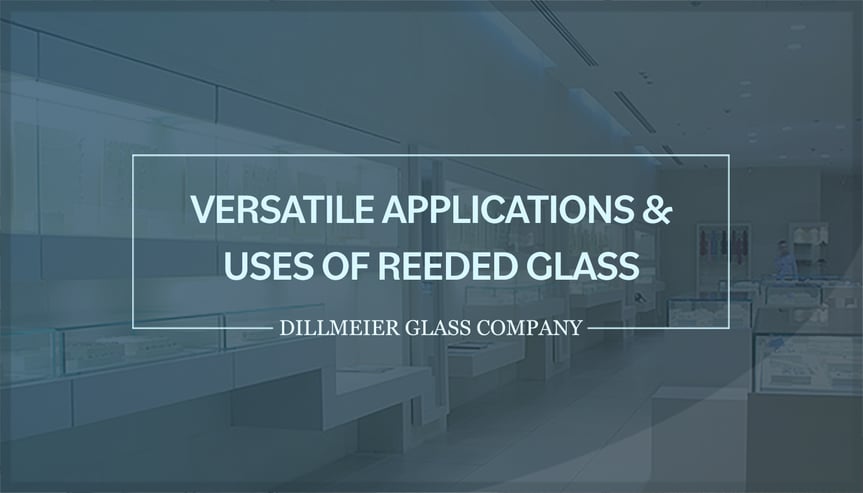 Characterized by its textured ripples, reeded glass creations can vary in size, shape, and scope—with primary commercial applications those workspaces requiring ample natural light yet privacy.
Float manufacturers create this decorative effect and pattern by pressing glass between metal rollers. A reputable fabricator, such as Dillmeier Glass Company, then implements custom specializations to include cutting, shaping, edging, and polishing to create sophisticated designs and stylings.
Here are several popular commercial reeded glass applications with their respective industries.

Reeded Glass Applications & Industries
With its lite thickness ranging from 1/4-inch to 3/8-inch, reeded glass and its trademark textured ripples are often incorporated into modular glass walls, doors, displays, shelving, partitions, and dividers.
To achieve perfection, it's best to work with an experienced fabricator such as Dillmeier Glass Company. Our proprietary, in-house, drill-free clamping system won't leave behind any holes, scratches, or marks, and our trained team of glass experts specialize in creating the best reeded glass solution for your unique project.

Retail & Hospitality
Reeded glass and its trademark textured ripples are often incorporated into modular glass walls, doors, displays, shelving, partitions, and dividers.
Reeded glass is a popular feature within the retail and hospitality industries due to its functionality and aesthetics. Restaurants, hotels, and businesses selling a wide range of products benefit from its versatility and appeal. Frequently incorporated within displays and shelving, reeded glass gives retailers that extra splash of sophistication and flair to dazzle customers and showcase any number of goods or apparel. It enhances natural light, while also promoting privacy.
Since the coronavirus pandemic, reeded glass has also seen wide use as partitions within bars and restaurants, bolstering health and safety while adding beauty and elegance to any establishment's decor—whether a high-end boutique touting designer handbags and shoes, or a local cafe offering food and drink specials.


Healthcare Facilities
Hospitals, doctor's offices, and other medical facilities utilize reeded glass to bolster privacy in examination rooms, reception areas, and more. Its textured design encourages discretion without full opaqueness, supporting confidentiality while also facilitating community among patients and staff.


Corporate Offices & Commercial Spaces
Reeded glass is also widely used throughout corporate offices and other communal workplaces—with many businesses still adapting to hybrid and work-from-home schedules arising from the pandemic.
Modular walls, partitions, and dividers enable such settings to customize layouts and designs according to occupancies. Reeded glass also infuses that ideal combination of moderate privacy and transparency into conference rooms—a welcome break from the isolation commonly associated with the schematics of home offices.
Possible Design Configurations
Reeded glass can be combined with building materials such as wood and aluminum to create extraordinary designs that attract customers' attention, impress patrons, and accentuate the products and services offered by any business.
Aluminum
Partially glazed, fully glazed, or powdered aluminum adds depth, artistry, and support to reeded glass panes.
Wood
With many unique, natural tones and textures, wood provides support and character to reeded glass utilized within offices, conference rooms, and common areas—blending simplicity with sophistication.
Reeded Glass Projects to Match Your Vision & Design
It's best to work with a glass fabricator who understands your reeded glass design goals, ensures completion on time, on budget, and with the highest standards. Dillmeier Glass Company has the experience, knowledge, and expertise to ensure your reeded glass project exceeds expectations.
---
Dillmeier Glass Company can assist with reeded glass designs for various applications within a wide range of industries. Tell us about your project today!