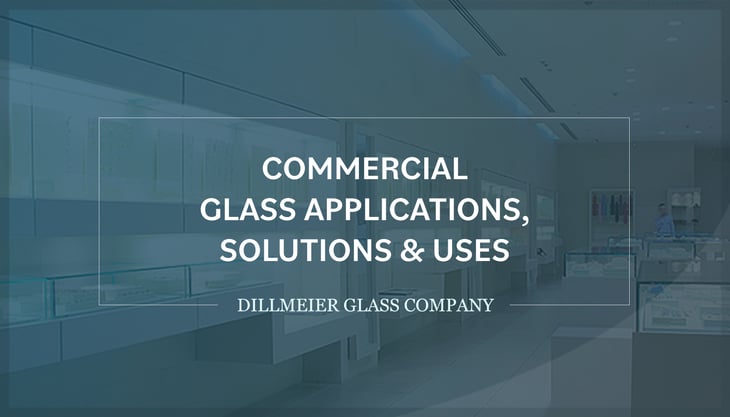 Commercial interior glass is suited for various applications, settings, and solutions due to its versatility, flexibility, and convenience. When utilized to highlight spaces marked by sleek aesthetics, it can transform any project's creativity, design, and display features.

The extraordinary effects of specialty glass fabrication processes such as lamination, low-iron, tinting, and tempering can be amplified through silk screening, sandblasting, back-painting, and other decorative elements.
Glass is a practical choice for railings, mirrors, dividers and partitions, modular walls, markerboards, and more throughout a wide range of industries, from retail and hospitality to healthcare and any number of corporate businesses.
Below we'll highlight this material's best features, decorative options, solutions, applications, and accompanying uses.
Commercial Glass Features & Benefits
Glass is easy to clean, install, and retrofit. While other materials can scratch easily, it consistently upholds its sheen and transparency.
Glass is best known for its durability, strength, versatility, transparency, and ease of use.

Despite the current global raw materials shortage, most U.S.-based float glass manufacturers are experiencing a return to normalcy from previous delays and bottlenecks. For added assurance, Dillmeier Glass Company has crafted a plan ensuring steady production and delivery schedules.

Glass is easy to clean, install, and retrofit. While other materials can scratch easily, it consistently upholds its sheen and transparency. With regular cleaning and maintenance, glass walls, dividers, partitions, markerboards, and other applications won't experience any clouding, ghosting, or unsightly marks.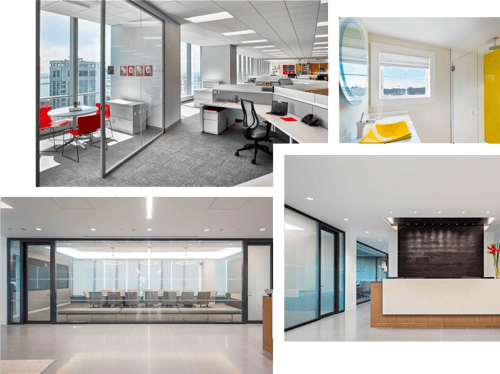 Dillmeier Glass Company offers customized fabrication solutions for several
applications within various settings to highlight any space or display area.
Glass Fabrication Capabilities &
Decorative Solutions
From laminated and low-iron glass solutions to decorative elements such as back-painting, silk screening and tinting, it's best to work with a reputable fabricator with experienced technicians, such as Dillmeier Glass Company.
Here's a brief rundown of just a few glass fabrication processes and decorative solutions:
Tempering: Whether your project specifications are outside the technical standards of nonprofit ASTM International guidelines, or you're unsure of glass thickness and hole placement, it's best to consult specified tempering guidelines.
Laminated Glass: This process comprises five steps involving design, cutting, and shaping. Glass is then transferred to a specialized clean room, where it's heated and sandwiched around clear plastic and resin.
Low-Iron Glass: Incorporating the highest transparency levels, low-iron glass is ideal for display cases, frameless glass walls, and dividers and partitions. Float glass manufacturers remove its visible greenish tint by reducing iron amounts in the molten glass formula. This process also increases light transparency by 5 to 6 percent.
UV-Bonding: As a Bohle-certified UV-bonding company with climate-controlled clean rooms, Dillmeier Glass Company's UV-bonding process is designed for retail showcases, furniture, and other decorative pieces requiring a strong, clear adhesive.
UV-bonded display cases can also help combat smash-and-grab crimes occurring within high-end retail stores.
Custom Cutting, Shaping & Patterns: Although some glass may require manual cuts, most can be accomplished with custom glass-cutting equipment, such as computer-controlled CNC machines, highly pressurized waterjets, and automated cutting tables.
Computer-aided design (CAD) artwork, graphics, digital photography and drawings provide added customization and creativity for modular walls, dividers, partitions, and markerboards.
Edgework & Polishing: Whether you require pencil or flat polished edges for a specific application or industry use, this process creates a finished look marked by style and character. Easy to clean and maintain, custom edgework and polishing also protects against chipping and jagged corners.
Back-Painting & Color-Matching: Customized to match design requirements and specified applications, this versatile process facilitates a branded and cohesive look. Whether you're looking to color-match hotel lobby walls with check-in desks, or in-room shower enclosures with bathroom sinks, back-painting is available as a standard or custom color palette.
Silk Screening & Sandblasting: Specialized machines can create any custom logo, design, or pattern of your choice on dividers and partitions, frameless glass walls, custom railings, markerboards and other creations.These help further highlight your brand and attract attention on otherwise-transparent surfaces.
Reeded Glass: Through its small ridges, reeded glass adds a hint of delicate light waves for appealing aesthetics, while still maintaining required privacy for glass walls, dividers and partitions.

Glass Applications & Fixtures
Glass is suitable for several applications within various settings to highlight any space or display area.
Below is a quick rundown of applications whereby glass can be easily implemented and corresponding use cases:
Displays & Shelving: These provide sleek, simple, and versatile designs to effectively tout high-end jewelry and watches, clothing, shoes, sports memorabilia, and more. These also encourage creative product placement ideas, arranging items to highlight best attributes and appeal.
Uses
Retail Settings
Hotel Lobbies
Showroom Floors

Modular Walls: With efficient sound insulation for most applications and lower costs than standard construction, prefabricated modular walls can be a suitable alternative to framed glass. Providing long-term versatility, these cost-effective alternatives feature easy installation and low maintenance.


Uses
Offices
Healthcare Facilities
Reception & Waiting Areas

Partitions & Dividers: Tempered and laminated glass is being used more and more as personal protective equipment (PPE) against the novel coronavirus (COVID-19) within retail, office, hospitality, and healthcare settings.
Other features include customized, drill-free clamping systems, which clamp down on any desk, table, or related furniture item. Upon removal, the surface is free of unsightly holes and scratches.
Uses
Retail & Grocery Stores
Restaurants, Bars & Hotels
Healthcare Facilities
Academic Institutions
Personal Care Establishments
Any Industry Requiring Direct Person-to-Person Communication

Markerboards: Available through Dillmeier Glass Company's Reflections markerboard line, these can be customized within corporate offices, institutions of higher learning, healthcare facilities, and more. Designed to increase employee productivity, collaboration, and information sharing, markerboards are easy to clean and won't ghost or stain over time. Built and designed with the most advanced fabrication processes, they also incorporate customizations, such as technology integration, flame-forged colors, custom patterns, and easy installation.
Uses
Hospitality
Healthcare Facilities & Hospitals
Corporate Offices
Meeting & Event Venues
Hotels
Academic Institutions
Railings: With natural light adding a radiance and surreal beauty to these critical safety features, glass railings are also strong and durable enough to withstand interior and exterior elements. Typically utilized on decks, rooftops, patios, and atriums, they also create the illusion of a much larger space.
Uses
Office Buildings
Apartment & Condominium Complexes
Hospitality Venues
Hotels
Lockers: Designed to create unique spaces for health clubs and fitness centers, glass lockers offer a sleeker alternative to aluminum or steel. Both practical and sanitary, these can also be back-painted to any opaque hue or tone for the highest privacy levels.
Uses
Fitness Centers & Health Clubs
Locker Rooms
Sports Arenas

Tabletops: Consider tempered glass for conference room tables, check-in areas, or reception desks. As aforementioned, these can be color-matched and back-painted for cohesive branding. Custom edging and polishing can be implemented for added style and safety.
Uses
Offices
Retail
Hospitality Venues
Hotels
Commercial interior glass is suited for various applications, settings, and solutions due to its versatility, flexibility, and convenience.
Choosing the Best
Solution for Your Project
It's best to work with an experienced fabricator, such as Dillmeier Glass Company, to determine and achieve the best style, design, and appearance for your commercial interior glass project.
---
Contact us to discuss glass ideas, solutions, and applications for your space.