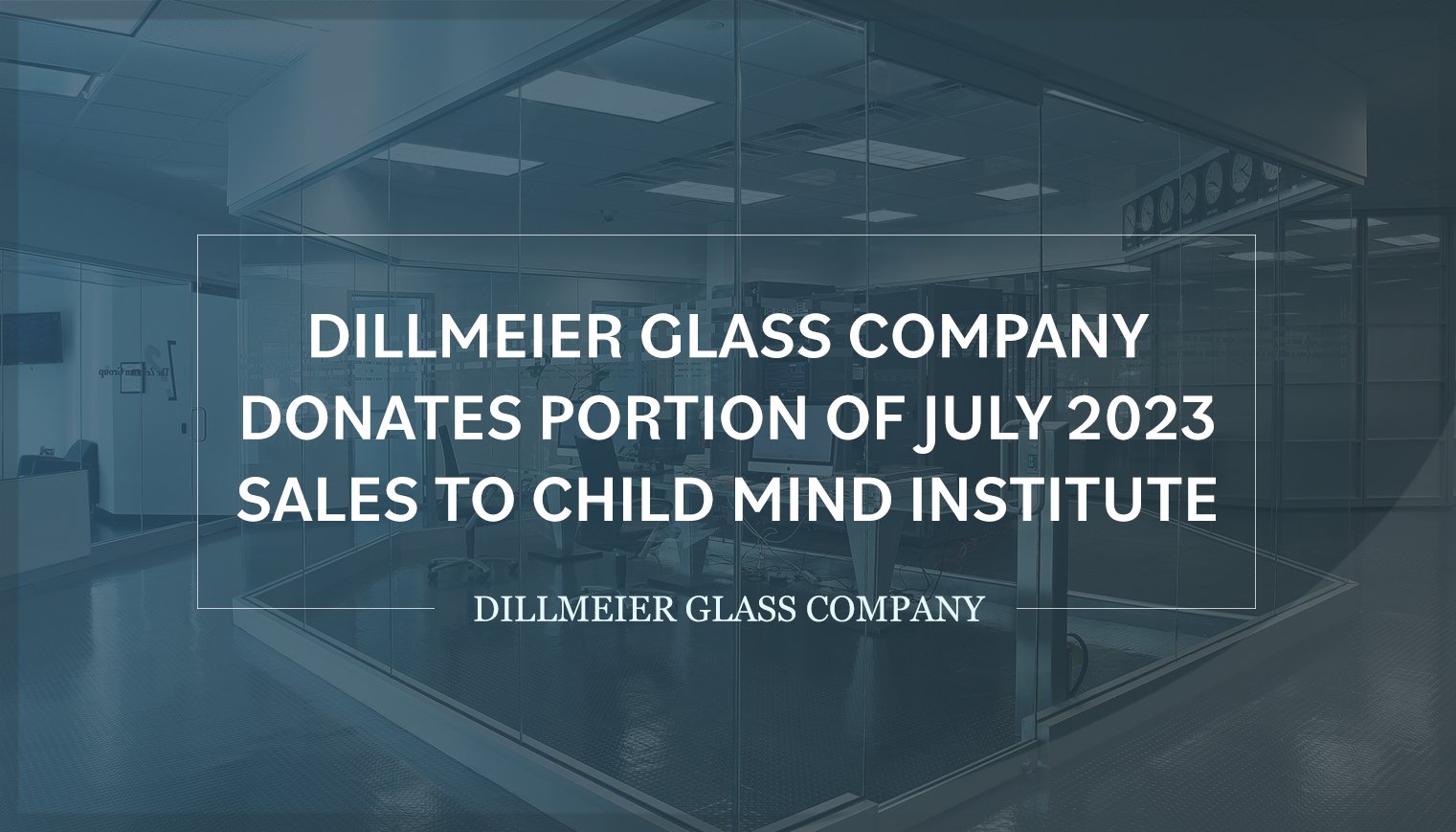 Van Buren, Ark. — August 28, 2023 — Dillmeier Glass Company, a fourth-generation, full-service commercial interior glass fabricator, is proud to announce its philanthropic initiative supporting childhood and adolescent mental health and well-being. To demonstrate its commitment to these critical initiatives, the glass fabricator donated $33,000 of its July 2023 sales to the Child Mind Institute, a New York City-based nonprofit transforming the lives of children and families struggling with mental health and learning disabilities.
Through its long-established community culture and emphasis on corporate social responsibility (CSR), Dillmeier Glass Company supports the Child Mind Institute in the interest of advancing the awareness, understanding, and treatment of childhood mental health challenges. Its continued efforts empower children, adolescents, and families with the utmost care, advanced research, and necessary resources to overcome mental health challenges.
"Part of our mission is making a positive impact on society beyond our business operations," says David Dillmeier, CEO of Dillmeier Glass Company. "We recognize the significance of addressing mental health, especially in children, and we are proud to support the Child Mind Institute's efforts to provide expert care, advocacy, and resources to families in need."
Founded in 2009 by Dr. Harold Koplewicz, Brooke Garber Neidich, and Debra Perelman, the Child Mind Institute is built on breakthrough, evidence-based clinical care for children and adolescents struggling with mental health and learning challenges.
Through its visionary research cultivated through the worldwide scientific community, the Child Mind institute has successfully helped more than 39,500 students through relevant treatment, support groups, workshops, and coaching classes. The organization is also passionate about removing the stigma often associated with mental health and psychiatric disorders, while empowering and educating families. Approximately 2 million parents and educators consult the Child Mind Institute online portal each month.
This ongoing philanthropic alliance between Dillmeier Glass Company and the Child Mind Institute demonstrates the positive impact that can occur when organizations prioritize the well-being of the respective communities they serve. This successful alignment with CSR creates an opportunity when seeking meaningful relationships and the ability to make a difference beyond corporate boundaries.
About Dillmeier Glass Company
In 1933, William M. Dillmeier opened a small glass fabrication business in Brooklyn, NY. Since then, Dillmeier Glass Company has evolved into a leading fabricator of glass fixtures, components, wall systems, and many other glass applications for customers worldwide.
Today, Dillmeier Glass Company operates its own 150,000-square-foot facility with a range of technologically advanced equipment and highly skilled operators that can fabricate virtually any thickness, size, edgework, surface treatment, cut-out or drill pattern. Our customers include store fixture manufacturers, regional and national retailers, glass distributors, interior wall companies, architects, builders, shower door installers, sporting arenas, hospitality venues, healthcare facilities, and more.