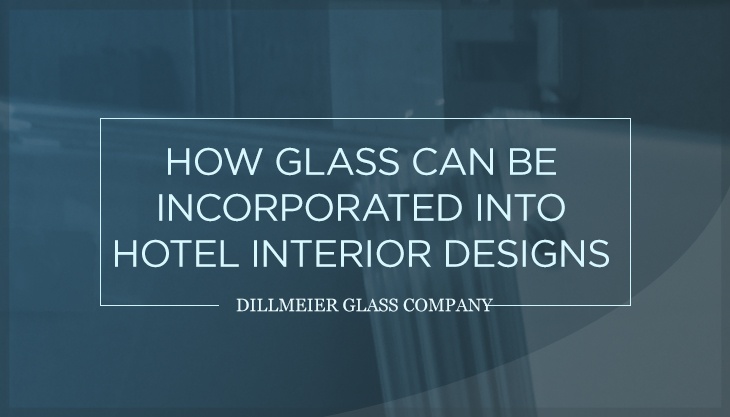 Retail stores and corporate offices aren't the only commercial spaces incorporating glass into their interior designs. Hotels also utilize this durable, unique material in various ways, from the lobby to the bathrooms to the individual guest rooms.
Next time you stay at a hotel, take notice of your surroundings and see if you can spot the many glass features integrated within its overall design.
Glass reception desk countertops and railings usually make an appearance in lobbies.
There's a good chance the reception desk countertops and stair railings in a hotel lobby are made of glass. While other materials, such as granite and cast iron, respectively, are also utilized in these spaces, glass helps promote a sleek, contemporary atmosphere. Plus, it can be incorporated into an array of designs.
If you're going for an industrial-style hotel interior design, but with a touch of elegance, adding glass into the mix is the crucial ingredient.
Bathrooms benefit from back-painted glass shower walls.
It's not just shower doors that are made of this versatile substance. Glass shower walls are often used in place of tile, as well—even if you're looking to incorporate some color into the space. Back-painting glass with a touch of blue, yellow, or any other hue, can accentuate the entire design and make it truly stand out.
This is similar to Rhode Island-based Digs Design Company's technique on a newly constructed hotel. Instead of painting the walls a specific color, owner Jocelyn Chiappone's vision was to keep the bathrooms primarily white, with the exception of the sinks and shower walls, with fantastic results.
Hotel rooms sometimes include glass dividers.
Some hotel interior designs refuse to include opaque walls in the rooms. Instead, glass partitions are installed to properly divide the space, while still embracing an open-concept feel. This can help bring in more natural light and make the room seem larger than it actually is.
For example, you may find the bedroom and the bathroom of a hotel room separated by glass walls or doors, as seen in the KUBE Hotel in Paris.
---
Want to include glass in your next hotel interior design project? Here are some things to keep in mind when looking to hire a glass fabricator.