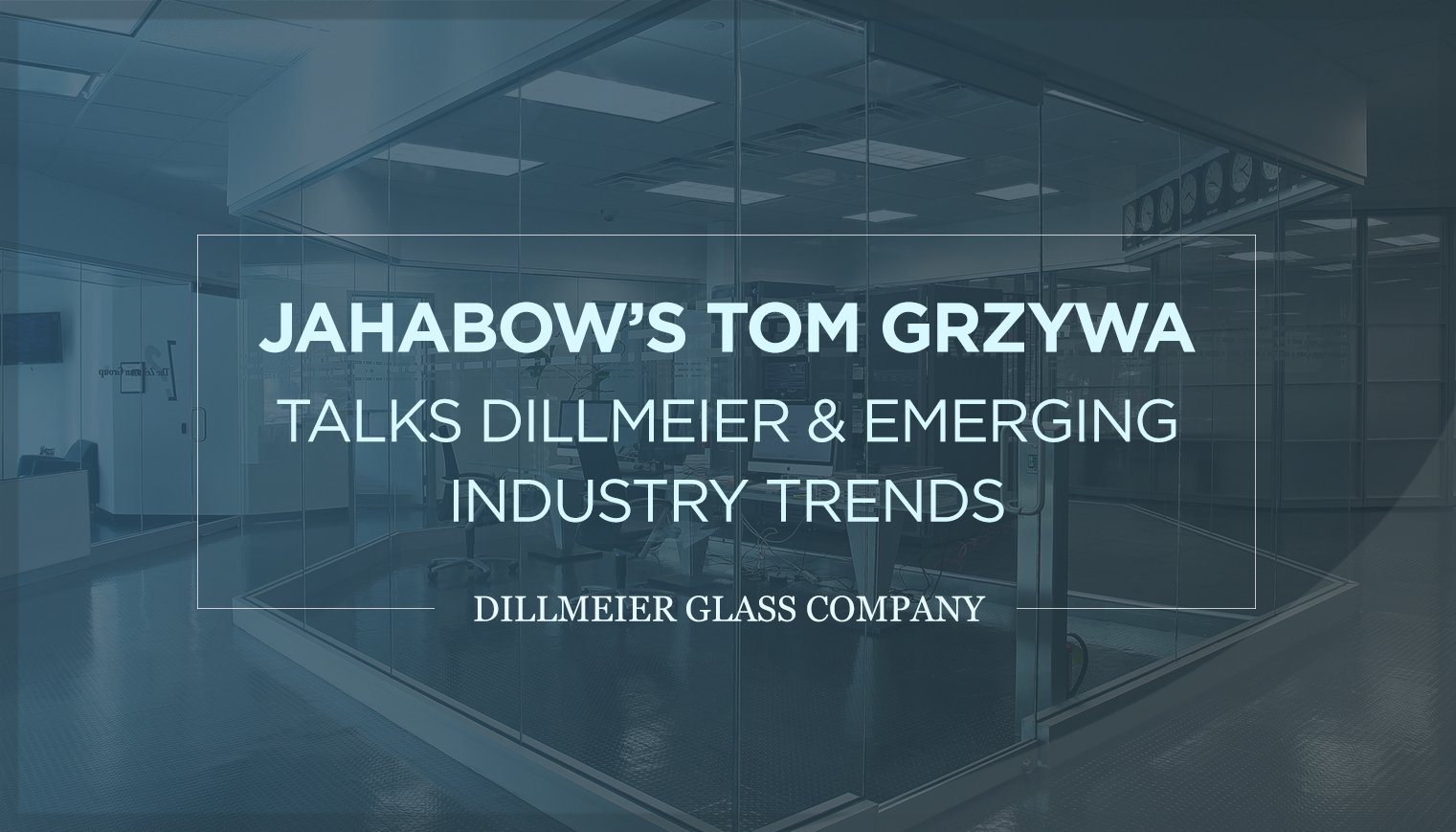 If there's one thing Tom Grzywa has learned from 30 years in the retail fixture business, it's that security and transparency go hand in hand.

For more than 25 years, Grzywa has worked with Dillmeier Glass as a commercial glass fabrication partner to source top-quality lites for retail fixtures and other fabrication projects. Most recently, that partnership has flourished at Jahabow, where Grzywa works as vice president of the retail fixtures division. There, he's overseen the manufacturing and sales for Jahabow's full line of glass display cases and cabinets, ranging in application from sporting goods stores to luxury retailers.

Starting on the operations side of the business and eventually transitioning into sales and his current position, Grzywa has gained an appreciation for the people behind the business, whether in partner companies, or Jahabow's factory in Missouri.

His extensive career has also provided an ideal vantage point to observe the many changes and trends that have emerged throughout the past three decades and will continue to push the industry forward into the foreseeable future.

Foremost among these are an increased need for security to stave off crime, and improved fixture mobility to help provide a flexible customer experience.

According to Grzywa, "smash-and-grab" crime—theft that includes destruction of a product display case to access valuable products—is on the rise.
"...our customers are getting educated on their options, and they're becoming more aware of the secure display cases."
"Over the last five years, smash-and-grab crime has gone way up," says Grzywa, adding that thankfully, his clients are finding ways to protect themselves. "At the same time our customers are getting educated on their options, and they're becoming more aware of the secure display cases."

This has lead to an increase in popularity of Jahabow's more secure options.

"The security aspect is much greater than it was five years ago, so we've started to sell more of our TDL [Theft Deterrent Levels] cases. They deter smash and grab [theft]," says Grzywa. "So the trend is for more security and more secure cases."

And as cases are getting more secure, the companies that use them are diversifying.

"They're popular in jewelry stores and high-end retail, but the use of secure display cases are expanding. They're getting more popular in sporting retailers and pawn retailers, for example," Grzywa shares.

But there is a limit to the utility of high-security fixtures, and not every store needs a TDL case, according to Grzywa.

"We might recommend TDL cases for one retail location in a big city, but for the same company, we'd recommend a different product in a smaller town. We work with our customers," he explains.

"Overall," says Grzywa, "demand for security is certainly going to increase over the next five or 10 years."
"Retailers are trying to reinvent themselves, they want to give customers an experience when they come in the store, not just sell them products,"
While security is surely going to be a growing area of focus for retail players in the coming years, it's not the only concern facing stores with brick-and-mortar locations. With the rise of e-commerce and wide availability of products online, companies with physical locations are pushing to innovate and provide value beyond the products they provide.

"Retailers are trying to reinvent themselves, they want to give customers an experience when they come in the store, not just sell them products," Grzywa explains.

This drive to create an experience often results in a need for mobile fixtures that adapt as stores create and test dynamic environments to attract consumers.

"A lot of times they'll want more flexibility," says Grzywa of Jahabow's clients. "They want to be able to move departments around in stores."

This is yet another factor that has contributed to Jahabow's growth, as they adapt create innovative solutions.

"We're making more units that are mobile to meet our customers' needs," says Grzywa. "It all starts with the design."

In the case of retail displays, the designs that fabricators receive require dozens of component parts and materials, not the least of which is glass.

"Glass is a big portion of the design for a lot of the units we fabricate," he says. "In our applications, it's typically framed glass—it can come in different sizes, shapes, and colors for different customers."

As a national company that provides such an array of customization options to clients all across the United States—including one large, unnamed pawn retailer, and another national sports retailer—Jahabow needs to partner with companies who will fill their orders with accuracy and reliability.

That's why for Grzywa's entire career at Jahabow, they've relied on Dillmeier Glass, which the retail vice president lauds.

"They've been around for a long time, and I know we can always count on them." he says

The Dillmeier partnership ultimately is so successful because the values of both parties—hard work, customer satisfaction, and an attitude of care for the smallest details—are in alignment.

With all materials lined up and delivered reliably, the responsibility for creating world-class fixtures falls on the shoulders of the Jahabow manufacturing team.

"Something I like to talk about is our factory in Owensville. We have a lot of customers from national companies come through and tour the facilities and we get a lot of comments," says Grzywa. "They'll say 'we go to a lot of factories, and it's very obvious that the people here care about what they're doing.' We take a lot of pride in that."
"I've been in the business for 30 years, and I am not aware of a factory that can pump out showcases like Jahabow,"
When asked how Jahabow consistently delivers such great work, Grzywa simply says, "It's all about the culture here," he continues, "we've been in the same spot in Missouri since 1976, and everyone works hard."

Even as the industry continues to evolve and Jahabow expands its product offerings, the number-one factor that will keep them relevant is building on their strength—the people that make up their team.

"I've been in the business for 30 years, and I am not aware of a factory that can pump out showcases like Jahabow," says Grzywa. "Our people are really incredible."