Working with reliable partners and vendors who share your company's values is a big plus for any business. You should be able to count on them, especially when faced with unforeseen obstacles, and they should offer quality products, services and customer service.
Denver, Colo.-based interior contractor and DIRTT distribution partner ELEMENTS knows this firsthand.
ELEMENTS' professional relationship with tech-driven custom interior manufacturer DIRTT Environmental Solutions was forged more than a decade ago by the latter's CEO and cofounder Mogen Smed and ELEMENTS owner Traci Lounsbury, explains its principal, Cody Roberdeau, who began his career in the flooring division before concentrating on DIRTT.
"We didn't have a team in place that really focused on [DIRTT in the very beginning]," he says. "So that was how I transitioned into the industry."
Since putting the proper team in place, the ELEMENTS-DIRTT collaboration has yielded many extraordinary accomplishments.
With no actual busy season—the entire year a combination of ongoing and upcoming tasks—ELEMENTS is consistently working on various spaces and always creating stunning finished products. From the offices of commercial real estate company CB Richard Ellis, or CBRE Group, to the interior of engineering firm Woodward, ELEMENTS has developed quite the reputation of creating captivating commercial interiors.
ELEMENTS' distinctive mark is also apparent within its own space, a section it calls the Green Learning Center. Not only does this area exemplify the company's exceptional interior design skills, but it also demonstrates the organization's dedication to sustainability.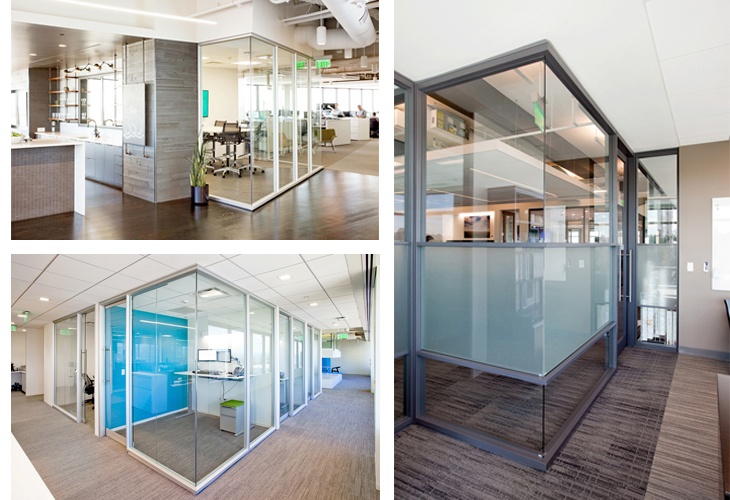 The company's focus on the environment is another reason ELEMENTS and DIRTT are a perfect match.
ELEMENTS is committed to helping the environment, and utilizes its very own Green Team focused on this specific area of the business.
"The industry of construction is one of the most wasteful industries in the history of mankind," says Roberdeau, who was recently promoted to his current position following 12 years with the company. "And so, the whole premise of DIRTT—'Doing It Right This Time'—is to build in a better fashion and in a more sustainable way that is less wasteful."
"It's more efficient and it's better for adaptability over time, and that fits really directly with our feelings as an organization at ELEMENTS as well," he continues. "We are disrupting the status quo of conventional construction and building in a better method or methodology."
Not only does the DIRTT-ELEMENTS partnership reinforce their collective dedication to protecting the environment, but it also enables the contractor to stay ahead of schedule.
Similar to fellow DIRTT distribution partner Agile OFIS, Roberdeau identifies time as ELEMENTS' biggest challenge—yet not how you might imagine:
"I think that we are actually so quick to market that a lot of times construction schedules are—even though they're moving fast—they're not keeping up with how fast we can deliver," he explains. "So sometimes, we're actually having our schedules pushed because of the conventional construction."
Still, the amount of time it takes to complete a project varies.
"For tenant finish," Roberdeau explains, "I would say most of the construction schedules that we see [usually take] between 10 and 16 weeks."
New constructions, which Denver has a lot of, "can take 18 months, potentially," since they're being built from the ground up and won't be ready for the interiors as quickly, he continues.
There are also instances in which the schedule doesn't follow the typical timetable. For example: ELEMENTS worked on a six-week project for petroleum services company DCP Midstream Partners, integrating 18 monitors, or three video walls, inside the DIRTT solution, as well as including other custom features.
ELEMENTS was both "excited and nervous" about the tasks, says Roberdeau—with phenomenal end results.
"You get through the stress and challenges of delivering and executing, and then everyone's happy and it's a good feeling!" he adds.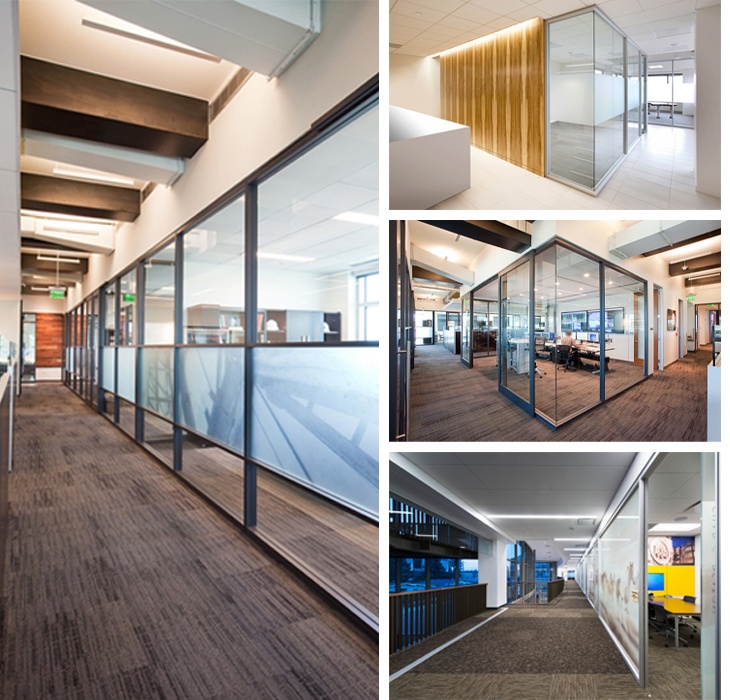 With the help of DIRTT, as well as dependable vendors, ELEMENTS never lets its clients down, both in terms of meeting deadlines and expectations.
Nearly a decade ago, DIRTT began encouraging its distribution partners to work with glass fabricators rather than purchasing the material from it directly. This "unique business model," as Roberdeau describes it, "helps keep pricing competitive."
After hearing Dillmeier Glass owner David Dillmeier speak to several DIRTT distribution partners about the services the glass fabricator provides, ELEMENTS decided to work with the company.
The rest is history.
ELEMENTS relies on Dillmeier Glass to fabricate incredibly beautiful glass for many of its projects, working and communicating mostly with assistant plant manager Phyllis Cooper, who has been with the glass fabricator since 1981.
While many projects go smoothly, devoid of hiccups, there are times when backup is needed. Luckily, ELEMENTS can rely on Dillmeier Glass.
For instance, Roberdeau explains, there have been a few times when a piece of glass breaks, and ELEMENTS works with Dillmeier Glass "to get the glass re-produced faster than usual." If there's a manufacturing issue, Dillmeier Glass replaces the glass "on their dime, which is a great part of the partnership we have with them," he continues.
Although Dillmeier Glass' factory is located in Arkansas and ELEMENTS' in Denver, "they still understand our process" and offer "as aggressive" pricing, adds Roberdeau.
Dillmeier Glass' seasoned expertise, extensive capabilities, and steadfast reliability are qualities ELEMENTS recognize, and value.
With exciting upcoming projects ensuring ELEMENTS remains busy—telecommunications company Charter Communications and health care provider Kaiser Permanente just two clients—ELEMENTS will surely be ordering more glass from Dillmeier Glass, very soon.