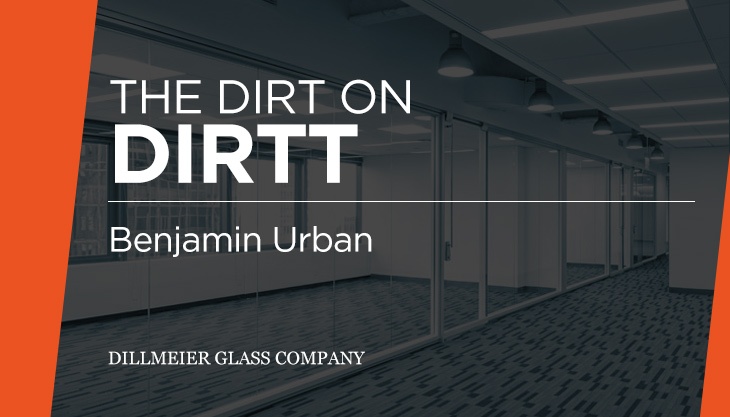 When it comes to commercial interiors, Agile Interiors has made an impressive name for itself. The Houston-based architectural construction and design company found its niche more than a decade ago, becoming a DIRTT Environmental Solutions distribution partner. DIRTT, short for "Doing It Right This Time," is a customized interior manufacturer that aims to "build better" with more efficient design, manufacturing, shipping and installation processes.
As Agile Interiors' "DIRTT Champion" Benjamin Urban recalls, they were so intrigued by DIRTT's "model and foresight and business plan" that they "came on board as one of the first distribution partners for DIRTT, and then have been in that stead role ever since." Today, they are DIRTT's largest U.S. distributor in Houston.
Due to the numerous industries located in the area, particularly in the energy and healthcare sectors, there's a substantial need for larger campuses to house the thousands of employees. Among the many designs Agile Interiors helped bring to life: the FMC Technologies and Phillips 66 campuses; Shell Oil's five-building Houston campus, Shell Woodcreek, and its 48-story Shell One Plaza downtown; and University of Texas MD Anderson Cancer Center locations.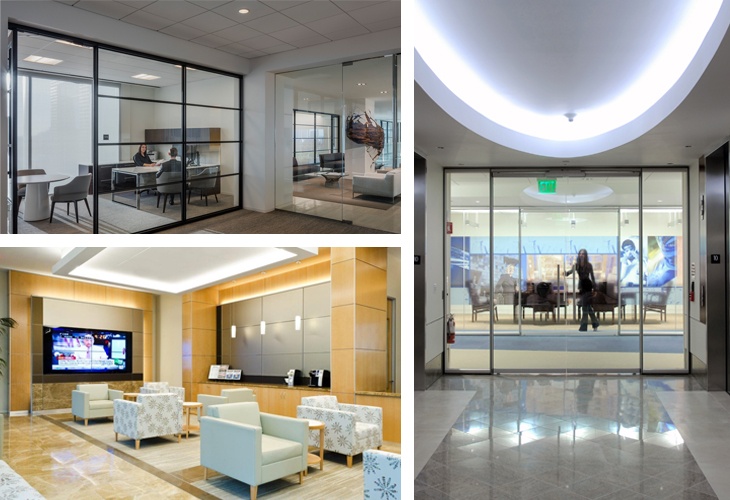 While every project is unique, Agile Interiors is frequently faced with the same challenge.
In the construction industry, hitting your milestone dates and staying on budget is a rare occurrence. But for Agile Interiors, the opposite is true. In fact, Urban explains, "The most common challenge that we have with projects is simply speed."
This comes with the territory of being a DIRTT distributor, because using DIRTT is much more efficient than building conventionally with drywall and sheetrock. It doesn't matter whether the interior is an office or a healthcare space, either, explains Urban.
"If you were to take that same exact floor plan and build it out of DIRTT instead, it's about six weeks shorter per floor," he says.
So rather than taking perhaps two months to complete a floor, it takes Agile Interiors approximately one to two weeks, depending on the structural elements involved.
"Because of that model that DIRTT has assisted with us in creating, it allows us to basically pick a point in time that's fixed, and the price doesn't change, the delivery date doesn't change, and so, when I say it's going to be there, it arrives," continues Urban.
Even though this does pose a challenge, Urban says it's the exact reason Agile Interiors gets hired.
"Many times, customers pay a premium, because they know when they work with us, there's a lot less surprises, and the projects go more smoothly, and they meet their move-in dates," he adds.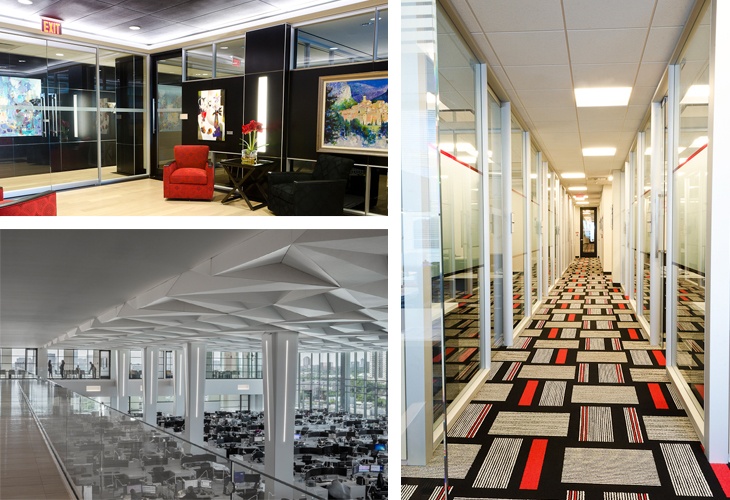 Not only does Agile Interiors utilize DIRTT's software and partitions when working on a project, but they also rely on Garden City, NY-based Dillmeier Glass' manufacturing capabilities in order to ensure they continue to live up to their remarkable reputation.
Similar to DIRTT, Agile Interiors' professional relationship with Dillmeier Glass began about 10 years ago. Urban noticed rather quickly that the glass manufacturer "understood what we do." What's more, "They understood what we needed and they didn't really rely upon us to do a lot of their work for them," he explains.
Now, Dillmeier Glass, which also has a location in Providence, RI and a glass factory in Arkansas, is Agile Interiors' preferred glass vendor.
"It's simply we haven't found another glass manufacturer that can keep up with us from a pace or speed perspective," says Urban. "If we give them a date, it arrives when either they said it was going to arrive originally, or if I need to move the schedule up, they're able to accommodate our requests."
Urban mentions as an example the time Dillmeier Glass helped them finish a project on schedule, even after realizing the wrong glass size was ordered less than a week before the expected completion date. Although this doesn't happen often, knowing that Dillmeier Glass will do everything in their power to correct a mistake or lend a helping hand is reassuring. This is especially true for some of their more difficult clients. In fact, Urban says that if it wasn't for DIRTT and their suppliers, such as Dillmeier Glass, they probably wouldn't work with some of the clients they do.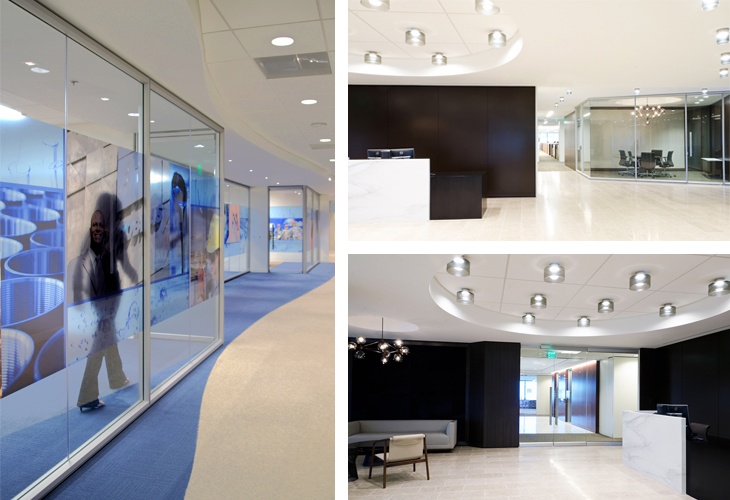 Beyond the reliability, speed, and consistency, another reason Dillmeier Glass is Agile Interiors' main glass vendor has to do with customization.
Agile Interiors doesn't have a product catalogue that they can choose designs from.
"The majority of our projects have something unique on them—be it a custom color, custom print, digital imaging, different types of etches, oversized pieces where you got 5 foot-by-12-foot pieces of glass," explains Urban, enthusiastically.
Although this is something the organization thrives upon and enjoys most about what they do, not all glass manufacturers are willing to take on such projects. Dillmeier Glass, on the other hand, expects Agile Interiors "to throw them some curveballs," and rises to the occasion, every time, without complaint.
One project currently in the works involves audio-visual walls with custom glass cut-outs. In order to build these imbedded-technology walls, which are fitted behind the glass, they need to provide Dillmeier Glass custom dimensions for a clear viewing area. While they might be able to find another glass manufacturer locally that could do the work for them, it would likely take longer and cost more money.
And with other ongoing projects in the works—such as ConocoPhillips' headquarters, which should be finished in 2018—Agile Interiors is certainly keeping busy, no matter the time of year, and broadening their already accomplished portfolio.
*This post has been updated. Agile Interiors is formerly known as Agile OFIS.