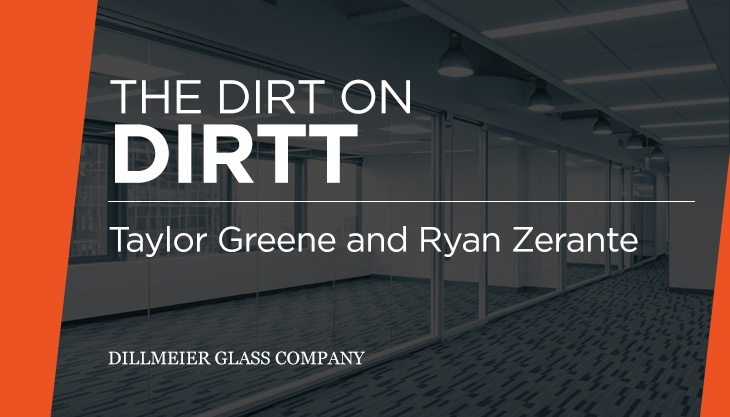 Customer service is a key component of Corporate Concepts' business model. The furniture and manufactured construction distribution company, which also happens to be the 14th largest women-owned business in Chicago, was first established in 1983. Throughout the past 30-plus years, it has grown tremendously, now running two offices in Illinois—one in Chicago and the other in Lombard—while transforming commercial interior spaces into high-productivity environments for its clients, one project at a time.
Partnerships with furniture design brand Knoll® and customized interior construction manufacturer DIRTT Environmental Solutions have played major roles in Corporate Concepts' success. The company, as its DIRTT account executives Taylor Greene and Ryan Zerante explain, has been a Knoll partner for more than three decades. While its DIRTT division is only about seven years old, Zerante describes the partnership as a given.
"I think a lot of DIRTT dealers are also Knoll dealers—I think there's just a natural fit," he says. "It was an opportunity to diversify our business and an opportunity to expand into new, fun projects and places that DIRTT will take you that are beyond the traditional office furniture world."
Greene points out Corporate Concepts was "very familiar with DIRTT when it was getting launched and familiar with what" DIRTT co-founder Mogen Smed "had done in the past" when he was the owner of modular interior construction company SMED International.
As a result, Corporate Concepts predicted a bright future with DIRTT—and they were right.
From consulting and technology firms to financial and health and wellness organizations, Corporate Concepts has taken on a wide range of projects in the Chicago area. U.S. Department of Energy laboratory Fermilab, IT company SAC Wireless, consumer products company Sonoco, financial firm Sandbox Industries and national real estate development and construction services provider The McShane Companies are just a few representations of Corporate Concepts' exceptional craftsmanship.
The company's recent work on two Chicago-based professional sports team headquarters is the latest project stoking Greene and Zerante's enthusiasm. Corporate Concepts has completed multiple floors of this office space, and they couldn't be happier with the results.
"We're really proud of it," says Greene.
"It was a really neat project," adds Zerante.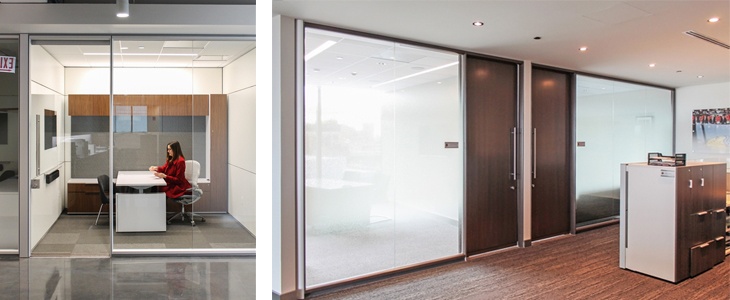 But there are bound to be some challenges along the way.
While the finished products always look spectacular, that doesn't mean each project doesn't present its own unique set of challenges to overcome. A common obstacle everyone in the construction industry faces, including Corporate Concepts, is time.
"Construction is moving at a faster pace than ever," Zerante explains. "So I think our biggest challenge is bringing in all these different parts and pieces together, and keeping on schedule, and making sure we're keeping our clients happy and meeting their expectations."
This doesn't leave any room for mistakes, so it can be frustrating, especially toward the end, when the finish line is within reach. However, as Greene states:
"At the end of the day, you know it's always beautiful, the client's always really happy, and love their finished space."

Corporate Concepts' mission "is to develop long-term, rewarding relationships with clients, designers, and partners."
This means above all else, the client comes first.
"We're about our clients," Zerante says, "and keeping them happy."
Every project Corporate Concepts tackles, big or small, is viewed as equally important and treated the same way. Zerante sums up this unwavering dedication to clients in just one sentence:
"Without our clients, we don't really have a business," he explains.
Greene adds that Corporate Concepts always tries to work with its clients "so they're getting what they want," while also having realistic expectations.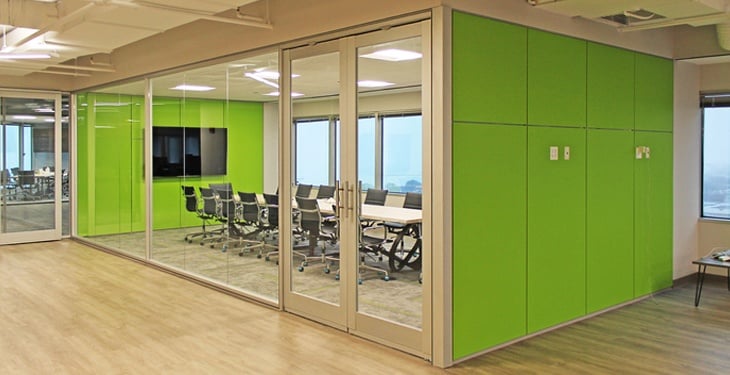 Corporate Concepts focuses on time management and customer support, and it was imperative to find vendors sharing similar concerns for those same services.
Meeting both Corporate Concepts' and its clients' expectations is not an easy task. If a vendor doesn't deliver, which Greene and Zerante say has happened in the past, a long-term relationship is just not possible. Dillmeier Glass' reputation with other DIRTT distribution partners, such as Agile OFIS, convinced Corporate Concepts to give the glass manufacturer a try.

Five years later, the companies are still working together.

In fact, the aforementioned professional sports team project features Dillmeier Glass' incredible work. Another collaboration between Corporate Concepts and Dillmeier Glass involved the installation of double-glazed glass—two pieces of glass paired together to improve the acoustic rating and privacy in a space—within a large law firm.

Zerante lists the main reasons Corporate Concepts enjoys working with Dillmeier Glass as its stellar commitment to high-quality customer service and "ability to take a job that might be high-profile and rather large and care about it, but also care about getting us two pieces of glass for a smaller job or a piece of glass that gets broken onsite—helping us work through a quick remake to keep us on schedule."

That reliability is a must-have characteristic.

"I think it's just those little things," Zerante continues, "that go a long way when you're on a big project that has a lot of complex variables."

With its busy season just around the corner, Corporate Concepts is looking forward to taking on new projects with Dillmeier Glass to enhance the interiors of even more commercial spaces.