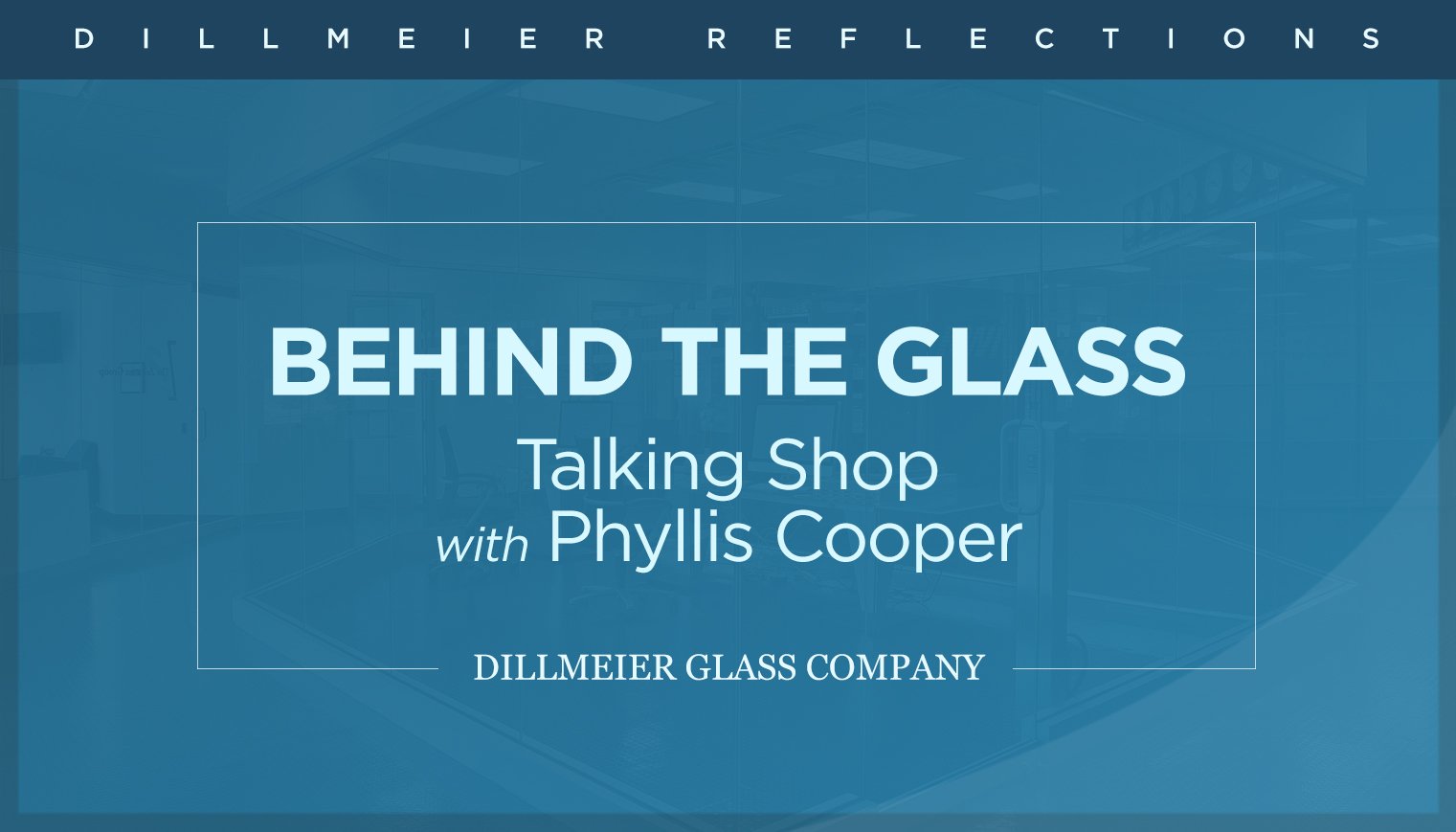 Glass exists as its own state of matter—a unique composition of environmental factors, crucial ingredients, and chemical reactions all coalescing into a structure used for both practical applications and creative inspirations.
And since it entered the industry more than 85 years ago, Dillmeier Glass has been at the forefront of harnessing that singular achievement in nature to produce dynamic fixtures for nearly every imaginable function. All of this is made possible by a team of cutting-edge, versatile thinkers that work diligently to make their customers' visions come to life.
One of those team members is Phyllis Cooper, a veteran in the glass industry who has been with Dillmeier since 1981. Currently holding the position of assistant manager, Cooper worked her way through the company, mastering all aspects of production, from fabrication to tempering to custom cutting.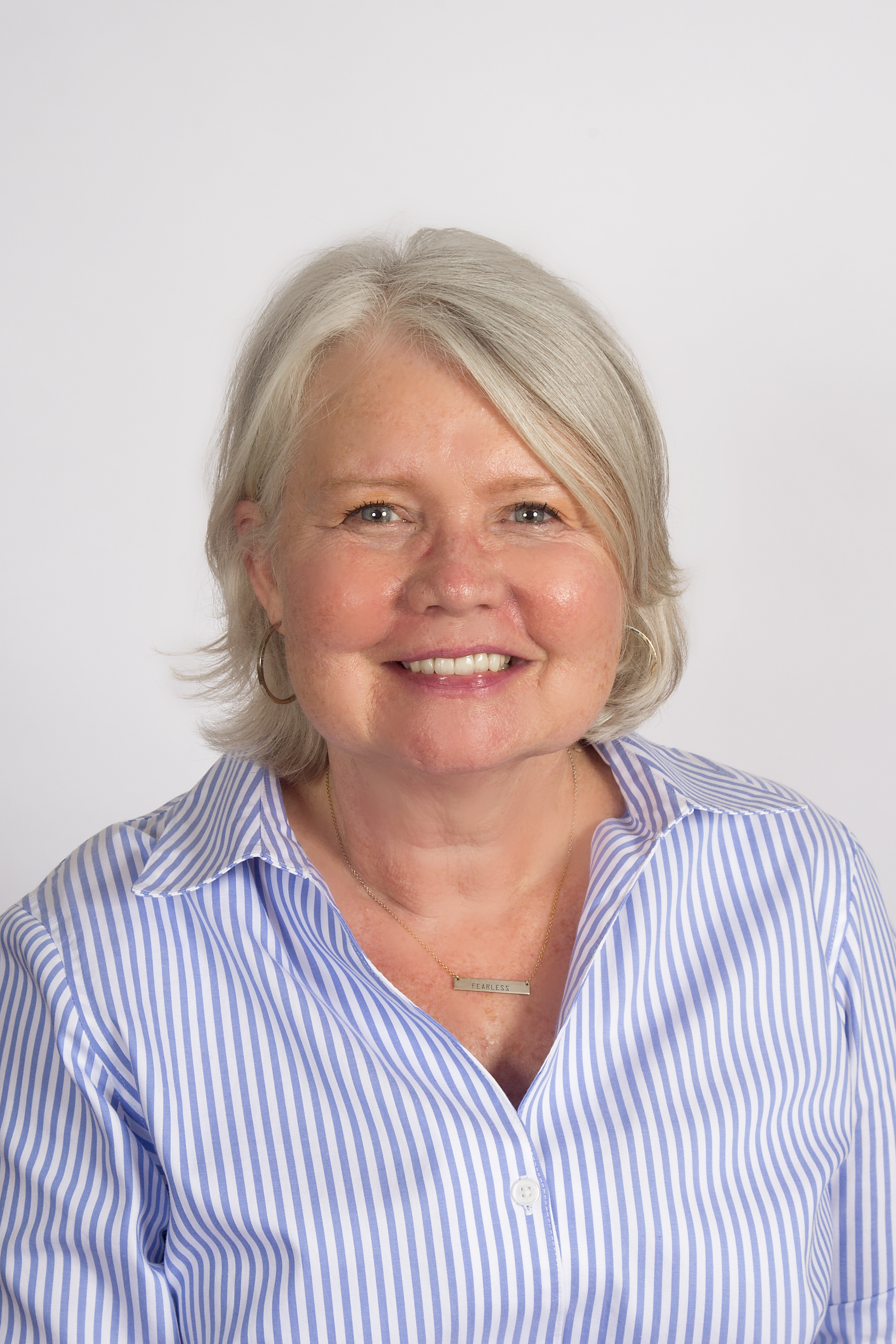 Phyllis Cooper - Assistant Manager, Dillmeier Glass Company
"I always try to put myself in our customers' shoes," says Cooper. "Glass is often only one small part of a very large project for them, and they are almost always under the gun. By the time customers get to us they need us to take action right away to meet their project deadlines. I try to figure out how we can make it happen and make the customer happy."
It's been a long journey from the floor of the company's Arkansas facility to her work in sales, quoting, and order entry protocol—and as technology has advanced through the years, Cooper has continued to learn something new every step of the way.
"I started out on the floor working with machinery and was the lead person on the fabrication side and tempering side. Technology has advanced, and now we have new machines, so we have to constantly learn the basic operations," says Cooper. "Dillmeier improves its equipment almost every year, adding to, or updating machinery. All of our customers get the same high-quality products, and it is all thanks to the updated machinery, and also the training of the operators and their skill level."
With technological advancements always on the march, Cooper says that glass in general is a fast-paced world where everything is in a constant state of change. Something that might not be possible today might be commonplace tomorrow.
"New technology is always emerging," she says, adding that beyond technology, new partnerships also push the company toward untouched horizons. "The industry is never stagnant—it changes constantly, and that is just so exciting to me. Every day is different."
"Dealing with customers and solving problems are the most exciting aspects of my job."
One of the biggest advancements Cooper has seen is the rise of complex fabrication techniques. Early in her career, a standard order specified a simple glass rectangle in a standardized size with polished edges. Today's requirements are much more sophisticated, often involving custom shapes, color-matched back-painting, or UV-bonded cases. As the orders became more complex, the Dillmeier team adapted by adding new equipment and re-confirming their commitment to customer service.
This approach worked wonders, as Cooper says Dillmeier eventually found itself in the midst of a growth spurt a few years ago when business— and workload—increased dramatically.
"We grew so fast. The quotes and orders just poured in," she says. "It was a challenge, but we stepped up and did it. What helped is that we have good, bright employees here that are all eager to learn. We weathered the storm and now we're stronger than ever."
In each and every project, no matter the size or cost, Cooper works with Dillmeier's eclectic mix of customers to organize their ideas and move their vision through the company's protocol and into the physical fabrication stages. All the while, Cooper ensures clients are met with competitive pricing, on-time deliveries, attentive customer service, and an expert's touch.
"Reputation is everything. The entire team steps up to protect that reputation," says Cooper. "The goal is to meet their needs and exceed their standards. Dealing with customers and solving problems are the most exciting aspects of my job. I want to make things happen and move things along."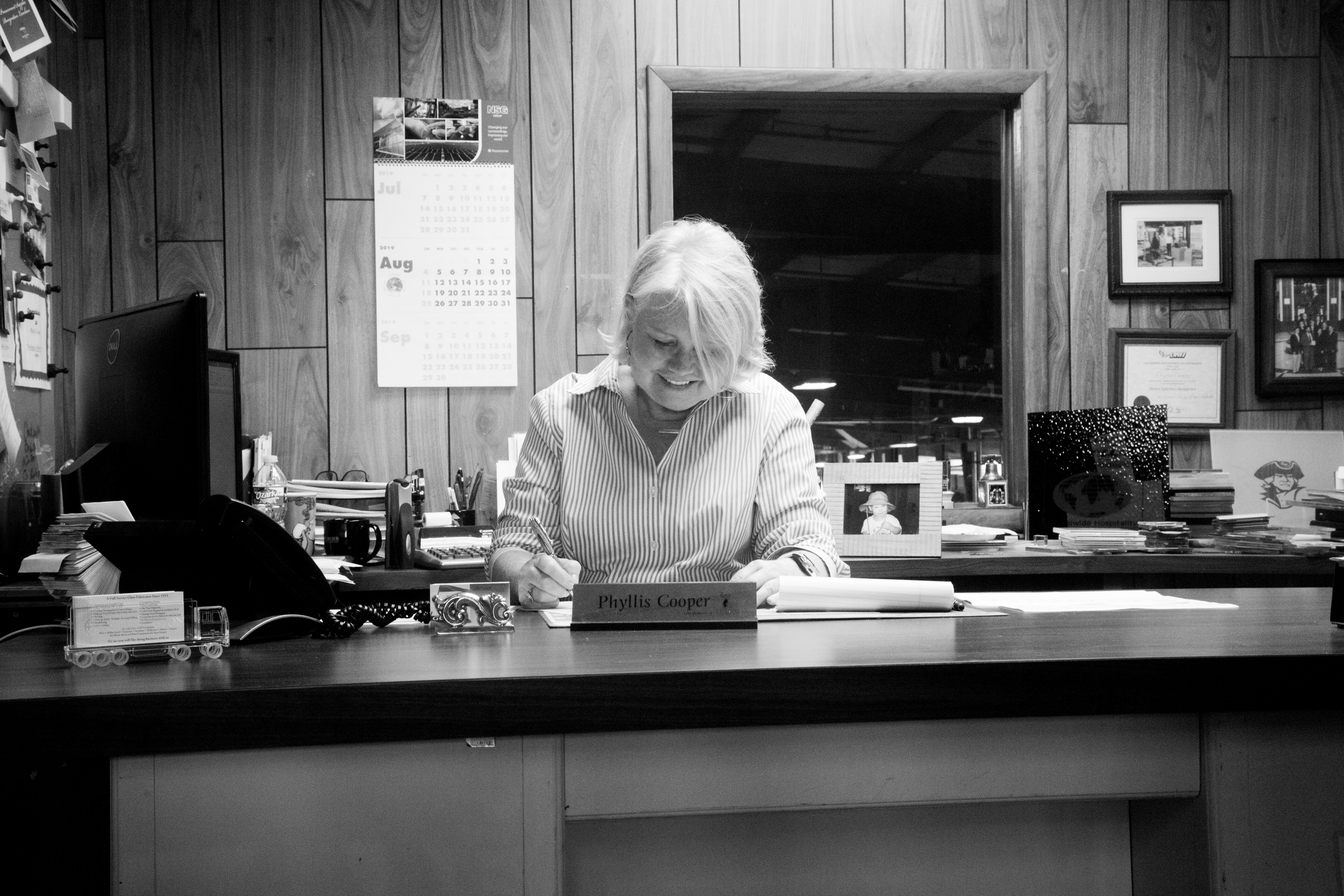 Cooper says that most customers are looking for the best price, the highest quality products, and the best possible lead time. Meanwhile, she says that one of her top priorities is to be flexible with customers, but also open and honest.
"If for whatever reason we can't meet a certain request, I immediately want to know if there is something we can do to adjust the approach and work toward a solution," she says, adding that even though clients usually have a specific design already in mind, Dillmeier will make suggestions like cost-saving options when possible. "Ninety-nine percent of the time, they know exactly what they want the first time they contact us."
Of course, having customers with specifics in mind can help cut down on lead time, but Cooper takes the effort a step further by doing her due diligence to learn as much as possible about the customer.
"This helps me make suggestions and tell them that a certain product might be better for them in the long run," she says. "Sometimes things change on the fly, and I have to be ready when that happens. Knowing the customer's company inside and out helps me do that. It's a challenge, but it's the kind of challenge that excites me."
"The industry is never stagnant—it changes constantly and that is just so exciting to me. Every day is different."
All challenges at Dillmeier are met with a fully dedicated team of professionals working to support one another—it's part of the strong company culture that has been in place at Dillmeier since the first glass projects were fabricated nearly 90 years ago. Cooper says that culture inspires all of Dillmeier's employees to not only strive for personal success, but also for the betterment of their fellow coworkers.
"If someone is struggling with a particular project, we will assist to make sure it gets done. And that is true throughout the company," she says. "Everyone is ready to help. Everyone knows their job and what they have to do to be a success."
When various elements and factors come together to forge glass, it is a natural achievement that is worth noting. Much of the same can be said for Dillmeier—a company whose processes and high standards can be attributed to a history of hard work from the likes of Cooper, and many others.
"It's an honor to work with a company that's been around for so long. You've got to have a good work ethic and a strong company culture to stay alive that long and to stay in business for all those years," says Cooper. "And to grow so much in the industry, to have such a good reputation. It's just a great company to be a part of, and to grow and develop with."
Real Talk from Real Customers
•••
"I've had the opportunity to work with Phyllis Cooper on many different projects over the years. Some were more challenging than others but Phyllis was wonderful to work with. She helped ensure that we received the material we needed both on time and correctly fabricated.
Phyllis always knew her products and could provide any feedback needed to help us create a lasting and accurate product for our customers."
•••
GARY VISTINE
Senior Project Manager, idX Corporation