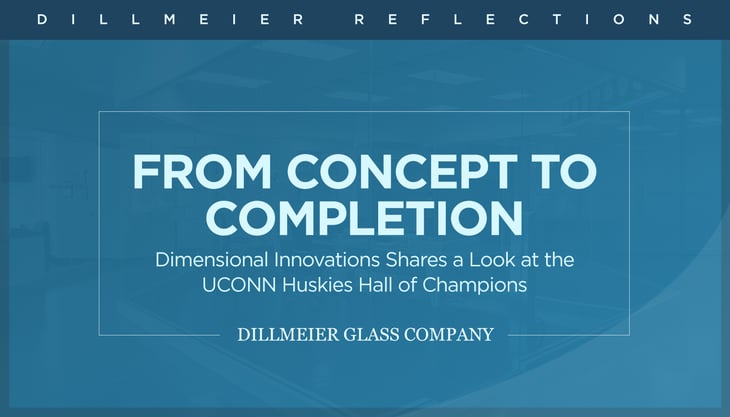 The University of Connecticut, or UConn, boasts one of the most-celebrated basketball histories in the National Collegiate Athletic Association (NCAA). With 11 total national championships for its women's program, and four for the men, they rank as the first- and sixth-most-winning programs in the nation, respectively.
In fall 2017, athletic department leadership decided to create a hall of fame that would fully reflect the venerable program's significant accomplishments. For this project, they reached out to Kansas City-based, full-service design-build firm Dimensional Innovations to turn a once-bland lobby into an interactive, educational fan experience for visitors and athletes alike.
One of the most difficult challenges of this refresh was finding a way to showcase UConn's massive trophy collection, which at the time lacked a dedicated home or fitting display area. Fortunately, the athletic department had a clear vision for the project, including an idea for a dramatic case that would require a specialized skill set to fabricate. For this challenge, Dimensional Innovations leaned on a trusted partner with the expertise and reliability necessary to turn this vision into a reality: Dillmeier Glass Company.
WERTH FAMILY UCONN BASKETBALL CHAMPIONS CENTER
The first step of this momentous project involved Dimensional Innovations working with Huskies leadership to hone their vision and decide which awards and accolades to showcase.
"A common problem we run into with collegiate projects is they don't have enough content to build out an entire space," says Dimensional Innovations Creative Director Ryan McDonald, "but UConn had the opposite problem. They had an ACC [Atlantic Coast Conference] trophy literally sitting in their printing room because there wasn't enough room to display everything. So the challenge became deciding what to prioritize."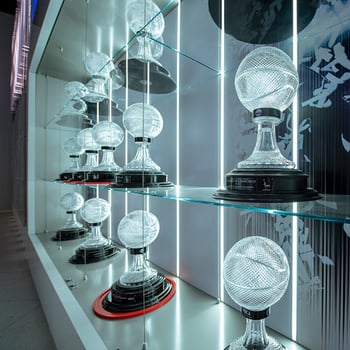 UCONN NCAA BASKETBALL TROPHY CASE
Game Time
After discussion and onboarding meetings, the Huskies-Dimensional
Innovations team decided to use one main glass case for the two most recent national championship trophies, combined with a series of digital and physical displays to fully communicate the Huskies' legacy and story.
In total, the project featured three massive LED screens fit for a basketball stadium, six smaller screens with a unique interactive scrolling element, and seven laminated glass "Huskies of Honor" displays to showcase noteworthy players.

The Challenges of Champions
As is true for many spectacular outcomes, the project contained several roadblocks that had to be overcome. One of the first was the fabrication and shipping of the main glass trophy case. The initial dimensions specified during onboarding called for an enormous encasement that would make it difficult to ship from the Dillmeier plant in Arkansas to the project site in Connecticut.
To resolve this, Dillmeier worked with Dimensional Innovations designers and project managers to specify a slightly smaller case that would still create the desired impact. Once the glass was fabricated, two Dillmeier employees traveled to the Dimensional Innovations facility, where they assembled the case to ensure a spectacular end result.

UCONN CHAMPIONSHIP LED SCREEN
The Digital Side
Among the project highlights were stunning digital elements, including large vertical displays controlled by spinning basketballs. There was also a green screen photo station installed so visitors could digitally insert themselves into pictures with players or coaches.
The Completed Project
The completed project was the result of many hours of collaboration, creativity and effort, and was made possible by a combination of clear client vision, the unique and expansive capabilities of Dimensional Innovations, and reliable specialty partners, such as Dillmeier Glass.

INTERACTIVE VERTICAL DISPLAYS

STRONGER TOGETHER
Located in the lobby of the school's Werth Family UConn Basketball Champions Center, the UConn Huskies Hall of Champions was a collective effort ultimately fueled by individual contributions.
The following are just a few snippets from a handful of those behind this extraordinary project, from designers at conception to fabricators at completion.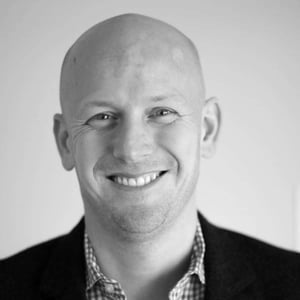 DREW BERST
Dimensional Innovations
Director of Collegiate Sports + Fan
Experience Solutions
1. Concept
"We start by gathering client feedback through our proprietary discovery process. We ask the clients about their vision. They ultimately wanted to create an experience that hits you over the head when you walk in the door and says, 'We win championships here,' so obviously that's the big story. After we're clear on the vision, the designers will start drawing."
THOUGHTS ON THE PROJECT
"I love that it's really high-tech. It has a ton of screen space per square foot, especially for an athletic hall of fame. Also, what's unique is the gigantic glass trophy case that showcases the two most recent championships from the men and women. I think it's spectacular."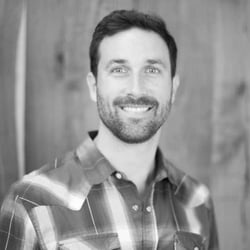 RYAN MCDONALD
Dimensional Innovations
Creative Director
2. BRAINSTORM
"We came up with some great ideas for this project by basically locking ourselves in a conference room and throwing things at the wall to see what stuck. Our CEO has a design background, and design drives the process, so we get time to brainstorm and come up with great ideas. If we're not coming up with grand stuff, we won't keep getting business."
FAVORITE DESIGN FEATURE
"One of my favorite features was actually an accident. We created these laminated glass displays with holograms of Huskies of Honor, and when the sun shines just right, they cast silhouettes of the players onto the floor of the hall of fame, which is a really cool effect."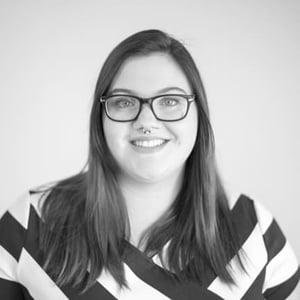 MONICA ROESNER
Dimensional Innovations
Lead User Experience (UX) Designer
3. DESIGN
"The story we landed on is a 'Stronger Together' theme. It's really about how all the people make up the UConn program, and the easiest way to showcase a lot of people is digitally. UConn's goal was to create a world-class experience, so we knew we had to use the best technology, which meant some really incredible LED screens. We also have a unique activation, where people are scrolling with a basketball."
ON VARIED SKILL SETS
"My favorite thing about DI is the variety of skill sets. Any time I have a question, I can find someone who can help me figure out an answer, which gives us the ability as a company to do a lot of things that have never been done before."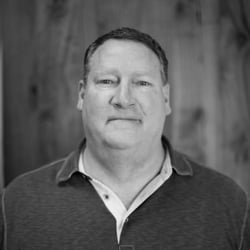 MIKE WATSON
Dimensional Innovations
Subcontractor Manager
4. SAY YES
"Our approach is to say yes, and then figure it out. So we said yes [to the glass case concept], and then we leaned on our experts and engineers to figure out a way to make it happen. This particular project was a challenge because the client wanted as little hardware on the display as possible so it Would just look like a glass box."
ON DILLMEIER GLASS
"Dillmeier really came through on this particular project. They ended up shipping the glass to us and then came to our location and literally bonded it and put it together. Then we determined it still wasn't right, so they came back on a second trip to help us install some hardware and doors and give us some advice."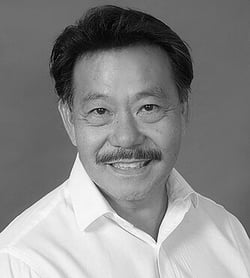 CODY TRAN
Dillmeier Glass
VP of R&D, Engineering and
Special Project
5. COMPLETION
"The specifications called for a case that was almost seven feet wide and eight feet tall, with large doors at each end, but I was concerned about the stability of the glass case at this size. I made a quick sketch with some changes and a slight reduction in size and let Dimensional Innovations know we could make it happen. After fabricating all the glass we were ready to bond but decided instead to do it onsite as an extra precaution."
ON DIMENSIONAL INNOVATIONS
"They're great people to work with. We met with their Design and Engineering team to discuss different projects, glass hardware and metal components, and they're very knowledgeable. They work on a lot of challenging projects and always say yes. I love the can-do attitude."