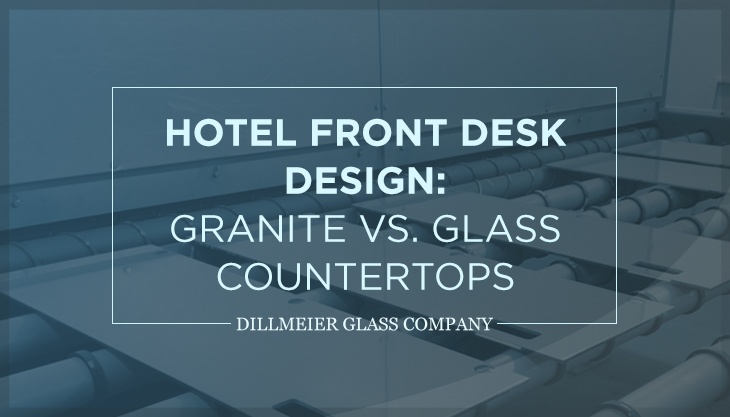 When it comes to designing a hotel interior, there are different directions you can take to achieve its ideal style and sense of atmosphere. While some opt for a simple, cozy vibe, others prefer a more refined, contemporary ambience. From flooring and wall colors to the décor and furniture, there are countless aspects of the space to consider.
Since the front desk is the first and last thing guests see, there isn't a lot of room for error. There are, however, plenty of materials to choose from—for the countertops, in particular—which can help, yet also make your job difficult. You not only have to weigh what's aesthetically pleasing, but keep practicality in mind, too.
Granite and glass are two popular options for custom front desk countertops, both of which have advantages and disadvantages.
Here are just a few:
GRANITE COUNTERTOP
Advantages:
Granite tends to work well in traditionally designed environments. So if your vision is leaning in that direction, this could be a good option.
Granite is a non-porous material, which helps keep bacteria from building up on its surface and makes it easy to clean.
It is heat-resistant.
Granite comes in an array of colors. This includes variations of black, white, and gold.
Disadvantages:
There's a chance it can crack or leave behind scratch marks.
Oftentimes, granite needs to be sealed periodically, to avoid staining.
According to the U.S. Environmental Protection Agency (EPA): "Granite, like any other stone, may contain veins of naturally occurring radioactive elements like uranium, thorium, and their radioactive decay products." Click here to learn more.
Since granite is a natural material, you can't control what each piece looks like. So if you're going for a more uniformed look, you may want to consider other materials.
Granite can be expensive.
GLASS COUNTERTOP
Advantages:
Since fabricators temper glass, it is four times stronger than regular glass and likely won't break. If it does break, it will break into harmless, safe size pieces.
Glass has a non-porous surface.
It's easy to maintain, and heat-resistant.
Glass can be back-painted in any color, making it versatile and able to be used in various applications.
It can help designers achieve a clean, modern look, but it also adds an extra level of elegance to a traditional space.
Glass can be reused and recycled over and over again, which makes it a great choice for eco-friendly designers and contractors.
Disadvantages:
Glass leaves behind fingerprints.
Breakage is possible.
The cost of a glass countertop varies, depending on labor intensity, quantity, style, and glass thickness, so it can be expensive, as well.
---
Want to incorporate glass countertops into your next hotel interior design project? Read about the key characteristics you should look for in a glass-fabricator.