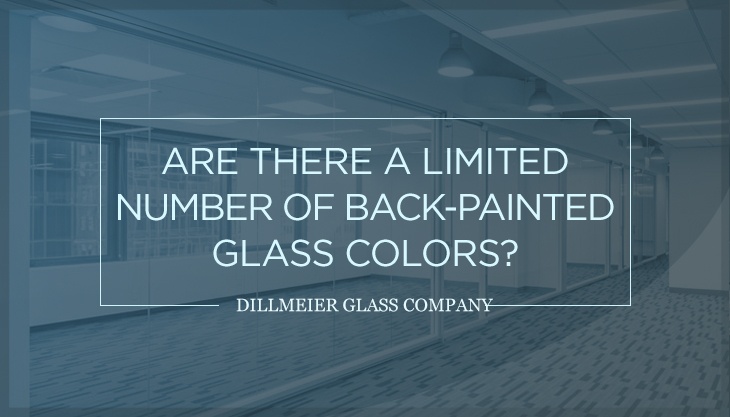 Editor's Note: This blog post was originally published in October 2017 and has been revised to reflect industry updates.
As a glass fabrication technique infusing color within tempered glass, back-painting creates beauty and pizazz while enhancing strength and durability for applications such as hotel lobby walls, partitions and dividers, shower enclosures, and more.
Back-painting can give even the most simplistic interiors a contemporary look that's easy to clean and maintain, via a primary color palette or customized process. Experienced fabricators such as Dillmeier Glass Company can color-match any interior space and application, including countertops, painted walls, and furniture.
So, are there a limited number of back-painted colors? The short answer is no.
Unlike other fabricators that simply offer a limited amount of standard colors, Dillmieier Glass Company has an in-house customized color matching system. We can strategically blend together selected base colors for an exact color match—replicating any logo or additional branding!
Learn more about the various types of back-painted colors offered through Dillmeier Glass Company, along with accompanying uses and applications.
Benefits of Back-Painted Glass
Unlike lacquered glass, back-painting is resistant to chipping, fading, and scratching. This is especially useful in high-traffic areas, such as hotel and office lobbies, restaurants, kitchens, and bars. Glass is non-porous, preventing natural elements from passing through, and resistant to bacteria and corrosion when regularly cleaned and maintained.

Back-painted glass helps add privacy and style. Whether infusing cohesive color to office partitions, modular walls or healthcare facilities, back-painted glass will be fully opaque. Unlike non-painted glass, which has varied opacity levels, this process delivers full opacity for your project. Through the use of acid etching or sandblasting, such glass can also be adjusted to desired opacity levels.

This process is also an aesthetically pleasing alternative to traditional drywall applications when creating writeable surfaces in offices, and healthcare and hospitality settings.


Popular Back-Painted Glass Color Palettes
With the most common back-painting colors ranging from white, grey, and other basic hues, adding a pop of color, such as bright, green or orange can give any space a unique decorative twist. And because we offer more than just a standard color assortment, you'll achieve the perfect color for an office, hotel lobby, restaurant, or any other decorative application.
Unlike lacquered glass, back-painting is resistant to chipping, fading, and scratching.
Vibrant Back-Painted Colors for any Application
When weighing back-painting options, it's best to work with a trusted and experienced commercial glass fabricator providing custom color-matching services for precision replicating your desired look.
---
Dillmeier Glass Company can match any color for accurate, back-painted glass products customized to fit your exact needs. Contact us today to find out more about our decorative glass services.