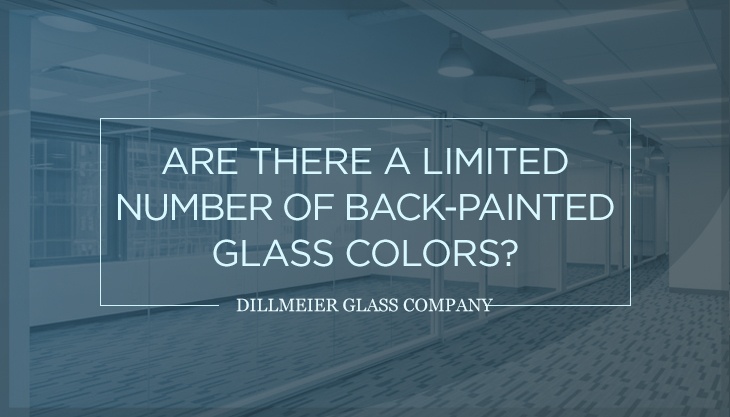 Back-painting is a popular glass technique that adds color to the otherwise transparent material and beautifies its surrounding space. Back-painted hotel lobby walls, for example, give the interior a simple, contemporary look that's also easy to maintain. However, because of the ever-increasing popularity of customization, contractors need to know exactly what color options are available.
There are typically a handful of standard back-painted glass colors available to you to choose from.
These include white, which is the most common color for products like back-painted marker boards, yellow, blue, as well as many others.
But the list shouldn't end there. Oftentimes, glass fabricators color match, which involves duplicating a color from a customer to match another. Offering this service makes the possibilities endless for customers, enabling them to find the perfect color for an office or restaurant, or any other application they're currently working on.
For instance: Let's say you are tasked with designing the interior of a corporate office and your client wants to integrate a unique shade of green, as it is included in the company logo. You decide to incorporate accent walls in the reception area and conference rooms in order to highlight the color. However, this isn't one of your fabricator's standard back-painted glass colors. The fabricator would therefore need to go through the color-matching process.
This may involve assistance from another company, as well as strategically blending together selected base colors until an exact match is achieved and the ceramic frit paint replicates the custom color. If done correctly, the walls will look exactly like the logo.
As a result, the number of back-painted colors available is immeasurable.
The key is to find a trusted and experienced commercial glass fabricator that will not only offer glass back-painting and color-matching services to you, but do so effectively in order to ensure a beautiful product that is just the right shade of green, orange, red, or whatever color you're looking to utilize.
At Dillmeier Glass, we can match any color to provide our clients with premier, accurate, back-painted glass products customized to fit their specific needs. Contact us today to find out more about our services.