Editor's Note: This is the second of a two-part blog series on retail glass shields used to safeguard person-to-person interactions against COVID-19.
Glass barriers, also known as sneeze guards, are being utilized more and more throughout retail to limit person-to-person interactions between employees and customers during the ongoing COVID-19 pandemic.
Once you've decided to add this personal protective equipment (PPE), the next step is to determine the best materials for optimal durability, implementation, cleaning, and maintenance.
Two are tempered glass and plexiglass. Both can be used, but when it comes to protection measures, the former has an edge.
Below we'll examine each material's properties, common misconceptions, and why one is more ideal than the other.
Tempered Glass
One of the common misconceptions regarding tempered glass is that it's not safe for a high-traffic retail setting. Unlike plexiglass, however, this material is durable, shatter-resistant, and doesn't scratch easily.
Tempered glass undergoes a process involving heating and cooling that makes it stronger than regular glass.
It's important to work with a fabricator that specializes in tempering, such as Dillmeier Glass Company. Safety Glazing Certification Council (SGCC)-certified, it meets the highest standards while still maintaining quick project turnaround.
Stainless Innovations, a Fort Smith, Ark.-based custom fabricator of stainless steel foodservice equipment and longtime Dillmeier Glass partner, has collaborated on previous hospitality-related sneeze guard projects.
According to John Schossow, Stainless Innovations' director of product management, engineering and production, tempered glass is usually his company's recommendation due to its long-term durability.
"We feel plexiglass will scratch over time, will be less transparent, and won't last like [tempered] glass," he says.
Schossow explains that once plexiglass materials are implemented, it's difficult to control how it will be used and maintained.
"The moment an employee takes a rag and doesn't use the proper cleaning solvent and material, it will get scratched," he says. "We try to steer away from plexiglass because the cloth used to clean it can scratch the surface, and certain cleaning solvents can cause it to fog. I would think it wouldn't take long before this happens, where the surface becomes hazy and scratched, probably around six months. Therefore, we feel tempered glass is the way to go [for this application]."
Because Dillmeier and Stainless Innovations often work together on implementing glass sneeze guards with stainless steel frames, both understand the importance of creating a solution that will be strong, and easy use for employees and customers.
COVID-19 lives shorter on glass and stainless steel than other surfaces. According to research published in The Journal of Hospital Infection cited on financial and business news website Business Insider: "The SARS coronavirus, at a temperature of 68 degrees Fahrenheit (20 degrees Celsius), lasted for two days on steel, four days on wood and glass, and five days on metal, plastic, and ceramics. (The researchers also found that one strain of SARS lasted up to nine days on a plastic surface at room temperature.)"
Plexiglass vs. Tempered Glass: Over Time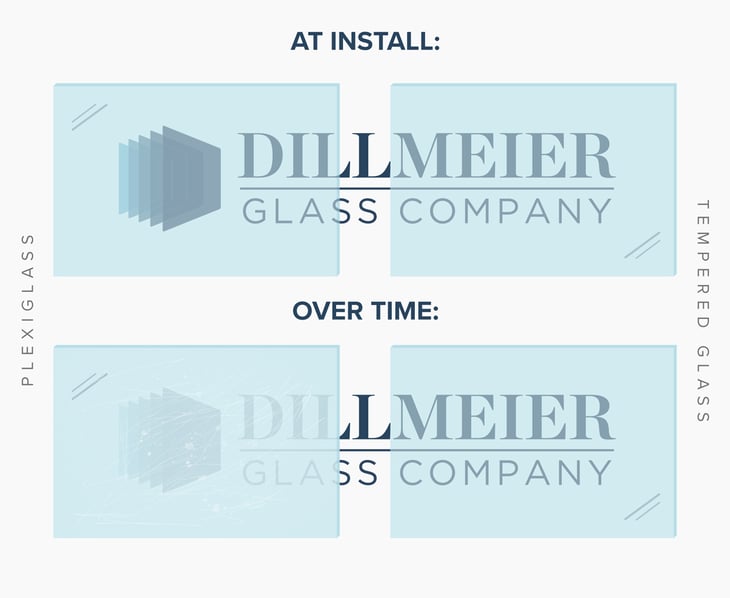 Plexiglass
According to research published in The Journal of Hospital Infection, COVID-19 lives shorter on glass and stainless steel than other surfaces.
This acrylic compound is created through a heating and cooling process similar to tempered glass. It can be useful in low-traffic, non-commercial settings or as a privacy divider.
There's a common stigma plexiglass can withstand everyday elements glass can't. As aforementioned, tempered glass is treated to avoid shattering—plexiglass can still chip and crack from frequent usage.
While customized fabrication requires additional steps, glass is still the less-expensive option with easy-to-clean, transparent protection.
Plexiglass is a lighter material when compared to tempered glass. The latter is naturally dense, heavier, and stronger. Its weight might raise shipping concerns, but a fabricator such as Dillmeier Glass has perfected a customized packing and crating process for safe arrival.

Tempered Glass & Stainless Steel
Stainless Innovations' Schossow explains how tempered glass with stainless steel framing is a better fit for retail, providing a strong, durable, and long-lasting solution.
"We would always use stainless steel framing," he says. "It doesn't rust and is the best for longevity."
While COVID-19 can survive on stainless steel, Schossow stresses the importance of adhering to Centers for Disease Control and Prevention guidelines to combat its spread—as with any surface.
"Most retailers already have stainless steel equipment, and employees have been instructed to consistently wipe down and disinfect all surfaces regardless of materials," he says.
Schossow adds retailers can alternatively frame sneeze guards with powder-coated black iron.
It can "add between 2 and 5 days of lead time to a project," he says, but his company can accommodate quick, customized requests with its on-site millwork and stainless steel shops.

Customized Designs
A retail setting differs from hospitality applications, so sneeze guards must be customized to accommodate point of sale activities.
A vertical sneeze guard is recommended for retail, explains Schossow.
"It provides full coverage that's an inch to an inch-and-a-half off the counter top and goes to at least 60 inches off the finished floor," he says.
"Some might have to be hung from the ceiling because they don't have the required counter space, or a better way to protect the customer," he continues. "You're standing behind a partition and there's a monetary exchange between customer and employee, so they might need a cut-out at the bottom to do this."
Schossow says Stainless Innovations and Dillmeier Glass often work together on tailor-made projects.
"It's a case-by-case basis," he explains. "It won't be the same for every instance, but we can provide a customized solution."
Partnerships in Motion

A retail setting differs from hospitality applications, so sneeze guards must be customized to accommodate point of sale activities.
If you're looking for a glass shield solution and have questions on placement, layout, customization, and fabrication, it's best to work with an experienced company with well-established partnerships, such as Dillmeier Glass.


Contact us to learn about suitable tempered glass sneeze guards for your project.